A short walk from Tamarindo Beach and the restaurants and shops of lively Tamarindo sits Hotel Capitan Suizo, an unbeatable choice for those travelers looking for a combination of activity and oceanfront relaxation on beautiful white-sand beaches.
Capitan Suizo Wildlife
Capitan Suizo practices its original philosophy of environmental sustainability by protecting the native species that live there, including the vegetation and fruit trees that attract regional wildlife like howler monkeys, iguanas, local parrot species, and other birds.
Capitan Suizo Beach Activities
You will have the chance to fine-tune your surfing skills during your stay. Tamarindo Beach is great for both beginners and experienced surfers. Or kayak to the nearby Isla Capitan (which inspired the name of the hotel), and enjoy a panoramic view of the Tamarindo coastline. Surf boards, kayaks, and boogie boards are available to rent at the hotel.
Amenities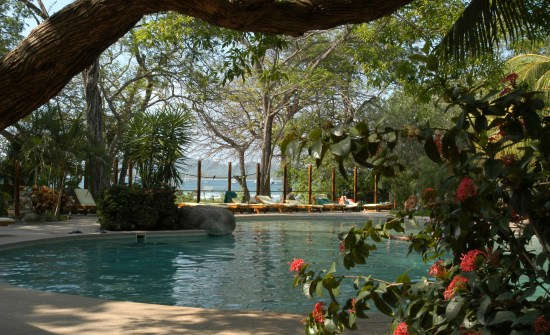 A free-form pool set amid lush tropical gardens provides an alternative to the beaches of Guanacaste. Guests also have access to complimentary WiFi. A gift shop and a restaurant are available on the property. There is a great view of the beach from the restaurant, where you can enjoy breathtaking views of a picture-perfect sunset. Hotel Capitan Suizo can set up tables closer to the beach if you wish for a  more intimate romantic setting. Enjoy candlelight dinners under the moonlight, with beachfront views and a relaxing ocean breeze. 
Hotel Capitan Suizo Rooms
Hotel Capitan Suizo has 35 units including 7 bungalows, a honeymoon bungalow, 22 rooms, and a four-bedroom suite. All have air conditioning, ceiling fans, and a terrace or balcony which overlooks the gardens or ocean.
Each of the Rooms at Capitan Suizo contains a spacious bathroom, large closet, mini fridge, and coffee and tea amenities.
The Bungalows are individually set amid the tropical gardens, with a private terrace. There is a double whirlpool and an outside shower with hot water.
The Four-Bedroom Suite is located on the second floor of the main building, above reception. The Suite contains a king-size bed, queen-size bed, and two bedrooms with two single beds. Each bedroom has air conditioning. It also has a large living room and massive balcony. There are two bathrooms, one with a whirlpool tub.