The Arenal Nayara Hotel is located in the Northern Lowlands of Costa Rica near Arenal Volcano. In a world of comfort and style surrounded by an untouched natural paradise, Arenal Nayara is truly a tranquil oasis. Expect the wonders of true relaxation while appreciating some of the most beautiful landscapes anywhere in the world – including amazing views of the Arenal Volcano!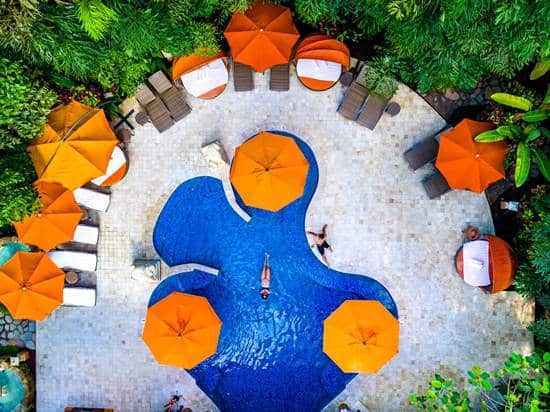 The hotel property is surrounded by tropical rainforest and along the lower ridge there is a small creek that attracts tropical birds. Nayara's colorful tropical architectural style blends perfectly with Costa Rica's vibrant natural surroundings.  The Arenal Nayara Hotel recently made #18 on the list of Top 100 Hotels in the World by Conde Nast for 2014. Its new connecting sister property, Nayara Springs came in at #6!
Dining at Arenal Nayara
Dining at the Arenal Nayara Hotel is just as much of a treat as staying there! At the Altamira Restaurant, enjoy both international and local favorites. Looking for something a bit different? Sushi Amor serves up delectable sushi and Latin-fusion meals! The Nostalgia Bar, for wine and tapas, is a great way to spend the evening, and if you're craving a drink while poolside, there's a casual bar serving drinks and snacks right by the pool! Couples will delight in the other options at Arenal Nayara – special romantic dinners are available, as well as an amazing wine-pairing dinner, with 5 courses and 5 different wines to try.
The Spa at Arenal Nayara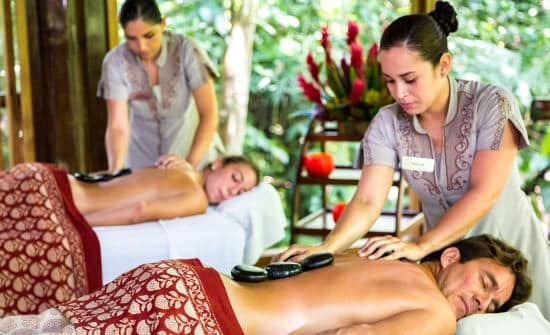 Don't miss out on the most relaxing part of the vacation! Arenal Nayara's spa is brand new, and their outdoor spa bungalows guarantee you'll feel right in the tropics while enjoying a massage or scrub and wrap.  If you're looking for something special, the spa also offers a variety of couples and combination spa treatments – with everything from a volcanic mud facial to an aromatherapy massage.
Arenal Nayara Hotel Rooms
The rooms at Arenal Nayara have direct Volcano views available. Their spacious balconies with private Jacuzzi's are an ideal setting for relaxation. All rooms have air-conditioning, hairdryer, safety deposit box, free movies, WiFi in the room and throughout the property, and a flat-screen satellite TV with CD/DVD player.
Casita Deluxe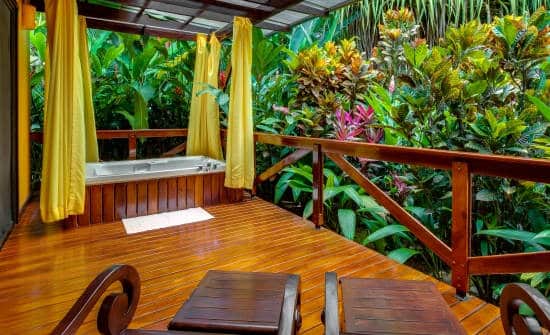 The Casita Deluxe at Arenal Nayara Hotel includes either one King or two double beds, amazing views of the volcano, or the tropical gardens with a private rain shower. Maximum occupancy: 2 adults or 2 adults and 2 children.
Rainforest Villa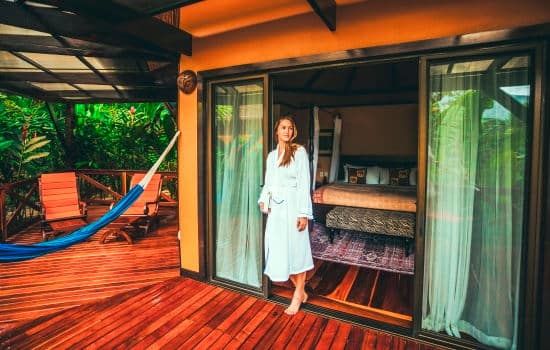 The Rainforest Villa is private and romantic. It's spacious and features an oversized jacuzzi on the wrap-around balcony.  It includes views of either Arenal Volcano or the rainforest, a private garden with outdoor rain showers.