Alma del Pacifico Hotel is located on Esterillos Beach on the Central Pacific Coast just a 2-hour drive from San Jose International Airport. Alma del Pacifico is ideally situated in between two popular tourist destinations, Manuel Antonio and Jaco, allowing travelers to experience all the excitement and activities in the surrounding area while still remaining secluded and on the beach.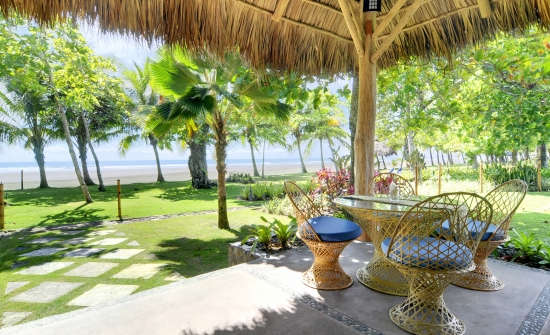 The open-air thatched palm roof restaurant has sweeping views of the beach and gardens and features healthy gourmet dishes with fruits, vegetables, and herbs grown in their own gardens. The hotel also includes 2 swimming pools and an outdoor Jacuzzi.
Located on the beautiful Esterillos Este Beach, the Alma del Pacifico Hotel is the ultimate escape to the seashore. The beach glistens under ocean waves and the steep cliffs create an awe-inspiring landscape. There are walking paths through the flower, herb, and vegetable gardens, and the incredible wildlife of the Central Pacific Region are natural wonders right at your doorstep!
Activities at Alma del Pacifico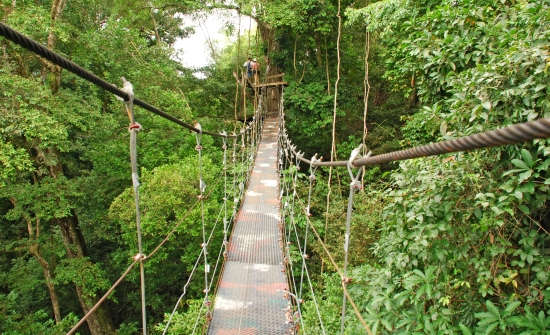 Perfectly situated between Jaco Beach and Manuel Antonio, Alma del Pacifico offers guests the fun of a beach-side resort while still being near the adventure tours that have made Costa Rica such a prime destination! Jaco is one of the fastest developing towns in the area but manages to maintain the quaint ambiance of its fishing village roots. Surfers and sports fishermen from all over the world flock to Jaco!
Thanks to the influx of a young crowd, it has a myriad of dining and nightlife options. Manuel Antonio, on the other hand, is a naturalist's dream. With hundreds of bird species and many of the animal species that are unique to the country, it's a favorite destination for many travelers.
Guests who are looking for a place to rest and relax need look no further! Alma del Pacifico's Playa Esterillos Este tends to be sunny, quiet, and secluded, and the walking paths that circle the beautiful and colorful gardens of the hotel are perfect for a meditative stroll.
Alma del Pacifico Bungalows & Villas
Accommodations at Alma del Pacifico are perfect for couples, families, and solo travelers.
Twenty spacious and private villas all feature a large terrace from which to enjoy panoramic views of the Pacific Ocean or lush tropical gardens.
Each villa offers private walled-gardens, sitting area, Wi-Fi and air conditioning. The bathrooms feature a mosaic-tiled shower that opens to a private garden.