Costa Rica is known for many things: imposing volcanos, mischievous monkeys, dreamlike cloud forest, world-class coffee…the list goes on and on. Most visitors make a point to check out the rainforest, but in almost every case they also head to the beach at some point during their trip. And with good reason; Costa Rica is home to one of the most diverse collections of beaches anywhere in Central and South America. From rugged volcanic beaches to tranquil bays, each Costa Rica beach is different from the next. You could visit the country 8 different times and have 8 different beach experiences, which just means that the choices of beaches and beach hotels can be overwhelming. Here's a list of what we consider the 8 best beachfront hotels in Costa Rica:
Arenas del Mar
Beach & Nature Resort | Manuel Antonio
Arenas del Mar Beach & Nature Resort is one of Costa Rica's original beachfront hotels. It was originally built in and still stands today as one of the best. Building on the beach is illegal in Costa Rica, where people take pride in the conservation of their natural paradise. Few hotels manage to meet the strict standards set by the government for building near coastlines. To combat their offset, Arenas del Mar has committed to integrating with nature and making sustainability a beacon of their hospitality service. With their on-site guided tours, guests are assigned a local naturalist guide for a more customized experience tinged with Arenas del Mar's signature service. 
The accommodations are an example of understated beachfront luxury, with simple room features and natural colors. Arenas del Mar's most impressive design is its integration into the surrounding rainforest, which gives guests a nature immersive vacation that includes the beach. 
Ah, the beach. Arenas del Mar has two of them. Mhmm.
View details for Arenas del Mar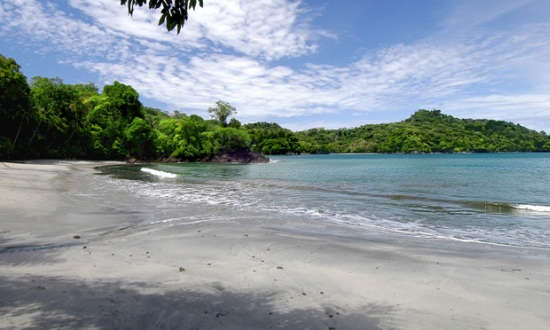 Costa Rica family vacation classic Tulemar Resort, with its octagonal premium villas and beachfront location, is consistently ranked among the best hotels in the world. It's easy to see why. 
When it comes to large groups and families with young children, travelers are often looking for ease and convenience. In the case of Costa Rica, many of these family vacationers head to Manuel Antonio on the Central Pacific coast – a mix of beach and rainforest all in one location. It's a no-brainer for families. The tricky part is finding a hotel that meets your specific bedding and space requirements. Each group and family is different, and sometimes standard hotel rooms aren't the best fit. At Tulemar, the 2-and 3-bedroom Premium Villas give everyone space to spread out and enjoy the views. Each Premium Villa comes equipped with a full kitchen,  living area, laundry, outdoor dining space, and more.  
Head down to Tulemar's beach for the day, or explore the nature and wildlife of Manuel Antonio on a guided tour.  
Read more about the Tulemar Resort
Don't miss out on Tamarindo just because you've heard it can get a little rowdy. Sure, there may be gaggles of youthful backpackers and Spring Breakers here and there during the busy season, but is one of don't have to base yourself right in the center of the action. After all, Tamarindo is one of the best beaches in Costa Rica. It would be a shame to miss on account of the tourist scene. 
Instead of diving into the party scene, base yourself at beachfront Hotel Capitan Suizo, a tried and true boutique hotel toward the quiet end of Tamarindo Beach. You'll still be able to get a taste of the local beach vibe; a walk down the long stretch of beach is a great way to get to know the area and scout local restaurants to try during your stay. But at the end of the day, you'll feel that quintessential Costa Rica tranquility back in your Beachfront Bungalow at Capitan Suizo.  
Read more about Hotel Capital Suizo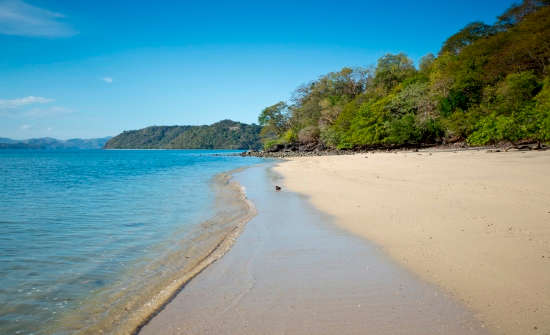 Known around exclusive Papagayo as the "un-resort" resort, the Andaz maintains its commitment to honoring local tradition and representing Costa Rica with warmth and creativity. Their beaches are the opposite of the roaring Avellanas Beach and energetic Tamarindo Beach. The gentle waters of Papagayo Bay are catered to activities like swimming, snorkeling, kayaking, and stand-up paddleboarding. This unique location on Peninsula Papagayo creates for guests a natural playground, wonderful for couples, families, and even solo travelers. Head down to the hotel's beach club for access to all of the best features of this unusually calm golden sand beach. BONUS BEACH: Grab a kayak and paddle around the Peninsula to hidden Playa Nacascolo for a "private" beach experience. Chances are good you'll be the only ones there! 
See more details for the Andaz Resort
The Nicoya Peninsula's Mal Pais area, which includes the notoriously chill Santa Teresa, has seen a recent resurge in tourism and it would be hard to leave Nantipa Resort out of that story. The hotel is leaning into the concept that Santa Teresa is a destination all of its own, and there is plenty to explore for first-timers to Costa Rica. 
The remote, rugged coastal location of Santa Teresa (on the southern tip of the Nicoya Peninsula) have always magnetized celebrities, but the average traveler can be spotted there, too. One of the places travelers thanks to beachfront Nantipa and its ocean view bungalows.  
Nantipa is perfect for travelers who appreciate a sense of place when they travel – trendy luxury on the beach is often best achieved with a casual layout. The Experts recommend the Oceanfront Bungalow with Private Pool for the most ideal stay. You'll have earned it on the 45-minute drive from Tambor airport – it's mostly gravel roads.  
Once you're at Nantipa, you'll have access to a great variety of Santa Teresa highlights. Montezuma waterfall is about 45 minutes away by ATV. You can hike around the famous cascade or even try canopy zip-lining. Day trips to Tortuga Island are popular with travelers in search of a beach adventure day, fully stocked with water activities, tasty food, and excellent guides. Horseback riding on the beach, sportfishing, surf lessons, yoga, nature tours, and other experiences can be built into your custom itinerary or arranged with the help of Nantipa's concierge. Spend anywhere from 3-7 nights here and your idea of what a beachfront hotel can offer will be transformed.  
Get more info on the Nantipa Resort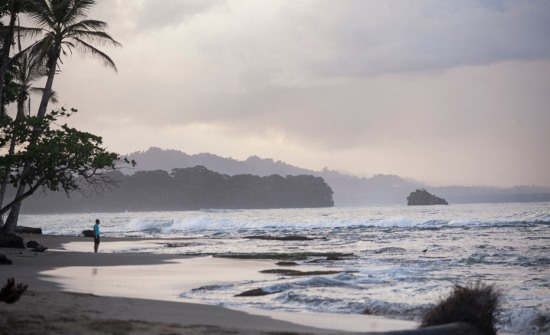 The South Caribbean has long been a secret sweet spot for independent travelers and eclectic ex-pats, but only recently has the Puerto Viejo area earned a reputation as something more than hostels, hippies, and wild coastline. The arrival of Aguas Claras has changed the game dramatically. 
You don't see many cottage-style accommodations in Costa Rica and you especially don't see them done as well as Aguas Claras, a beachfront boutique hotel serving up a new side of the South Caribbean coast. The water in front of the hotel is the closest you'll get to that "Caribbean blue" in all of Costa Rica, where 90% of beach vacations happen along the Pacific coast. There are just a few suites and bungalows at Aguas Claras, so the Experts recommend booking early.  
Learn more about the Hotel Aguas Claras
The Four Seasons
| Papagayo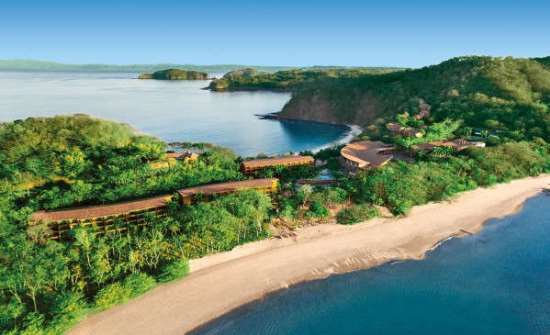 The Four Seasons Papagayo is a true leader in Costa Rica's hospitality scene, continuously walking the line of impeccable, refined service and curated vacation magic. The stunning scenic location at the very edge of the Peninsula is one of the hotel's most prominent features, giving guests access to not one but two fantastic beaches. Four Seasons also offers special beach activities for families and groups, including private beach barbeques, snorkeling & beach tours, and picnics. Within just 45 minutes from the Liberia international airport, you can land and be at one of Costa Rica's best beachfront hotels in the blink of an eye. 
Start planning your stay at the Four Seasons Papagayo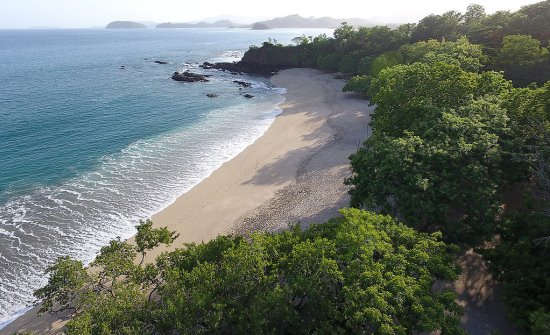 Big resorts are getting a makeover and The W Resort on Playa Conchal is a gleaming example. If your family prefers a trendy vibe with name brand recognition, The W Resort Costa Rica delivers. You'll find all of the typical resort amenities with a splash of Costa Rican flair at all turns. The rooms are situated throughout the property at various heights and locations, ensuring that each room has a different view from the next. Playa Conchal is one of the best all–around beaches in Costa Rica, with its unique shell sand formation and pleasant, swimmable waters. Golf, water sports, sportfishing, and plenty of off-site Guanacaste activities are available to really round out your vacation.
View details for the W Resort on Playa Conchal
Looking for something more family-friendly?
We have a large selection of family vacation packages for you to choose from. Also, we've put together a post where you can read about the best family vacation spots in Costa Rica. Plan a trip that you and your family will always remember!
Related Articles: