There's a Destination in Costa Rica for All Your Family Members' Interests
Costa Rica has always been a popular vacation spot for families. Exotic nature and wildlife in enchanting rainforests create a Disneyesque setting youngsters can't get enough of. But this isn't Disneyland. It's the real deal. And while traveling without a Disney safety net can be intimidating, it shouldn't be. A little research or Expert advice can open up doors to a priceless family vacation that will have everyone reminiscing for years.
Jump to a section based on your family's interests:
Tortuguero for your Turtle Fanatic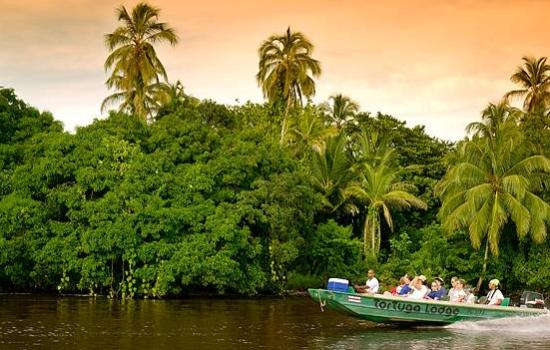 The kids will love Tortuguero National Park, one of the most popular destinations in Costa Rica to see turtle nesting or arribada. Travel during nesting season, July to October, for the chance to see mama turtles laying their eggs or baby turtles hatching. Float through jungle mangroves looking for wildlife on a family safari from the safety of your boat. The mysterious maze of Tortuguero canals is a hit with nearly every age group.
Tortuguero family hotel: Tortuga Lodge & Gardens
Arenal Volcano for your Adventurer
In a country overflowing with natural wonder and adventure, Arenal Volcano is a standout. In fact, our Experts refer to Arenal Volcano as the adventure capital of Costa Rica. With the powerful volcano as your backdrop, you may feel compelled to glide through the treetops on a canopy zipline or rappel down rushing waterfalls. Sound like a bit much for the kids? No problem! Arenal adventures are plentiful. Trade out the zipline adventure for a calmer aerial tram tour. Or split up for the morning on different tours and share your adventures over lunch! Finally, everyone can be happy.
Arenal family hotels: The Springs Resort, Tabacon Thermal Resort
The Cloud Forest for your Farmer
Just an hour and half from San Jose, the misty cloud forest offers a surprising range of nature and cultural activities for families. Much of Costa Rica's coffee and cocoa are cultivated in the cool central highlands of the cloud forest. Arrange a day tour to a neighboring coffee plantation to discover how coffee is made, taste all-natural cocoa, and grind sugar cane. Your little farmer will undoubtedly also enjoy the variety of animals that can be found in the cloud forests. Hike to a nearby waterfall and explore the unique birds, reptiles, and animals of this unique ecosystem.
Cloud Forest family hotel: Peace Lodge
Manuel Antonio & Guanacaste for your Water Bug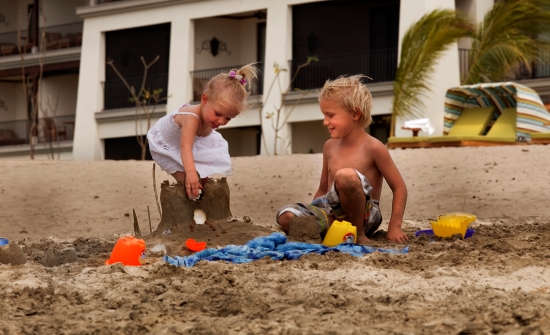 If you can't pull your kids out of the sandbox or the pool, Manuel Antonio National Park and Guanacaste are great bets. Water sports and activities can be arranged from both areas and many hotels supply complimentary rentals. While both Manuel Antonio and Guanacaste are on the coast, they are very different destinations with different accommodation styles. Work with one of our Experts to choose the right destination and hotel for your family.
Manuel Antonio family hotels: Hotel Si Como No, Buena Vista Villas
Guanacaste family hotels: JW Marriott, Andaz Resort
Osa Peninsula for your Wildlife Enthusiast
The wildlife on the Osa Peninsula is almost as dense as the rainforest itself. Your odds of seeing animals in their natural environment? Almost guaranteed. This is your off the beaten path rainforest experience. The kids will get a kick out of boating through wild mangroves in Corcovado National Park. There are a variety of hikes and exploration activities from the lodges that everyone will enjoy.
Osa Peninsula family hotels: Lapa Rios Ecolodge, Playa Cativo Lodge
Found your favorite family vacation spot? Plan your trip or browse our family vacation packages for more ideas!
Related Articles: