Costa Rica is a tour country. By this I mean, you have to take tours to experience its essence. The biggest draws to the country are outside the resorts: rainforests, wildlife, waterfalls, mangrove estuaries, cloud forests, and national parks… you name it. You have to get OUT to see what this little country is all about.
Having said that, I recognize that traveling with kids presents its own challenges. I have two little hooligans of my own. To be honest, some tours are just not going to be worth it to me with the kids in tow. Vacation is meant to be enjoyed after all. Taking my 2-year-old on a 3-mile hike in which he walks 5 minutes and I carry/drag him the rest of the way would be one of those not-worth-it tours for me. However, maybe your kid will sleep in a carrier or is a little mountain goat. Variables abound. You know your family's tolerance and temperaments.
With that said, here is my attempt to break out the worth-it family tours by age (scroll down for the bigs) so you can get out and see Costa Rica and build some incredible memories together — without needing a vacation after vacation. IYKYK.
And at the end of the day, if the tour with the kids didn't quite go as planned, you will still have great memories and hopefully some laughs.
Worth It Family Tours with Kids 6 and Under
Before we get into the nitty-gritty, a few tips worth noting.
Less is more with this age group. Slow down. Half-day tours and free days are your friends.
Private tours with kids are worth it. You can discover at your leisure and if something happens, adjustments can more easily be made.
Book the hike, but check the distance or length in advance. Even with older kids (and adults), it might be helpful to build up a little walking endurance around the block to see what everyone is realistically comfortable with. Train for vacation? You bet! It will get everyone excited. And, a little extra exercise never hurts.
Kid gear is stressful. Skip the mega stroller. Bring a carrier or pop-up stroller (it's lightweight & you can donate it to the hotel if it's not serving you). Ship a box of diapers to the hotel in advance to have in your room on arrival.
Pack a mini first aid kit. This goes for everyone, especially our most accident-prone little folks. It's really no fun hunting down Neosporin in a foreign country.
Afternoon Sloth Tour | Arenal
This 2-3 hour hike takes you and the kids in search of one of Costa Rica's iconic animals: the sloth. The Arenal region is home to a multitude of animal species; including both species of sloth found in Costa Rica: the two-toed sloth and three-toed sloth. Getting out into the forest and learning a bit about the rainforest ecosystem is high on any animal lover's bucket list, big or small. You are sure to spot other animals as well like iguanas, monkeys, tropical birds, and more.
Manuel Antonio National Park Hike | Manuel Antonio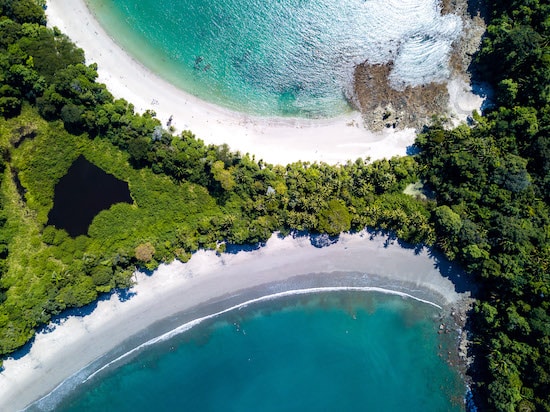 This rainforest beach hike is about 2-3 hours in length, paved (you can bring that pop-up stroller), can be made private, and is definitely worth it. If you're visiting the Central Pacific Coast, Manuel Antonio National Park is the main attraction. Furthermore, the kids will see animals. You are pretty much guaranteed a monkey sighting. You can enjoy any downtime following the tour at the beach. Go early for the most animal sightings and fewer people. And let's face it, you'll be up anyway.
Damas Island Mangrove Boat Tour | Manuel Antonio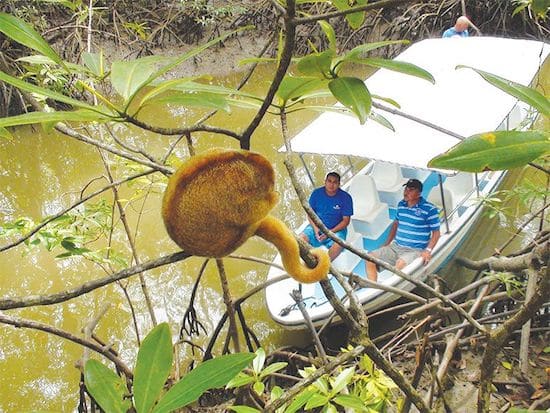 Seeing Costa Rica by boat sounds pretty easy, doesn't it? It is. A naturalist guide will lead you through the estuary mangrove of Isla Damas. Let the wildlife come to you – sometimes right up to the boat! Look for monkeys as they traverse the mangrove ecosystem, tropical birds, intriguing reptiles, and more local wildlife. As you wind through jungle estuaries, your guide will share the secrets, both past and present, of the mangrove ecosystem that is so essential to Costa Rica – and the world! Your tour will end with a relaxing meal.
Mistico Arenal Hanging Bridges Hike | Arenal
The Arenal Hanging Bridges encompass a series of pathways and elevated walkways set within a privately owned nature sanctuary spanning approximately 250 hectares of vibrant tropical greenery. Accompanied by an experienced naturalist guide, you will venture across impressive suspended bridges that offer captivating views of the lush canopy below. Your trek involves traversing a total of 8 secure, stationary bridges and 6 hanging bridges, all designed with a keen focus on both safety and aesthetics.
Ages: allows all ages
Tamarindo Mangrove Boat Tour | Guanacaste
Ideal for nature enthusiasts, this 2.5-hour boat excursion offers a leisurely journey through a picturesque mangrove estuary. You'll be aboard a spacious 45-foot boat, providing individual seating for up to 28 passengers. Explore the serene waters of the river estuary that meanders between Tamarindo and Playa Grande, where you can witness an array of wildlife in their natural surroundings, including birds, crocodiles, iguanas, and monkeys.
Palo Verde National Park by Boat
The Tempisque River has given rise to a globally significant wetlands environment, recognized as a Ramsar site. Palo Verde National Park is a haven for bird enthusiasts and nature aficionados alike. This two-hour boat excursion offers an insightful introduction to this vital ecosystem, where you may encounter immense crocodiles, monkeys, iguanas, and an array of other wildlife. Keep an eye out for the impressive Jabiru, the majestic osprey, the elegant white ibis, as well as striking tiger herons and vibrant scarlet macaws! Following the morning boat expedition, indulge in a delectable tropical lunch.
La Paz Waterfall Gardens Private Tour | Central Highlands
Prepare for an unparalleled Costa Rican adventure that encompasses enchanting waterfalls, ethereal cloud forests, and vibrant rainforests. Our knowledgeable staff will expertly guide you through winding trails, leading to the nation's most renowned waterfalls and a rescued wildlife sanctuary teeming with over 100 diverse animal species. Among the highlights are captivating exhibits showcasing monkeys, jungle cats, and an aviary boasting 40 distinct bird species. You can also marvel at the butterfly observatory and gardens, immerse yourself in the hummingbird garden featuring 26 documented species, explore the ranarium (home to a variety of frogs), discover the serpentarium showcasing an array of snakes, and delve into the intriguing insect and orchid exhibits, among other attractions. Don't miss the unique opportunity to feed both toucans and hummingbirds. Following your adventure-packed morning, you'll have the afternoon to explore at your leisure.
Worth It Family Tours with Kids 7-12 Years Old:
You know your kids best. At a certain point, they can handle the longer hike, the adventure. It also helps that many Costa Rica tour companies have provided a minimum age of 7 for some of the adventure activities. So this feels like a natural dividing point.
Balsa River Whitewater Rafting Class II-III | Arenal
The Balsa River presents a variety of class II and III rapids, suitable for both newcomers to paddling and experienced thrill-seekers seeking a challenge. Its characteristics resemble those of many rivers in Costa Rica's Northern Zone, featuring a sequence of continuous Class III rapids separated by serene pools in the initial part of the journey, followed by gentler rapids that are perfect for wildlife observation during the latter part. Nestled within the rainforest's lowlands, the Balsa River provides stunning views of natural landscapes. Keep an eye out for exotic birds and other fauna inhabiting the lush jungle surroundings along the river's edge. Your adventure package also includes a satisfying lunch.
Minimum Age: 7 years
Ocean Kayak & Snorkel | Manuel Antonio
Embark on an oceanic journey commencing in the vicinity of Marina Pez Vela in Quepos, then tracing a picturesque route along the Manuel Antonio coastline. An informative naturalist guide will accompany you, providing insights into the fascinating marine wonders encountered during your paddle. Your destination includes prime snorkeling locations, featuring a captivating volcanic rock formation teeming with a diverse array of fish, crabs, and other aquatic creatures along the shores of Biezans Bay. To cap off your adventure, indulge in a delectable hot lunch infused with authentic Costa Rican flavors at a nearby local eatery by the beach.
Minimum Age: 7 years
Horseback Riding Tocori | Manuel Antonio
Immerse yourself in a captivating half-day excursion within the enchanting Tocori Biological Reserve. Traverse the lush tropical jungle, a mere stone's throw away from Manuel Antonio, while delving into the world of Costa Rica's exotic flora and rare wildlife. Your adventure kicks off with an exhilarating hour-long horseback ride, followed by a guided nature walk. The knowledgeable Don Gilberto and his family will guide you on an enlightening tropical journey, culminating in a refreshing visit to the Tocori Waterfall. Post-waterfall exploration, savor an authentic Costa Rican lunch that will tantalize your taste buds. To wrap up your adventure, gain insights into the private herb and plant garden, where efforts are made to educate both locals and visitors on preserving the indigenous plant and herb varieties that grace this beautiful country.
Minimum Age: 7
Penas Blancas Kayak Safari Float | Arenal
Enjoy the sights and the sounds of the rainforest and experience its peacefulness as you quietly paddle the Peñas Blancas River. Monkeys, sloths, crocodiles and numerous tropical birds await us! A bilingual guide will share with you educational and interesting explanations of the plants and animals we encounter on the float. You will truly appreciate the wonders of Peñas Blancas River and the surrounding rainforest as we travel down the river without a motor, allowing you to enjoy the true essence of the forest.
Minimum Age: 6 years
Pure Trek Canyoning | Arenal
Embark on an exhilarating journey through the forest, following trails that lead to some of Costa Rica's most breathtaking waterfalls. Unearth hidden secrets nestled deep within the canyon with the assistance of specialized techniques and standard mountaineering gear. Your adventure begins with a brief safety briefing, after which you'll don your equipment and set out on a short hike to the summit of the initial waterfall, where your descent commences. This thrilling escapade comprises five rappels, encompassing four descents along cascading waterfalls and one on a dry rock face. The heights vary from 50 to 20 meters, guaranteeing an adrenaline-pumping experience! Anticipate vertical water descents, dense jungle foliage, encounters with untouched wildlife, moments of solitude, sheer adventure, and an electrifying adrenaline rush. As part of your adventure, a satisfying lunch is included.
Minimum Age: 5 years
Sky Tram & Trek Canopy Zipline | Arenal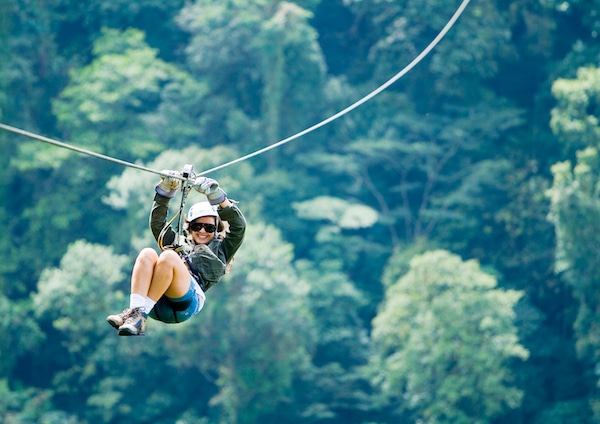 If you're seeking a thrilling canopy zipline experience while visiting the Arenal region, this is the ultimate destination. Begin your adventure by boarding the Sky Tram, offering stunning vistas of the Arenal Volcano and Lake Arenal during your ascent to the zipline action. The Sky Tram journey culminates at a spacious observation platform situated at the highest point within the Arenal Reserve. It's here that your experienced guides will provide a brief safety orientation before you launch into the canopy! The Sky Trek is an exhilarating aerial journey amidst the treetops, featuring a series of 7 ziplines seamlessly integrated into the forest. As you soar through the canopy, take in the mesmerizing beauty of Lake Arenal and the majestic volcano as a backdrop. These 7 transverse cables vary in length, spanning from 30 to an impressive 750 meters, and are suspended at heights ranging from 20 to 200 meters. At these lofty elevations, you'll ascend above the tallest trees on the mountain, treating yourself to breathtaking panoramic vistas. Note that height and weight restrictions are applicable; please inquire for specific details.
Minimum Age: 5
Jungle Night Walk Tour | Arenal or Manuel Antonio
This is an excellent choice for families with kids who can stay awake past sunset! This tour offers an intriguing showcase of the contrasting intricacies between the forest ecosystem during the day and at night. Of course, be sure to complement this night excursion with a daytime forest visit to gain a comprehensive understanding of the tropical rainforest from both perspectives.
Arenal Hanging Bridges & La Fortuna Waterfall Hike
The Arenal Hanging Bridges hike offers an immersive experience within a private nature reserve encompassing more than 1,500 acres of lush tropical rainforest. This adventure comprises 8 fixed bridges and 6 hanging bridges interconnected by well-maintained trails on solid ground. These bridges not only provide a secure pathway but also an exhilarating vantage point for observing the rich canopy of the rainforest.
Following the Hanging Bridges exploration, a satisfying lunch awaits. Afterward, you'll make your way to the La Fortuna Waterfall. From a high observation point, you'll marvel at the waterfall's cascading beauty before embarking on a descent of approximately 300 meters along a steep, paved stairway pathway to reach the base. Here, you'll have the opportunity to capture stunning photographs and perhaps even take a refreshing dip in the invigorating waters. While swimming is allowed in the river, it's important to note that it's not permitted near the waterfall itself.
Minimum Age: 5
To be clear, all of the above-mentioned tours can be enjoyed by adults, with or without kids. These are experiences the whole family will enjoy!
Related Articles: