Costa Rica, with its rich biodiversity and stunning landscapes, is not just a haven for nature enthusiasts but also a paradise for families seeking a memorable beach vacation. From pristine white sands to vibrant coral reefs, Costa Rica offers a diverse range of beaches catering to various tastes – which can be tough to navigate with kids! To make traveling with kids a bit easier, here's our guide to the top 10 Costa Rica Beaches for families.
Manuel Antonio Beach is a classic for a reason. Nestled within Manuel Antonio National Park, this beach combines the allure of soft sands with the thrill of wildlife spotting. Families can enjoy the shade of almond trees and may encounter friendly capuchin monkeys playing along the shore. The ocean is relatively calm here with lifeguards present for an additional layer of safety. Picnic areas and restrooms are available in the park.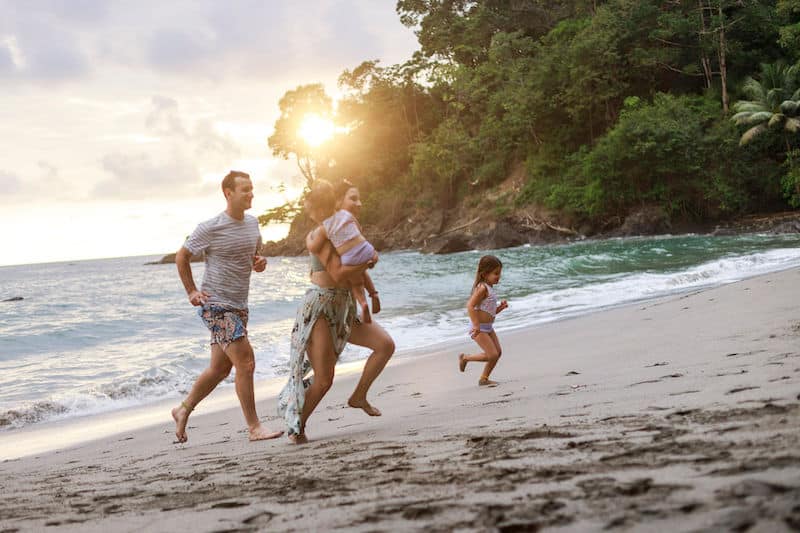 There are also a few beach hotels in the area with direct beach access outside of Manuel Antonio National Park. Hotels in Manuel Antonio are not allowed to be set directly on the beach but rather set back from the shoreline. Pictured is Arenas del Mar Beach & Nature Resort, a wonderful luxury resort option that benefits from direct beach access from the resort. Travelers might arrange a day tour to Manuel Antonio Beach within the national park while still enjoying beach days at the resort.
Perfect for families seeking tranquility, Playa Hermosa boasts calm waters and stunning black volcanic sands. The serene environment makes it an ideal spot for relaxation, and the nearby forests offer opportunities for exploration.
Located on the Nicoya Peninsula, Playa Samara is renowned for its gentle waves, making it a safe haven for families with young children. The crescent-shaped bay provides a picturesque setting for various water activities.
Known for its unique shell-covered sands, Playa Conchal offers a unique beach experience. The shallow, turquoise waters make it safe for children, and the abundance of seashells provides an excellent opportunity for beachcombing.
Located just north of Tamarindo and a haven for surf enthusiasts, Playa Grande offers consistent waves suitable for both beginners and seasoned surfers. The leatherback turtles, which nest on this beach, add an exciting element for families interested in wildlife.
Tortuga Island | Accessible from the Nicoya Peninsula
Accessed by boat from the Nicoya Peninsula, Tortuga Island features white sandy beaches and crystal-clear waters. Families can enjoy snorkeling, kayaking, and picnicking on this idyllic island.
Families looking for a luxurious beach experience should head to the white-sand beaches of Playa Flamingo. With its upscale resorts and pristine coastline, it offers a perfect blend of relaxation and entertainment, including snorkeling and sunset cruises. The beach is only about one mile long, making it a great beach walk for all ages.
For families seeking a laid-back atmosphere and a surfer's vibe, Playa Dominical fits the bill. The beach is surrounded by lush vegetation, providing a natural playground for kids, and the consistent waves attract surfers of all levels.
A lesser-known gem, Playa Potrero offers a peaceful escape for families. The calm waters make it suitable for swimming, and the beach's proximity to local amenities ensures a comfortable stay.
On the Caribbean coast, Cahuita National Park boasts pristine beaches and vibrant coral reefs. Families can explore the park's trails, encounter diverse wildlife, and relax on the picturesque beaches.
Tips for Enjoying Costa Rica's Beaches with Family
Safety First
Always adhere to safety guidelines, especially if you have children. Be aware of the local conditions, such as tides and currents.
Wildlife Awareness
While enjoying the natural beauty, be respectful of the wildlife. Keep a safe distance and avoid feeding animals.
Sun Protection
The sun in Costa Rica can be intense. Ensure your family is well-protected with sunscreen, hats, and appropriate clothing.
Water Activities
Take advantage of the diverse water activities available, such as snorkeling, kayaking, and paddleboarding.
Costa Rica's beaches offer a perfect blend of relaxation, adventure, and natural beauty, making it an ideal destination for families seeking a memorable beach vacation. Whether you're into water sports, wildlife encounters, or simply soaking up the sun, Costa Rica has a beach to suit every family's preferences.
Family Beaches FAQs:
Don't swim in rivers. They are home to crocodiles. This includes river mouths that empty out to beaches!
Both the Caribbean and the Pacific have beautiful beaches, but the Pacific Coast has the greatest diversity and offers more options for families.
This is family-dependent to an extent. For families with small children, we often suggest beach destinations in
Guanacaste
or the Central Pacific region like
Manuel Antonio
.
Picked your favorite family-friendly beaches? Let's turn them into a vacation package. Plan your trip with a Costa Rica Expert!
Related Articles: