Dominical, Costa Rica is a picturesque coastal town tucked between the lush rainforests and the sparkling Pacific Ocean. Known for its world-class surf breaks, Dominical attracts surfers from around the globe who come to ride its consistent waves. Beyond the surf, Dominical offers pristine beaches with golden sands, perfect for sunbathing and beachcombing. The area is rich in biodiversity, and visitors can explore the surrounding rainforests, spotting monkeys, sloths, and tropical birds. Dominical is also a gateway to adventure, offering activities like zip-lining, waterfall rappelling, and hiking through breathtaking landscapes. The town's relaxed and welcoming atmosphere, combined with its eco-friendly practices, make it an ideal destination for those seeking a balance of outdoor exploration, relaxation, and sustainable tourism.
Reasons to Visit Dominical
Dominical is well-known for its welcoming and laid-back vibe. If you want to be in a prime location with access to all the Costa Ballena region has to offer while being able to return to a relaxed and quieter atmosphere, Dominical is a great spot to make your travel hub for the area. If you're interested in a place that offers a rainforest adventure and a beach vacation at the same time, Dominical may be just the place for you. Be sure to ask our experts about booking your ideal Dominical vacation here!
Places to Visit in and Around Dominical:
Whale's Tail
About a 20-minute drive south down the coast, you'll find the town of Uvita, home to Marino Ballena National Park. Here you can see one of Costa Rica's natural wonders: a large sandbar shaped uncannily like a whale's tail. Given that the park is also a common whale-watching spot, this tail-shaped geographical feature is especially notable. You can typically either explore the park by land or sea, with options to hike to the sand bar or board a whale-watching tour boat. Whether you want to relax on the park's pristine beaches or ride out into the surf to spot some of the hundreds of humpback whales that gather here each year, there's a way to see the Whale's Tail for everyone.
Nauyaca Waterfalls Scenic Hike
Tucked away in the rainforest about 45 minutes away from Dominical, the Nauyaca Waterfalls tower is 200 feet (61 meters) above a pool of pristine water. These two falls have captured the imagination of locals and tourists alike with their stunning beauty and grandeur. To visit, you'll need to plan on a little bit of a trek, as there is no direct vehicle access to the falls. Instead, you'll need to either take a horseback riding tour or hike on foot. Be sure to keep an eye out for tropical flora and fauna native to the area on the approximately 1.25-mile (2-kilometer) walk. You'll want to bring a change of clothes as well, because the pool beneath these two combined waterfalls is a lovely spot to swim, especially after a hike or ride through the rainforest!
Corcovado National Park
If you want to venture outside of the Costa Ballena region, you could go a little further south to the remote Osa Peninsula for a day tour of Corcovado National Park. Established in 1975, Corcovado National Park is the largest park in Costa Rica and covers almost a third of the peninsula. To enter this park, you must be accompanied by a certified guide, so we recommend booking a guided tour to ensure park access. Besides, you'll want a guide to help you spot the multitude of varied plants and animals that make up the biologically diverse ecosystem of the tropical lowland forests found here. If you're interested in seeing wildlife and exploring a truly unique corner of the world, Corcovado National Park is a must.
Terraba Sierpe National Wetlands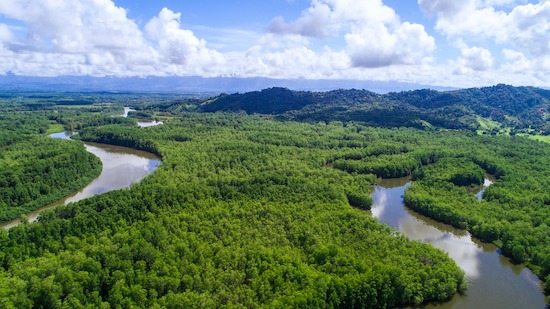 South of Dominical, located at the outlets of the Terraba and Sierpe Rivers, sit these sprawling wetlands and mangroves. Home to a wide variety of birds, reptiles, fish, and mammals, the Terraba Sierpe National Wetlands were established in 1994 to protect the multitude of species found here. It is the largest mangrove system in Costa Rica and one of the largest in Central America, and it is vitally important to maintain the habitat that in turn protects the Terraba and Sierpe River systems. Take a boat or kayaking tour through the wetlands and have a guide help you spot all sorts of wildlife. Depending on the day, you could see sharks, crocodiles, herons, sloths, monkeys, and an innumerable amount of other wildlife that call these wetlands and mangroves home.
Things to Do in and Around Dominical:
Surfing is a highlight.
Dominical is renowned for its excellent surf conditions, making it a must-see destination for experienced surfers. Rent a board to catch some waves and experience the thrill of surfing in the Pacific Ocean. If you're a beginner, we'd recommend taking surf lessons at a beach with calmer waves closer to Uvita.
Beach days are a must.
Spend time relaxing on the beautiful beaches of Dominical, such as Playa Dominical and Playa Hermosa. Take a walk along the shore, soak up some rays, and enjoy the beauty of the Pacific. 
Wildlife watching is top-tier.
Go on a nature tour or hike through the rainforests surrounding Dominical to catch sight of the abundant wildlife. Keep an eye out for howler monkeys, sloths, toucans, and other tropical birds. You may also spot dolphins and whales during certain times of the year—visit the nearby Marina Ballena National Park for some of the best whale watching! 
Adventure activities are plentiful.
Join a rappelling tour that takes you to stunning waterfalls or sign up for a canopy ziplining tour to get a bird's eye view of the rainforest. Experience the thrill of rappelling down cascading waterfalls or ziplining through the trees and enjoy the natural beauty of the surrounding jungle. Dominical is a haven for those who are more adventurous. 
Hiking is eye-opening.
Explore the nature reserves and national parks in the region, such as Manuel Antonio National Park or Hacienda Baru Wildlife Refuge. These might make a great day trip! Follow hiking trails or sign up with a guide that can lead you through diverse ecosystems, including forests, mangroves, and coastal habitats. 
Water sports are fantastic.
Take some time to engage in water sports like kayaking, stand-up paddleboarding, or snorkeling. Explore the coastline, rivers, or nearby Marino Ballena National Park. 
Yoga and self-care treatments will bring the zen.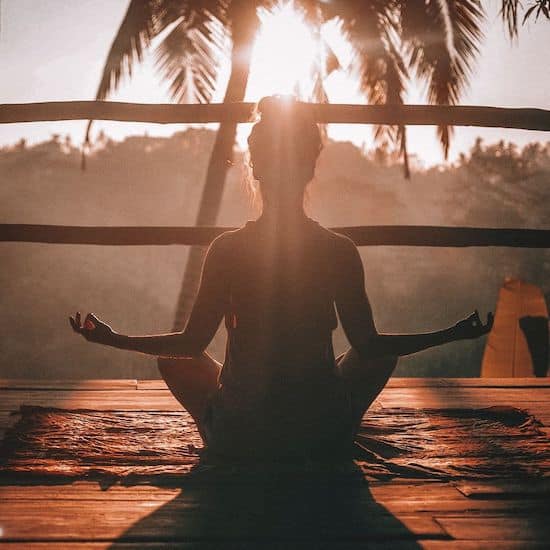 Dominical is a hub for yoga and wellness retreats. Join a yoga class or indulge in spa treatments to relax and rejuvenate in the tranquil surroundings. 
How to Get to Dominical
:
While you can technically drive to Dominical from either of Costa Rica's main airports in Liberia or San Jose. If you plan on driving, we would recommend coming from San Jose as it is about 3 and a half hours away (whereas Liberia is about 5 hours away from Dominical). You can get to Dominical by car, or you could take a short domestic flight from Liberia or San Jose into Quepos, which is about a thirty-minute drive outside of Dominical. If you are the brave sort who chooses a rental car to drive around Costa Rica, make sure you use a vehicle with four-wheel drive if you're going to Dominical– the main roads through town are fine, but the smaller side roads can be steep going up into the hillside of the rainforest.  
What's the Weather Like?
Like much of Costa Rica, Dominical experiences two primary seasons, each with its own typical weather patterns: the green season, which is typically rainier and slightly cooler (April-November), and the dry season, which is warmer and experiences less rain (December-March). Though you will likely experience more rain in the green season, there is always a chance that it may rain on any given day since Dominical is a tropical rainforest climate. You can expect average temperatures to range between 72-88 degrees Fahrenheit, with the lower end more likely in the green season while hotter temperatures are to be expected in the dry season.
What to Bring to Dominical:
Remember to pack light and pack smart, focusing on essentials that will keep you comfortable in the tropical climate. Lightweight, comfortable clothing is the name of the game anywhere in Costa Rica, and that remains the same along the South Pacific coast. Beachwear, rain gear, hiking shoes, sunscreen, bug spray, and moisture-wicking clothing are must-haves. If you want to see what our experts recommend for packing for any trip to Costa Rica, please check out our Expert Recommended Packing List.
Frequently Asked Questions:
While the beaches in Dominical are gorgeous, particularly at low tide, the beach itself isn't the best for swimming. The waves are consistently large and we'd recommend leaving the tides to the surfers of the area. However, excellent swimming beaches can be found just a bit south at Dominicalito, Playa Hermosa, and inside Ballena Marine National Park.
Yes, as in most of Costa Rica, the water is safe to drink.
The standout pastime that Dominical is known for is surfing- its consistent and huge waves make it a haven for experienced surfers.
Dominical is located on the South Pacific coast in an area called Costa Ballena, near other beach towns like Uvita and Ojochal.
If a laid-back surfer town with a vibrant local culture is your cup of tea, yes!