When it comes to traveling with family, it can be a challenge to find things everyone will enjoy. The following Costa Rica family vacation ideas are favorites for all ages.
River or Mangrove Float
Floating along Costa Rican waterways looking for wildlife is an adventure for everyone. The forest comes alive in the evening on the Penas Blancas River Twilight Safari Float near Arenal Volcano. There are also some fantastic mangrove floats available from the coastal destinations of Manuel Antonio, Tamarindo, and the Osa Peninsula. The Damas Island Estuary Boat Tour near Manuel Antonio is a fun opportunity to learn about the mangrove ecosystem and look for wildlife like herons, caimans, white-face monkeys, anteater, boa constrictors, egrets, and over 100 species of migrating and local birds. If you're visiting the Guanacaste area, consider the 3-hour Tamarindo Mangrove & Estuary Tour on Kayaks. You can explore the mangrove ecosystem from single or double kayaks guided by a professional naturalist. The Safari Float Tour on the Corobici River is another option in the Guanacaste area if you'd prefer to skip kayaking. If you're visiting Drake Bay on the Osa Peninsula or Tortuguero National Park, a mangrove river ride may be part of the arrival process! Ask a Costa Rica Experts for float tours near your destinations of interest.
Butterfly Gardens
Butterfly Garden tours are accessible in destinations throughout Costa Rica. Kids and adults will love walking through these vibrant gardens exploring the colors and patterns of Costa Rica's many butterfly species in their natural habitats. Many butterfly gardens will also explain the four stages of the butterfly's life cycle from larva to butterfly. If you happen to be heading up to the Monteverde Cloud Forest, make a reservation at Monteverde Lodge where you can reserve their butterfly gardens for a private meal.
Diamante Eco Adventure Park
There's something for everyone at Diamante Eco Adventure Park in the Guanacaste region. There are a variety of day passes available to the park. Book the Discovery Pass to explore the wildlife sanctuary where monkeys, jaguars, pumas, sloths, toucans, butterfly observatory, birds, and snakes rescued by the Costa Rican Ministry of Wildlife can be found. If you're an adventurous bunch, you'll want the Diamante Aerial Pass for the Superman zip line experience. The adventure includes the Superman Zipline, Tarzan Swing, Quick Jump, and Hanging Bridge with state-of-the-art equipment. Want a little bit of everything? Ask for the Adventure Pass which includes all of the above in addition to kayaking, stand up paddle boarding, snorkeling, hiking trails, botanical garden and Hammock Beach.
Day Hike or Night Walk
If your kids love the great outdoors, you can't go wrong with a hike or nature walk. With so much nature and wildlife, Costa Rica has national parks within a reasonable distance of nearly every destination. A hike through one of Costa Rica's many national parks with a professional naturalist guide pointing out frequently overlooked nature and wildlife is a highlight for most travelers. Consider also booking a night walk at a national park or wildlife preserve. One of my personal favorites is the night hike at Vida Selvatura Refuge. In the evening, a whole different spectrum of animals emerges to reveal the bustling activity of the forest at night.
Chocolate Tour
Kids love chocolate. Kids love farms. So the chocolate farm will surely be a hit. The two-hour Rainforest Chocolate Tour from Arenal is an interactive introduction to the making of chocolate. Discover the history of cocoa and chocolate, participating in the production, harvesting, drying, and grinding of the sea. Finally, taste test the delicious organic chocolate for yourself!
La Paz Waterfall Gardens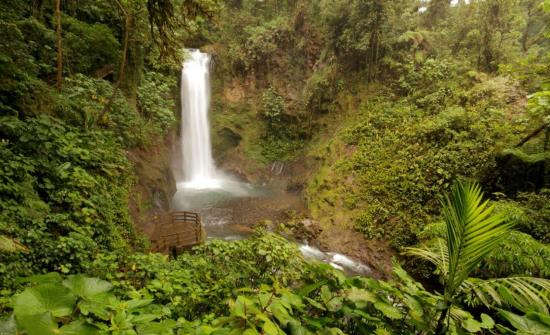 La Paz Waterfall Gardens is a private nature reserve in the cloud forest with a well-maintained trail connecting five waterfalls. The gardens also have an on-site wildlife refuge with butterflies, birds, frogs, snakes, monkeys, and jaguars. Don't miss the Casita de la Paz, a reproduction of a 100-year-old Costa Rican farmhouse where kids can learn about the typical way of life for Costa Ricans from history. Directly behind La Paz Waterfall Gardens is the property's hotel, the Peace Lodge. We recommend staying for a night or two at the lodge to take full advantage of the gardens at your leisure.
Related Article: 7 Best Family Resorts in Costa Rica
Surf Lessons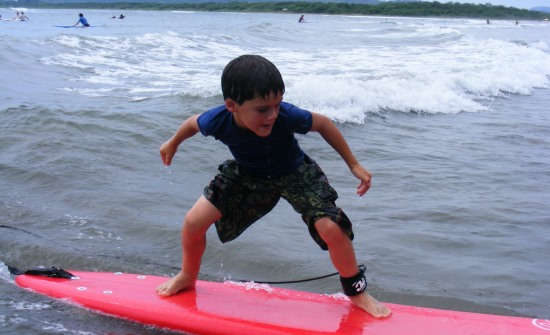 There's nothing cuter than watching your little one get up on a surfboard. Surf lessons are available along the Pacific Coast and are fun for the whole family. No experience required. Manuel Antonio, Jaco, Flamingo Beach, Grande Beach, and Tamarindo Beach are great spots for lessons with new surfers.
Beach Day
Don't forget to schedule some downtime on Costa Rica's sunny beaches for you and the kids. Many hotels will also provide access to water toys such as kayaks, stand up paddle boards, and snorkel equipment to keep the kids busy while you relax. Need we say more?
Ask a Costa Rica Expert for a Hotel with a Kids Club.
Sometimes everyone in the family needs a bit of space. Kids Clubs are the perfect place for the young ones to go let off some steam and for the adults to do … whatever they'd like. Spa treatment, beach time, nap, you name it. Ask a Costa Rica Expert for hotel recommendations with a kids club or babysitting services.
For more Costa Rica family vacation ideas, browse our family vacation packages. Ready to start planning? Click here to plan your trip.
Related Articles: