Located in the northern lowlands of the Guanacaste province of Costa Rica, Tenorio Volcano National Park is known for Tenorio Volcano, natural hot springs, hiking trails, wildlife, and most notably, Rio Celeste Waterfall.
The Legend of Rio Celeste
Local legend has it that after God finished painting the sky, he washed his paintbrushes in Rio Celeste turning in the brilliant blue that fascinates us today.
Ranger Station
There is one ranger station within the park open daily from 8 am – 4 pm with restrooms, drinking water, restaurants, and first aid available.
The Rio Celeste Waterfall Trail
There is one hiking trail within Tenorio Volcano National Park which brings you past a multitude of wonders, but ultimately to the brilliant blue Rio Celeste. This challenging in-and-out trail – 3 1/2 miles in total – showcases the following highlights of the park (in order):
Rio Celeste Waterfall
The powerful Rio Celest Waterfall plunges 98 feet into a pool of bright blue water surrounded by dense tropical forest. The contrast is as striking in person as it is in photos – a true diamond in the rough.
From the ranger station to the waterfall turnoff, the trail is relatively flat and paved (about twenty minutes). Beyond that, the remainder of the hike is unpaved. Once you reach the turnoff point to the waterfall, you'll need to descend a series of about 250 steep paved stairs. It's a bit of a challenge on the return ascent, but worth it! Just stop, breathe, and enjoy the scenery – often. 🙂
Some people choose to visit the waterfall last in the sequence to re-energize themselves before the trek back to the ranger station. If you choose to do that, the first highlight you'd come across would be Laguna Azul.
Laguna Azul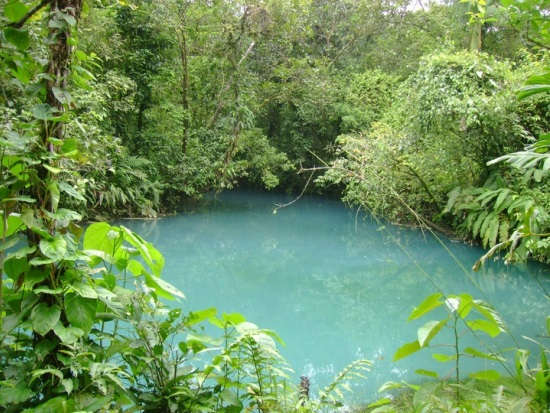 Many people say this magical little pool of blue water is reminiscent of the magic mermaid lagoon in Peter Pan.
Los Borbollones
After Laguna Azul, continue on down to Los Borbollones, a spot in the river where sulfuric gases from the volcano bubble up through the water.
El Teñidero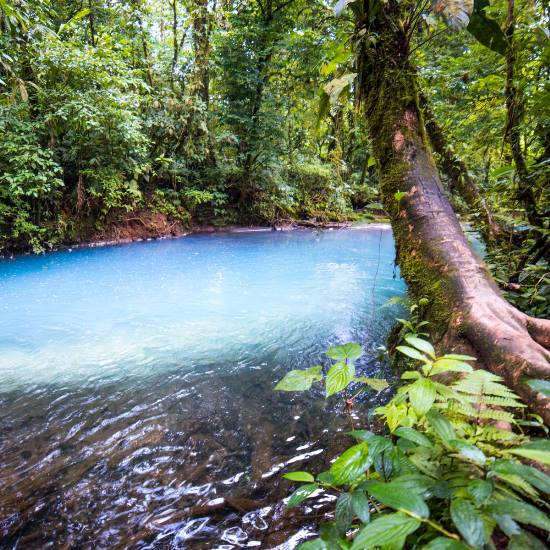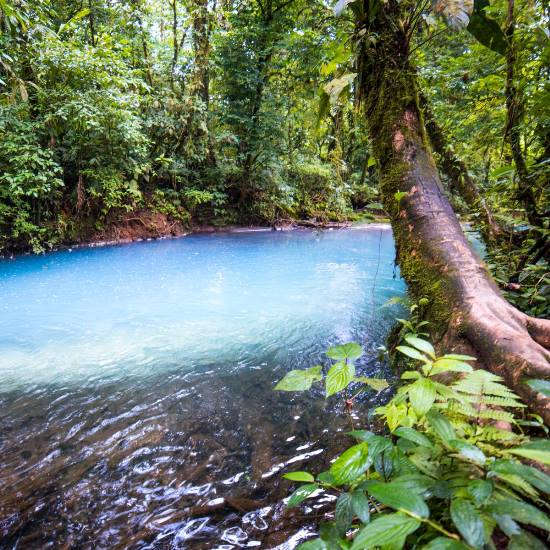 After crossing an Indiana-Jones style bridge and a series of picturesque fixed low bridges, you'll arrive at one of the last highlights of the trail. El Teñidero is formed where the minerals of two rivers meet (Quebrada Agria and Rio Buena Vista) – turning Rio Celeste bright blue. It's an impressive sight to see as the otherwise normal-looking rivers converge into one electric blue current.
Notes:
In the green season (May – December), the trail can get pretty muddy. Wear your hiking boots!
Swimming is not permitted within Tenorio Volcano National Park.
Guided Hiking in Tenorio Volcano National Park
Guides are fantastic for spotting wildlife in the forest that you would otherwise miss. These professionally trained guides know bird calls, animal behaviors, and the unique interconnected relationships within the forest. You will get a lot more out of your time in the forest with the help of a guide, and you'll never get lost! We highly recommend one of the following guided hiking excursions to make the most of your time. Just ask one of our Costa Rica Experts and we can include one in your custom vacation package.
Rio Celeste Guided Rainforest Hike
Early this morning, you will be driven approximately 2 hours to Tenorio Volcano National Park for this full-day excursion. This challenging hike through the forest will begin at the park entrance led by your professional naturalist guide. Discover the magnificent Rio Celeste Waterfall and the location where the light blue coloration of the river ends. You'll pass a number of natural hot springs and observe the unique flora and fauna of the park. After your hike, enjoy a delicious and well-deserved lunch before returning back to your hotel for some rest and relaxation.
Includes transfers, entrance fees, guide, and lunch.
Rio Celeste & Tenorio Volcano Guided Rainforest Hike & Heliconias Hanging Bridges
This tour begins the same as the previous tour, but with a guided hike through the Heliconias hanging bridges trail. You'll arrive at Tenorio Volcano National Park for a challenging, but picturesque, two-hour hike. Visit the brilliant blue Rio Celeste Waterfall and explore the hot springs. Then continue on to a guided tour through Heliconias suspension bridges trail, a unique setting for those who love birds and nature. Canopy level bridges will allow you to experience the complexity of the forest from a different perspective.
Includes transfers, a guide, entrance, and lunch.
Tenorio Volcano National Park FAQs:
No, you cannot. Swimming within Tenorio Volcano National Park is prohibited.
Tenorio Volcano is considered dormant but is still surrounded by geothermal activity.
Tenorio Volcano National Park is open daily from 7 am – 2 pm.
$12/adult and $5 for children age 2-12; only credit/debit cards are accepted. The ticket office is located outside the park entrance. There are restrooms available at the entrance.
A team of researchers at 
Universidad de Costa Rica and the Universidad Nacional
 discovered that the blue water of Rio Celeste is actually an optical illusion rather than a chemical phenomenon (as previously believed). The reason we see the water in such a bright blue is because of a white substance that coats the rocks at the bottom of the river bed. The substance is a mineral composed of aluminum, silicon, and oxygen that when present in sizes as large as 566 nm (as they are in Rio Celeste) results in the electric blue color we see.
That's mostly your call. It is a bit out of the way for travelers visiting either Arenal Volcano, Monteverde, or Guanacaste, it's challenging, and it will take up about a day, but it is truly a unique experience!
Related Articles: