Costa Rica is a rising contender for the title of Best Family Vacation Destination. The intriguing wildlife and picturesque beaches are just a 3-hour flight from major hubs like Miami and Houston, with direct flights now offered from Newark, Chicago, and more. Costa Rica is an accessible and thrilling choice for families who want a little bit of everything.
One of the reasons families contact Costa Rica Experts for help with their family vacation is because they are simply overwhelmed by all the choices.  To help narrow down the options our Experts have selected their top picks for the best family resorts in Costa Rica: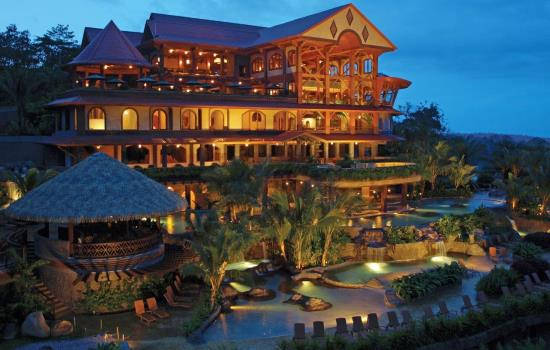 Large resort, activities center, hot springs
The Springs Resort and Spa is designed to offer a one-stop shop of hot springs, adventure, fine dining, and relaxation. The hotel sits in an elevated position, giving spectacular views of the massive Arenal volcano from just about every inch of the sprawling property.
During the day families can take advantage of the Club Rio Outdoor Center and enjoy activities like river tubing and horseback riding without leaving the hotel grounds. Also on-site is an animal sanctuary that features big cats, monkeys, sloths, and more.
In the evening dine in one of the many restaurants before a relaxing soak in the resort's many hot springs.
Our Experts love these accessible options for families who want to spend less time traveling and more time doing.
Villa-style, rainforest, private beach
Beachfront hotels are surprisingly rare in Costa Rica due to conservation laws, but there are a few exceptions for families who want sand and surf within arm's reach.
Tulemar Resort in Manuel Antonio offers direct access to a private beach and complimentary use of the hotel's boogie boards and beach equipment. Combine this with beachside lunch service and you've got a whole day of family fun without ever leaving the hotel.
The newly-renovated villas are unique in their octagonal design and set into the surrounding rainforest. With full kitchens and in-unit laundry, Buena Vista Villas can easily be your beach home base for an entire week.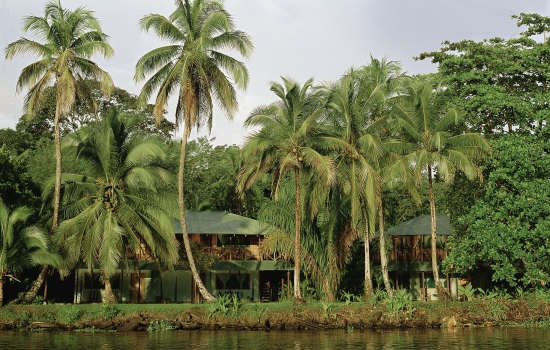 Eco-Lodge, remote rainforest
It may be unrealistic to drag your kids all the way to the Amazon, but Tortuguero is a family-friendly alternative that won't burn through your budget (and it's a lot easier to reach).
This remote rainforest region on the northern Atlantic coast allows families to explore exotic jungle canals by boat, eliminating the hassle of taking young ones on long hikes. It is not uncommon to spot monkeys, tropical birds, reptiles, and sloths while cruising the waterways of Tortuguero with a naturalist guide, who explains the inner workings of this unique eco-system. Who says vacation can't be educational?
Tortuga Lodge is accessed by a combination of ground and boat transfers, though families may prefer to take a short domestic flight from San Jose to minimize time in transit.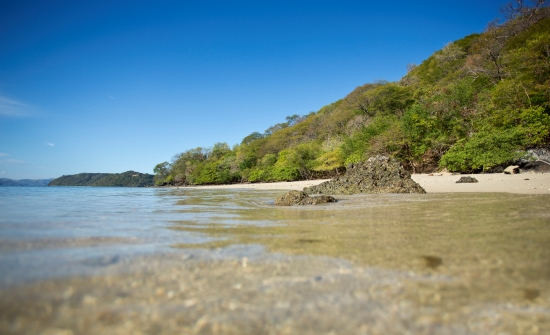 Boutique resort, calm beaches, golf
The Andaz Papagayo Resort offers more than eye-catching design and world-class culinary experiences. The boutique resort expands its authentic charm to families with a Kids Club program that offers unique cultural options, a large family pool, and an activities beach where guests can use kayaks and snorkel gear. Custom spa treatments featuring local ingredients will delight parents in need of a bit of pampering.
The resort sits on the edge of the bay, protected from the rough surf of the Pacific. The calm waters make for worry -free swimming for all ages.
Being less than an hour from the airport is a plus for families who want to cut down on in-country travel.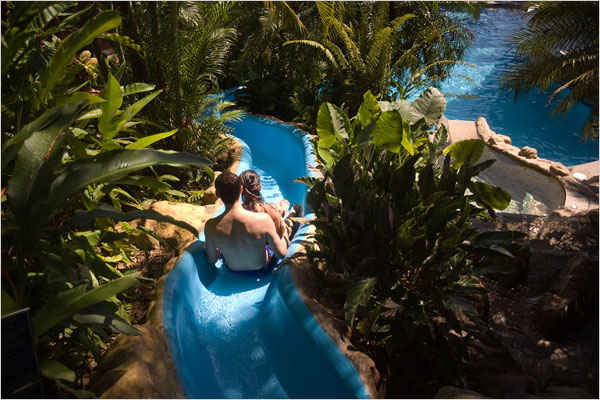 Boutique hotel, beach meets rainforest
Hotel Si Como No in Manuel Antonio was made for family vacations. This mid-size boutique hotel boasts a family pool, 2 restaurants, a butterfly garden, a free beach shuttle, and a small private cinema that plays family-friendly movies each evening. Wake up to gorgeous views of the Pacific and, if you're lucky, a few monkeys hanging around your balcony.
Si Como No is just 5 minutes from Playa Espadilla and the Manuel Antonio National Park – ideal for families who want the beach and rainforest without changing locations. Other nearby activities like zip-lining, mangrove tours, and whitewater rafting are enough to keep everyone entertained and active.
JW Marriott | Hacienda Pinilla, Guanacaste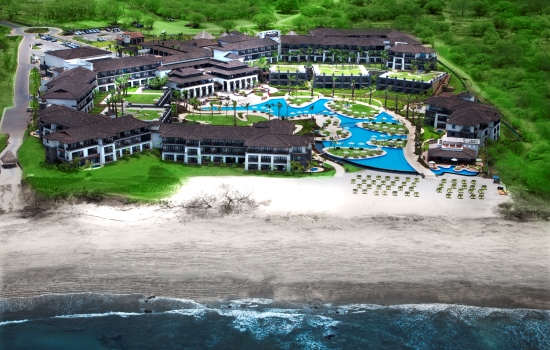 Familiar resort style, Kids Club, Golf
One of the most common requests from families traveling to Costa Rica is a hotel where the kids can have fun while the adults can relax without being too far. In this case, the Experts recommend the JW Marriott Guancaste Resort and Spa, home to the largest pool in Central America.
Indulge in a spa treatment or relax while the Kids Club enthralls the little ones. Explore the tide pools together, start a beach volleyball match, or take a family day trip to nearby Tamarindo to watch a surfing competition and eat in a local restaurant.
The resort is part of the Hacienda Pinilla development, which features a beach club, biking and jogging trails, and an 18-hole golf course.
Related Article: Costa Rica Family Resort Review: JW Marriott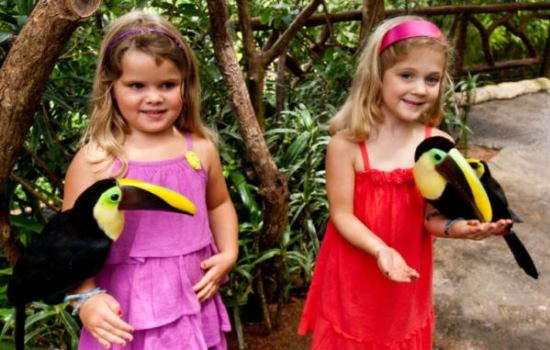 Luxury, Cloud Forest, Animal Exhibits
Costa Rica is a small country but because of the varying terrain, getting from one destination to another can take 3-4 hours.  For those averse to long drives, the Peace Lodge and La Paz Waterfall Gardens are an all-in-one experience, similar to its sister hotel and fellow family resort The Springs. Just an hour north of San Jose, this is a great way to begin or end any family vacation.
Kids love the on-site animal sanctuary where they can observe big cats and monkeys almost as much as the aviary where they can feed toucans on a guided tour. Adults love that their children can see these creatures in a controlled setting. Also on the property are hummingbird and butterfly gardens, reptile and amphibian exhibits, a series of waterfalls, and a large swimming pool – perfect for kids who love to zoo and adults who love convenient luxury.
If you're looking for the best family resorts in Costa Rica these Expert picks are a great place to start. Whether you want a standard resort or a remote rainforest eco-lodge, Costa Rica has everything.
Related Articles: