It's been eight months. Working at home seemed almost magical at first, but now that backyard view is getting a bit tiresome. Can anyone relate?
It's probably time for a change of scenery. Now, if it hasn't yet crossed your mind, allow us to highlight a simple truth: if you can work remotely from home, you can work remotely from anywhere. Breezy beach escape, anyone?
And why not work remotely in Costa Rica?
The time is right. The borders to Costa Rica are now open and they are no longer requiring a COVID-19 test before travel. Air travel is relatively safe based on the protocols the airlines have implemented. Plus, fares are incredibly low. It's even possible to fly international privately (ask one of our Costa Rica Experts for details). More on entry requirements here.
Where To Go: Manuel Antonio National Park
Only three hours by car from San Jose international airport (SJO), Manuel Antonio is one of the most diverse destinations in the country. The area offers beautiful tropical beaches that are bursting with wildlife and lovely nature hikes. What could be better than listening to the sounds of ocean waves and chattering toucans while you type up that report? Or how about taking that zoom conference with an incredible rainforest view as your background?
Activities in the area abound.
Weekend and after-work activities in Manuel Antonio are plentiful. Plus, Manuel Antonio is centrally located on the Pacific Coast, allowing for easy access to neighboring beaches and regional highlights.
Transportation & Weekend Getaways
Manuel Antonio is pretty walkable and taxis are readily accessible. Rental cars allow convenient access to everything the area has to offer, including more secluded beaches, waterfalls, rainforest, and culinary experiences within a 1-2 hours drive. Because of Manuel Antonio's central location, weekend getaways are easy from the area (consider the Osa Peninsula, Monteverde, Santa Juana Mountains, Jaco, Dominical, and the capital city of San Jose). Additionally, Manuel Antonio also has a fabulous marina for boat and fishing trips.
Home Base:
The Rainforest Suite at Los Altos Beach Resort & Spa
Los Altos is a condo-style resort & spa with beach access and just a 5-minute shuttle (or 20-minute walk) to Manuel Antonio National Park. Los Altos features an open-air restaurant, spa, swimming pool, and fitness center on the property. The Rainforest Suites have a full kitchen, spacious living room, and dining room, and either a partial ocean view balcony or a garden view balcony. They also have 3 other restaurants associated with the hotel and many in the area including within walking distance! They have hiking trails on the property too!
Los Altos Amenities
WiFi
Exclusive Secluded Beach
Infinity Pool
Gym & Fitness Center
Hiking Trails with easy, medium, and difficult ranges
Full-service kitchen
Los Altos Rates:
Tucan Apartment at Jungle Vista
The spacious Tucan Apartments measure 580 square feet (54 sq meters). They feature a private sleeping area, full kitchen, and a full-size living room with a couch (equipped with a pull-out mattress) and armchair. From your private balcony, look for vibrant toucans and playful monkeys. The Tucan Apartment is perfect for extended-stay travelers, offering guests everything they need to make the Jungle Vista their home away from home in Manuel Antonio.
Tucan Apartment Amenities
Tucan Apartment amenities include air-conditioning, high-speed WiFi, king-size bed, in-room safe, hairdryer, flat-screen smart TV, full fridge, microwave, electric stove, oven, and blender.
Tucan Apartment Rates: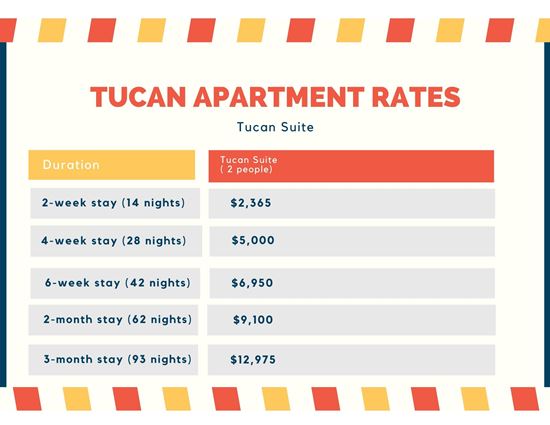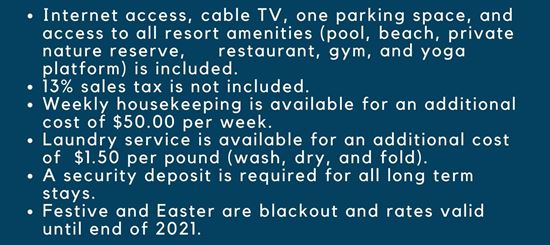 Related Articles: