At Costa Rica Experts, we offer various transportation options to our travelers in the trip planning process. Many travelers will arrange for private drivers from destination to destination, with some domestic flights sprinkled in where appropriate. Other travelers would prefer the liberty of driving for parts or for the duration of their vacation. I would recommend getting a Costa Rica Expert's opinion based on your preferred destinations while making the decision. Some destinations are a bit off the beaten path and can be challenging to navigate because of terrain or their remote setting.
If you are weighing the option of a car rental in Costa Rica, below are our tips for drivers and most frequently asked questions:
Costa Rica is roughly the size of West Virginia, but the roads are not of the same quality as the United States. Driving times are often longer and you will likely encounter roads with slow-moving traffic on two-lane highways, potholes, and other inconveniences. Some remote destinations are difficult to access by car - especially during the green season (mid-May through mid-December).  It's really your personal decision if this sounds like a thrilling adventure or a bit of a hassle. We do, however, suggest discussing your options with a Costa Rica Expert in the vacation planning process.
You must be 23 years old in order to rent a car.
You do not need an international driver's license but will need a valid license from your home country for a minimum of two consecutive years. If your home license is written in a different alphabet (Arabic, Mandarin, Hebrew), you will need a valid international driver's license. If you do need an international driver's license, you must also carry your original home driver's license.
You will need to provide your original passport and driver's license (no copies or photos) to the rental car company upon picking up your car.
There is a 3-day minimum on all car rentals.
Travelers must have a major credit card such as Visa, Mastercard, or Amex with enough credit to cover the deductible, no debit cards.
Mandatory insurance with basic coverage is included with all car rentals through Costa Rica Experts. Additional insurance to cover the $1000 deductible (except third party liability) is available at $10/per day at contract signing. A credit card imprint is required for all rentals.
The details of your car rental will be arranged in advance when traveling with Costa Rica Experts. When you arrive in Costa Rica at Juan Santamaria International Airport (SJO) in San Jose's Alajuela Municipality or Daniel Oduber International Airport (LIR) in Liberia, you will continue on through customs and baggage claim and follow signs for the rental car shuttle which will bring you on a short 1-mile drive to the rental agency office. Once you arrive at your designated car rental agency, they will set you up with everything you need to get on your way to your destination. To return your car, simply drop off the car at the agency office (where you picked it up). You'll want to drop it off with the tank full to avoid extra charges. Alternatively, there is also the option of having your car rental delivered to your hotel at some locations. Please talk to a Costa Rica Expert if you are interested in this option.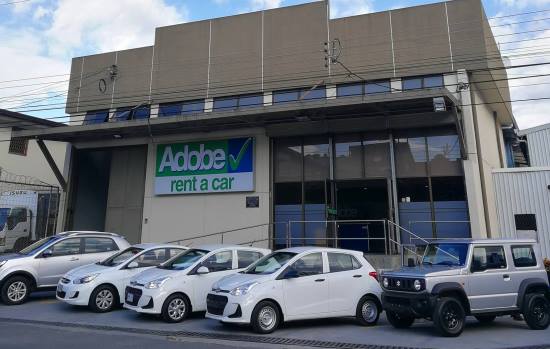 We provide a selection of intermediate, standard, full size, and premium options in both automatic or manual transmission. The following is a list of our recommended vehicle options as well as available vehicles:
SUV intermediate - manual transmission: Hyundai Tucson or similar
SUV intermediate - automatic transmission: Hyundai Tucson or similar
SUV standard - automatic transmission: Hyundai Santa Fe or similar
SUV standard hybrid - automatic transmission: Mitsubishi Outlander
SUV full size - automatic transmission: Mitsubishi Montero or Kia Mohave or similar
SUV premium - automatic transmission: Toyota Land Cruiser Prado or similar
Minivan - manual transmission: Hyundai H1 or similar
Minivan - automatic transmission: Hyundai h1 or similar
If you are headed south on the Pacific Coast to Uvita or down to the Osa Peninsula, a 4x4 rental car is recommended. A 4x4 is also recommended for travelers visiting Monteverde Cloud Forest Reserve as many roads are unpaved.
It's important to be comfortable while you travel! You do have the option of adding car rental accessories to make your driving experience easier. Some add-ons you might consider include GPS, cell phones, baby car seat, booster seat, WiFi hot spot, surf racks, and coolers.
A road map of Costa Rica will be provided at the time of rental car pick-up. You can also ask for detailed driving directions upon car rental pick-up and from hotel front desk staff. For an additional fee, you can rent a GPS system and cell phone from the rental car company when you pick up your rental car.
They drive on the right-hand side of the road in Costa Rica - the same as in the United States and Canada.

According to
globalpetrolprices.com
, the average value from July 8 - October 14, 2019, was $4.27 USD/gallon. I suggest referring to the globalpetrolprices.com website for up-to-date records of gas prices by your preferred currency and metric volume.
It is safe to drive a car in Costa Rica provided you exercise the same precautions you would in your home country or while traveling in any other country. We do not recommend driving at night when visibility is poor due to the nature of the roads. Never leave personal items in an unattended transfer vehicle or rental car. 
Usually, you only have to worry about flooding in the Green Season (mid-May - mid-December), but during times with heavy rainfall, flooding can be expected, especially in more rural or off the beaten path areas. Drivers should never try to cross a flooded bridge or creek/river even if it looks like it has only flooded minimally.
If you encounter wildlife crossing the road, even if it is slow, do not try to move the animal. Stop and let it cross naturally.
If you encounter a wounded animal, it would be best to call an authority. Alternatively, note the location so that when you arrive at your hotel, you can let the front desk know. The hotel staff can then contact the appropriate parties.
People in Costa Rica let their dogs run free. Dogs will often walk along the road since there are not many towns with sidewalks, or they might cross the road unaware of traffic. Keep an eye out for them!
Related Articles: