From luxurious tented camps to laid-back rustic lodges, glamping in Costa Rica is up-and-coming. In case you aren't familiar with the term glamping, it's a playful combination of glamor and camping. If you're up for an adventure but are hesitant to camp in the rainforest, don't miss these safari-style glamping experiences.
Kasiiya Papagayo Luxury Wilderness Retreat
Situated on the Bay of Papagayo just 45 minutes from Liberia international airport, Kasiiya Papagayo Luxury Wilderness Resort features five air-conditioned tented suites and two beaches amid 123 acres of forest. The retreat was designed by world-renowned architects with a focus on sustainability. In fact, Kasiiya was designed to have zero environmental impact. All the materials are natural. The common places and platform tent required no loss of the surrounding forest at the time of construction. The resort is solar-powered and water is collected via rainwater harvesting.
Nayara Tented Camp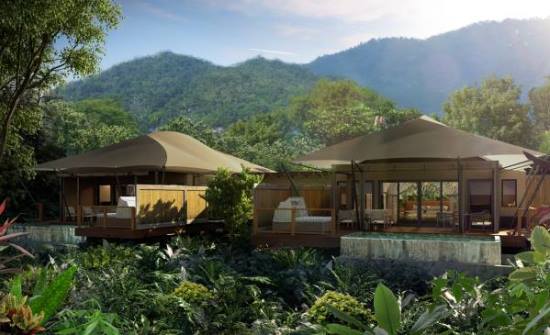 Nayara Tented Camp is a brand new luxury tent camp part of the Nayara Hotels collection – a group of luxury hotels world-renowned for their service and high-end guest experience. Nayara Tented Camp features 25 private air-conditioned luxury tents showcasing spectacular views of Arenal Volcano from high in the hillside. Each tent has a private plunge pool fed by natural hot springs, a double head outdoor shower, a spacious bathroom with an over-size tub, and a four-post canopy bed.
Isla Chaquita Glamping Resort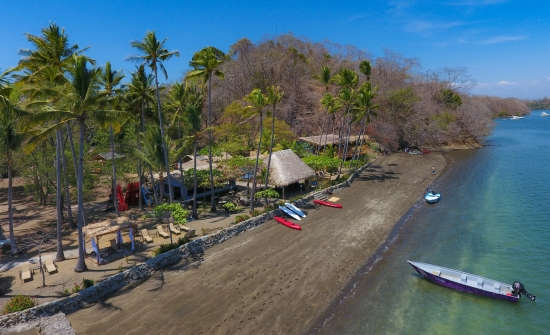 Isla Chiquita is the only island glamping experience in Costa Rica. Located on an island in the Gulf of Nicoya, Isla Chaquita is a brand new glamping resort accessible by boat with just 15 premium tents. Each luxury tent has a full private bathroom with double sink, ceiling fans, mini-bar, solar energy hot water, and a spacious open-air deck with views out over the gulf. On the island, explore hiking trails, go birding, and kayak the coastline. From the island, explore a local plantation growing indigenous sweet guava and plantains. Other area activities include beach hopping and visiting the Curu Bio Reserve.
Rafiki Safari Lodge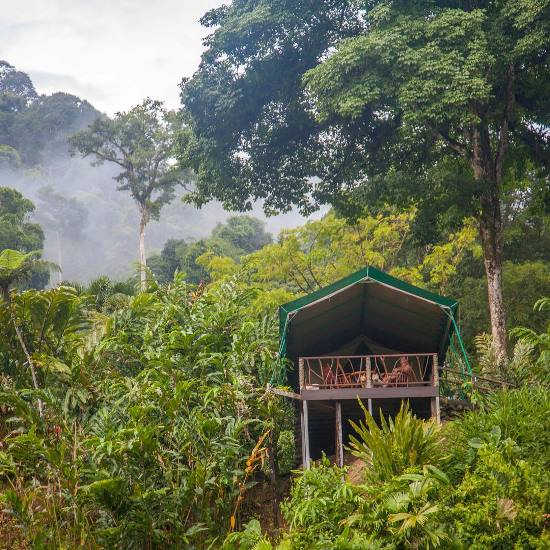 Rafiki Safari Lodge is a safari-style tent camp on the South Pacific Coast along the Savegre River. Ten rustic tents sit on hardwood decks – each with a private bath and mountain views. A pool with a waterslide, restaurant, and bar can be found at the main lodge. The surrounding dense rainforest and Savegre River are a natural playground for travelers. The forests are full of nature and wildlife. With over 300 bird species in the area, Rafiki is considered a world-class birding destination. Hike or horseback down to the river and experience the rush of the Savegre River on a whitewater rafting adventure. Guests can also discover nearby waterfalls and a local village.
Tropical Rivers Lodge
The Tropical Rivers Lodge experience is truly an adventure. To reach the lodge, guests can white water raft in and out through the rainforest (although alternative transportation can be arranged if you'd prefer it).  Tropical Rivers Lodge was the first eco-lodge built on the Pacuare River and the only one powered by hydro-energy. Multi-day rafting trips are typically between one and three nights. Many other activities are available from the lodge including horseback riding, ziplining, hiking, and tree-planting. Alternatively, guests can relax in hammocks reading a book or taking an afternoon nap.
Playa Nicuesa Rainforest Lodge
Playa Nicuesa Rainforest Lodge backs up to Piedras Blancas National Park, a wild and remote rainforest on the Golfo Dulce. Located just across the gulf is the Osa Peninsula, home to the famed Corcovado National Park. This remote rainforest region is known for its Jurassic landscapes and unique wildlife. Each private open-air cabin is equipped with full-length louver doors that wrap around your room for a panoramic natural experience. In the evenings, the staff comes around to drape mosquito netting around your bed. Each cabin also has a private open-air shower for a liberating outdoor experience. Despite its remote location, Playa Nicuesa manages to supply guests with a local and delectable family-style dining experience you won't soon forget!
Ready to book your high-end Costa Rica glamping experience? Plan your trip with a Costa Rica Expert.
Related Articles: