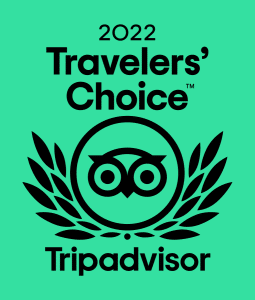 CHICAGO, IL – January, 2022 – Costa Rica Experts has been recognized by Tripadvisor as a 2022 Travelers' Choice award winner for Things To Do. The award celebrates businesses that have received great traveler reviews from travelers around the globe on Tripadvisor over the last 12 months. As challenging as the past year was, Costa Rica Experts stood out by consistently delivering positive experiences to travelers.
"Congratulations to the 2022 Tripadvisor Travelers' Choice Winners," said Kanika Soni, Chief Commercial Officer at Tripadvisor. "The Travelers' Choice Awards recognize the best in tourism and hospitality, according to those who matter most: your guests. Ranking among the Travelers' Choice winners is always tough — but never more so than this year as we emerge from the pandemic. Whether it's using new technology, implementing safety measures, or hiring outstanding staff, I'm impressed by the steps you've taken to meet travelers' new demands. You've adapted brilliantly in the face of adversity."
To see traveler reviews and popular activities of Costa Rica Experts, you can visit them on Tripadvisor.
About Costa Rica Experts
Costa Rica Experts is a tour operator offering a unique portfolio of Costa Rica's best hotels, tours, and outfitters assembled since 1987. We design private customized vacation packages by facilitating specific individual or group interests. From the extreme enthusiast to the casually curious, Costa Rica Experts provides a full spectrum of vacation options. Our insightful travel advisors obtain their intimate knowledge of the country through frequent visits. We match particular travel requests to our vast network. We work closely with our office in San Jose, Completely Costa Rica, to ensure reliability and satisfaction during your stay.
About Tripadvisor
Tripadvisor helps hundreds of millions of people each month** become better travelers, from planning to booking to taking a trip. Travelers across the globe use the Tripadvisor site and app to discover where to stay, what to do, and where to eat based on guidance from those who have been there before. With more than 988 million reviews and opinions of nearly 8 million businesses, travelers turn to Tripadvisor to find deals on accommodations, book experiences, reserve tables at delicious restaurants, and discover great places nearby. As a travel guidance company available in 43 markets and 22 languages, Tripadvisor makes planning easy no matter the trip type.
Ready to plan your trip with Costa Rica Experts? Start here or browse our vacation packages.
Related Articles: