Cocktail Conversations with Master Mixologist Clark Jimenez
It goes without saying that the new Andaz Resort on the Papagayo Peninsula has stirred things up in the little resort capital of Guanacaste. The Andaz is serving up a refreshing sense of personality and Costa Rican flair, attracting some of the top talent in the country. One of those fresh faces is an award-winning master mixologist. His stylish creations are unique, flavorful, and inspiring. So naturally, we got an interview for you. Meet cocktail connoisseur, Clark Jimenez… Cheers!
How did you get into mixology? Who taught you the tricks of the trade?
I started my career in food & beverage 7 years ago. I worked as a bartender for 4 years, and I have been doing mixology for 3 years. At the beginning, I looked up information on the Internet, and I put into practice everything I saw.
In 2013 I won World Class, an International mixology contest, and I got the opportunity to attend a camp in Panama with the best gurus and mixologists in the world. I have participated in this camp twice, back then in 2013 and now in 2015.
You've been with the Andaz since it opened in 2013, correct? Why did you choose the Andaz?
My creations go with my personal style, and are also very native. I really like using Costa Rican ingredients, and being free to create cocktails and their service rituals.
Andaz is this and more, our philosophy is to look for the indigenous and never stop being yourself, this is the most important reason why I chose Andaz.
How has your mixology style changed since the Andaz opened? What changes have you made?
I have learned about structure and administration, but my style has not changed. The fact that I meet guests from all over the world has helped me diversify my cocktails.
What is your favorite part about your job?
My favorite part of the job is interacting with guests, and being able to help them have a memorable experience through my service, a cocktail or a ritual. I love to be part of their vacation and learn that because of my job they had a unique and happy time.
Do you primarily work at Chao Pescao? What else can we find you doing at the resort?
Yes, I am assistant manager in Chao Pescao. I am also behind the creation of the beverage menus of all 3 restaurants in the resort and the training of all the bartenders.
Where do you look for inspiration? What keeps you creative?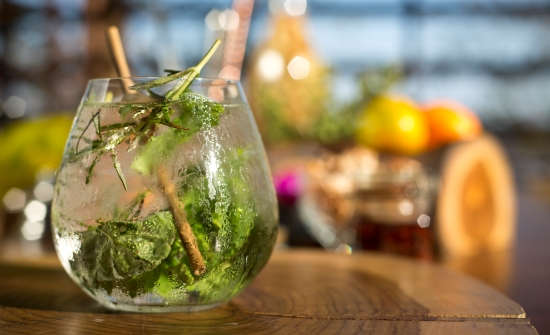 I look for inspiration in all that surrounds us, daily Costa Rican rituals, and all kinds of materials, plants, roots and fruits. I really enjoy visiting the artisans market since I always find very unique things that help me create cocktails with a national identity.
Time to brag. Tell me about your awards. Do you have plans to compete in more mixology competitions?
Grand Marnier 2013 – 3rd place
World Class 2013 – 1st place
Angostura 2015 – 1st place
World Class 2015 – 1st place
I would like to keep competing, and not for winning but for the great experience. Here in Costa Rica you can only participate twice in World Class, and unfortunately we do not have as many contests, so now I would like to concentrate in helping others win and work as an ambassador in the area to develop cocktails in Costa Rica.
What is your favorite cocktail? Can you share a recipe?
To me they're all my favorite, but If I have to choose, I could say there is two that truly define my style:
The Last Word
1 ½ oz of gin
½ oz of maraschino liquor
½ oz of green chartreuse
¾ oz lemon juice
Sazerac
2 oz of rye whiskey
½ oz anise liquor
3 dash peychaud's bitter
1 dash angostura bitter
½ oz sugar syrup
What's the secret to an incredible cocktail?
First of all, the love and passion you put in the mixing, that will be the biggest difference on it. And then fresh ingredients, quality liquors and real ice.
When you're not mixing up cocktails, what do you like to do?
I think of myself as a frustrated Chef, in fact that has helped me with the creation of special ingredients for my cocktails.
Any other tidbits you would like to share?
Cocktails in Costa Rica will continue to grow every day, and I think we are pioneers. We have a variety of ingredients, materials and culture which can impose fashion in cocktails and it is our duty to convey this to each person that visits us.
Love the Andaz? So do we. Sip on Clark's cocktail creations at the Andaz Papagayo on our Romantic Escape or Jungle & Beach Family Adventure!
Related Articles: