Drake Bay, nestled on the northwestern edge of Costa Rica's remote Osa Peninsula, beckons adventurers and nature enthusiasts with its pristine rainforests, teeming wildlife, and unspoiled Pacific coastline. As a gateway to Corcovado National Park, this biologically diverse paradise offers encounters with countless species in their natural habitat. Beyond the lush jungles, Drake Bay's waters reveal a plethora of marine life, perfect for snorkeling and scuba diving. Sustainable eco-tourism practices here allow visitors to connect deeply with the environment while immersing themselves in thrilling activities like canopy zip-lining, horseback riding, and sport fishing. A visit to Drake Bay offers a serene escape and an authentic Costa Rican experience, enriched by the warmth of the local community, unforgettable sunsets, and the sense of adventure that accompanies its remote location.
Places To Visit:
Visit Corcovado National Park.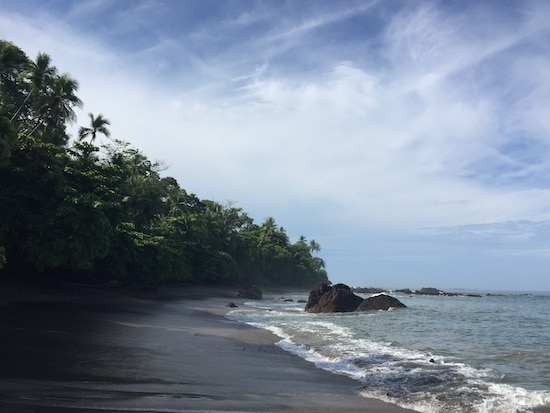 Let's underline this one. Visiting the world-famous Corcovado National Park must be done while staying in and around Drake Bay. Explore the world-renowned Corcovado National Park, where you can embark on guided hikes through primary rainforests, spot diverse wildlife, and witness pristine natural landscapes.
Sirena Ranger Station
Within Corcovado National Park, Sirena Ranger Station is often the jumping-off point of your Corcovado National Park tour. Park entry is regulated and we highly suggest visiting with a guide for a worry-free experience, and the best chance of spotting wildlife. San Pedrillo Ranger Station might be another entry point to Corcovado for visitors of Drake Bay.
Caño Island Biological Reserve
One of the snorkel /scuba highlights of the region is Caño Island Biological Reserve, a popular spot for snorkeling and diving. The island is known for its archaeological significance and underwater biodiversity.
Terraba – Sierpe National Wetlands
If you come down to Drake Bay from the South Pacific or Manuel Antonio region, you might do so by way of boat and ground transfer. The boat transfer may as well be a guided tour of the Terraba – Sierpe National Wetlands. This is a bit of a unique logistical arrangement. Talk to a Costa Rica Expert about the possibility of working it into your vacation!
Best Things To Do in/from Drake Bay:
Go Wildlife Watching.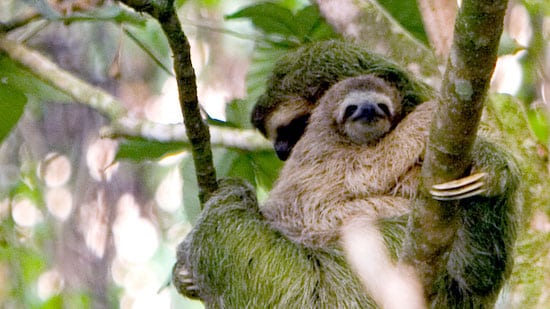 Once you get down the Osa Peninsula, you won't have to try very hard for this one. Drake Bay is a haven for wildlife enthusiasts. You can observe a variety of animals such as monkeys, sloths, anteaters, and numerous bird species, both in the rainforest and along the coastline. 
Take a Boat Tour.
Take boat tours and explore the coastal waters around Drake Bay. You might encounter dolphins, sea turtles, and, during the migration season, humpback whales. Boat tours often include snorkeling opportunities as well. 
Snorkeling & Scuba Diving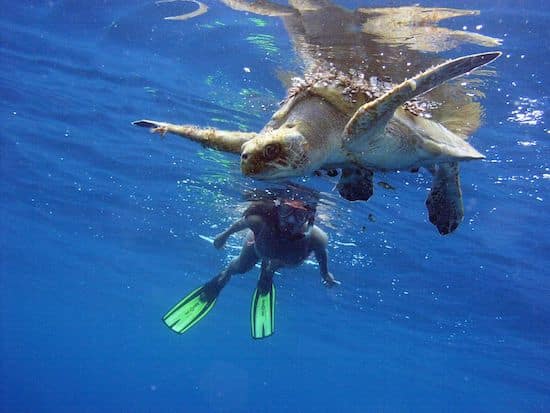 The waters around Drake Bay boast vibrant coral reefs and marine life. Snorkelers and divers can explore these underwater ecosystems and encounter colorful fish, rays, sea turtles, and more. The Cano Island Biological Reserve is an excellent day tour to incorporate into your trip, but more casual snorkeling can often be experienced from your hotel.
Horseback Riding
Explore the area on horseback, riding through jungle trails and along the beach. It's a unique way to experience the natural beauty of the region. 
Sportfishing
Drake Bay is known for excellent sports fishing opportunities. You can try your hand at catching marlin, sailfish, and other big game fish. 
Kayak or Boat Through Mangrove Estuaries.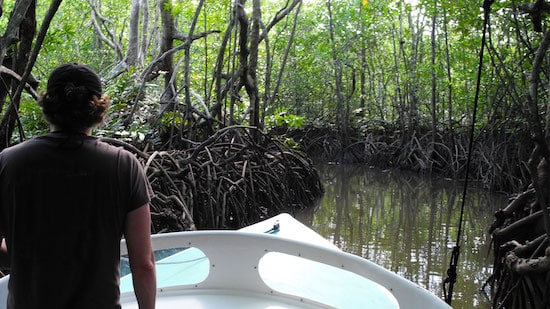 Discover the mysterious mangrove forests and estuaries on a guided kayak or boat tour, where you can spot various wildlife, including birds and reptiles. If you are arriving from the Central or South Pacific Coast, a boat cruise down the Sierpe Mangroves might be part of your mode of arrival transportation – a tour in itself!
Watch Sunsets.
Costa Rica's Pacific Coast sunsets are hard to beat. Enjoy breathtaking sunsets over the Pacific Ocean. Many lodges and beaches provide perfect vantage points for capturing these unforgettable moments. 
Community and Cultural Experiences
Interact with the local community to learn about Costa Rican culture and traditions. Some lodges offer opportunities to participate in community projects or workshops. 
Birdwatching
Birders will be in paradise here, with a multitude of bird species to spot, including toucans, parrots, and harpy eagles. 
A Guided Night Hike Tour
Discover a really unique perspective on the rainforest. Join a guided night hike led by a professional naturalist to observe nocturnal creatures like frogs, insects, and night-active mammals. 
Where To Stay: Top 3 Hotels in Drake Bay Area
Our Experts have curated hotels throughout Costa Rica. Here are our top Drake Bay hotel picks.
Aguila de Osa Inn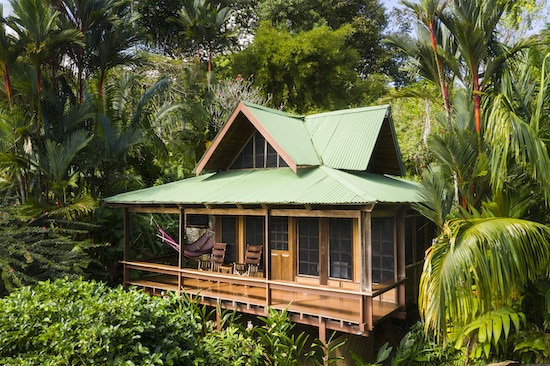 Set on a high bluff overlooking the Aguitas River with panoramic views of Drake Bay and the tropical rainforest, Aguila de Osa Inn is a boutique eco-lodge with an intimate charm dedicated to sustainability.
Copa de Arbol Beach & Rainforest Resort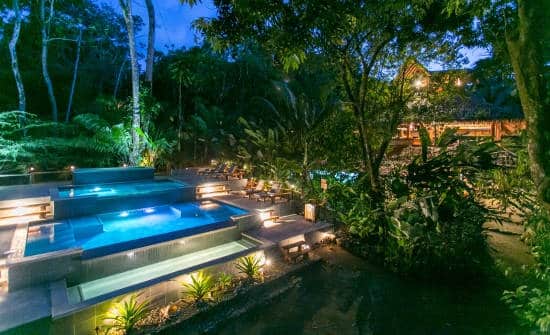 Copa de Arbol Beach & Rainforest Resort is a luxury eco-retreat that features open-air villas, farm-to-table dining, and beautiful tropical views of the Pacific Ocean and rainforest.
Casa Corcovado Jungle Lodge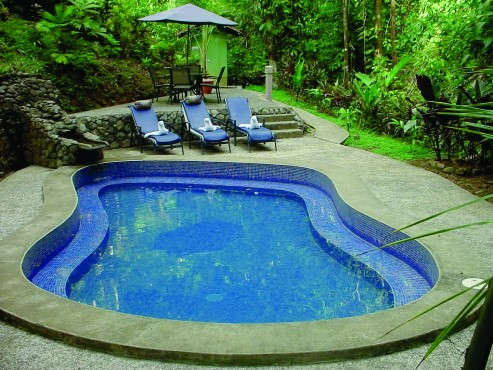 Casa Corcovado Jungle Lodge offers a range of accommodations from rustic bungalows to comfortable suites set within the heart of the rainforest.
View More Osa Peninsula Accommodations.
The Best Way To Get To Drake Bay? Flight to Drake Bay Airport.
While you technically can get to Drake Bay by car or bus via an 8-9 hour drive from San Jose, our experts would not recommend it. The roads are unkind to people who are not familiar with the area, and many rental car companies won't cover the insurance cost of driving through river crossings—many of which are flooded and uncrossable during the rainiest months. Instead, it is much quicker and more convenient to take a short domestic flight. Drake Bay has its own domestic airstrip, and many properties include airport transfers in their packages already as it is so common for guests to arrive this way. A flight from San Jose or Liberia to Drake Bay only takes about an hour, and it's a great way to experience Costa Rica from above! Don't hesitate to ask our experts which type of transportation is right for you. 
What's the Weather Like?
Drake Bay has a tropical, rainforest climate, so you should expect hot and humid conditions. The "green season" from September to November is usually quite rainy, and many lodges and resorts close for a few weeks due to the sheer amount of precipitation. On the other hand, the "dry season" is a bit of a misnomer on the Osa Peninsula, as there will still usually be at least some rainfall due to the rainforest weather. In Drake Bay, the average temperatures range from the high 70s to the low 90's (Fahrenheit), so plan ahead for warm and wet weather. 
What to Bring:
Remember to pack light and pack smart, focusing on essentials that will keep you comfortable in the tropical climate. Lightweight, comfortable clothing is the name of the game anywhere in Costa Rica, and that remains the same along the South Pacific coast. Beachwear, rain gear, hiking shoes, sunscreen, bug spray, and moisture-wicking clothing are must-haves. If you want to see what our experts recommend for packing for any trip to Costa Rica, please check out our Expert Recommended Packing List.
Frequently Asked Questions:
Overall, Drake Bay offers a unique blend of natural beauty, biodiversity, adventure, and relaxation that makes it a must-visit destination for those seeking an immersive and unforgettable experience in Costa Rica's wild and untamed landscapes. Its remote location and rich ecological makeup make it a unique and unforgettable destination for travelers looking to connect with nature.
Absolutely! The Osa Peninsula, and Drake Bay in particular, is a favorite spot for many of our experts because of its incredible biodiversity, pristine natural beauty, and the unparalleled ecotourism experience such a remote location provides.
The most remove rainforest in Costa Rica, Corcovado National Park, is directly accessible from Drake Bay.
Like many coastal areas in Costa Rica, Drake Bay can be an excellent place for snorkeling and swimming. However, be sure to watch out for the occasional rip tide or big waves, as swimming in such a large body of water can always have an element of danger depending on the tides.
While you can technically visit Drake Bay for as short or as long as you're able, our Costa Rica Experts usually recommend staying at least 2-3 days or more, as there's so much to do and see in the region!
Most places in Costa Rica have clean drinking water, but on rare occasions, there are rural and remote regions where it may be best to stick to bottled water.