Puerto Viejo de Talamanca, commonly referred to as simply Puerto Viejo, is a unique destination that effortlessly blends vibrant Caribbean culture with rustic natural beauty. Tucked in the southern Caribbean shores of Costa Rica, this idyllic coastal town is known for its welcoming atmosphere, pristine beaches, and tropical flora and fauna. With its beachfront access to the world-famous Salsa Brava waves, close proximity to Cahuita National Park, and eclectic culture, this is one place in Costa Rica you should add to your travel bucket list. Whether you are looking to beach hop and surf or spot some wildlife in the rainforest, Puerto Viejo has something for everyone.
Places to See in Puerto Viejo de Talamanca:
Cahuita National Park
A short drive from Puerto Viejo, Cahuita National Park boasts well-maintained hiking trails through lush rainforests and along stunning coastal paths. It's a great place for wildlife enthusiasts, with chances to spot howler monkeys, sloths, and various bird species.
Related Article: Cahuita National Park Guide
Jaguar Rescue Center
This rehabilitation center is dedicated to rescuing and rehabilitating injured and orphaned animals, including monkeys, sloths, and big cats. Guided tours offer an up-close look at these amazing creatures and the conservation efforts in the area. 
Things to Do in Puerto Viejo de Talamanca:
Beach Hopping
Beaches are the main attraction of Puerto Viejo. Explore the beautiful beaches that dot the coastline. To the north, Playa Negra has a unique black-sand beach calm enough for swimming. A favorite for many is Punta Uva. The beach shoulders out into the turquoise with warm shallow water and reefs accessible from shore – prime for underwater discovery! South of Puerto Viejo, Playa Cocles is known for its excellent surfing conditions, while Playa Chiquita offers a more secluded and serene atmosphere.  
Surfing
Puerto Viejo is a surfer's paradise, offering waves suitable for both beginners and experienced surfers. Many local surf schools and rental shops provide lessons and equipment for those looking to catch some waves. The iconic Salsa Brava surf break is famous for its powerful waves, attracting the most skilled surfers. 
Snorkeling and Diving
The vibrant coral reefs just off the coast make for fantastic snorkeling and diving opportunities. You can explore the underwater world and encounter a variety of colorful marine life. From Playa Arrecife, you can snorkel from the beach. There is also a big coral reef in Cahuita National Park accessible by boat. Additionally, there is a shallow reef off Manzanillo for diving and snorkeling.
Biking
Rent a bicycle and explore the town and its surroundings at a leisurely pace. The flat terrain and well-marked paths make biking an enjoyable way to soak in the scenery. 
Indigenous and Cultural Experiences
Learn about the local Bribri indigenous culture through guided tours that might include visits to indigenous communities, cacao farms, and traditional medicine workshops. 
Nightlife and Music
Puerto Viejo comes alive at night with a vibrant nightlife scene. Enjoy live music, dance to reggae beats, and savor delicious cocktails at the various bars and restaurants. 
Local Cuisine
Indulge in the rich flavors of Afro-Caribbean cuisine. Don't miss the opportunity to try dishes like rice and beans, coconut-infused seafood, and traditional Rondón soup. It also goes without saying that all fish dishes are fresh, delicious, and essential.
Relaxation
Of course, one of the main draws of Puerto Viejo is simply relaxing on the beach, soaking up the sun, and listening to the soothing sounds of the ocean. 
Where to Stay in Puerto Viejo de Talamanca:
We work with a handful of amazing properties near the southern Caribbean coast of Costa Rica, each with its own unique charms. Some are closer to Puerto Viejo than others, but even if you are outside town, keep in mind that our experts would be happy to help you sort out the logistics of visiting town from your hotel. 
Banana Azul Hotel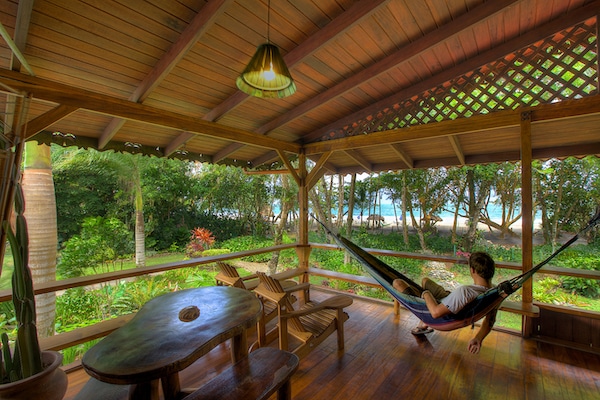 Set along a pristine stretch of black sand beach, this hotel is simple and welcoming. Venture beyond the hotel's beachfront to explore the coastline that lead into central Puerto Viejo. Among the property's gorgeous gardens, guests will find freely hanging hammocks – the perfect spot for meditation, lounging, or curling up with a good book!
Hotel Aguas Claras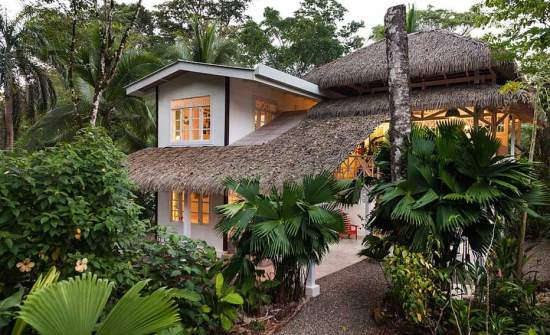 This boutique property is a collection of Victorian-style houses and suites, located a little way outside Puerto Viejo. Each house is unique, incorporating an artful mix of Caribbean culture and local handicrafts. Even Solar panels and recycled material can look luxurious! Their philosophy encourages environmental awareness, sustainability, and the positive impact of creativity while surrounded by natural beauty.
Le Cameleon Boutique Hotel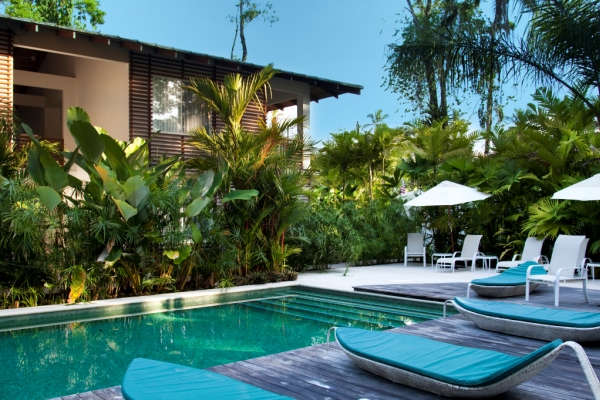 This contemporary resort creates a relaxing and elegant vibe tailored to the upscale traveler. Their minimalist design creates a modern atmosphere with light effects inside the rooms that change colors daily. Le Cameleon is small and comfortable, with an ambiance that fits in with the Caribbean's laid-back style.
Tree House Lodge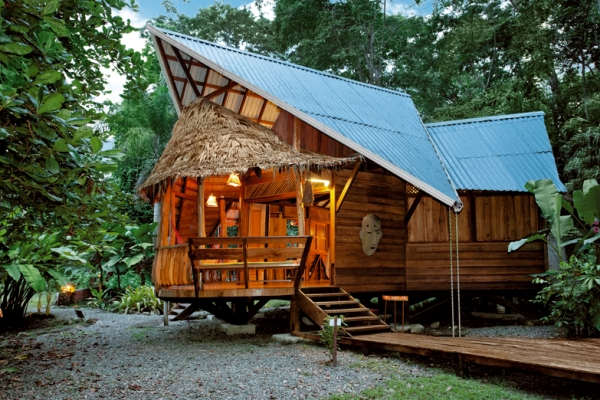 This hidden treasure is located in the Gandoca-Manzanillo Wildlife Refuge. Built on two levels with stable steel cable bridges, adventurous travelers will find a home in these treetop bedrooms! It is located just steps from Punta Uva Beach and guests have private access to this serene stretch of sand.
How to Get to Puerto Viejo:
As Puerto Viejo is on the southern Caribbean coast of Costa Rica not far from Panama, it is quite far from both major international airports. With a 5-hour drive from San Jose and a whopping 7.5-hour drive from Liberia, getting to Puerto Viejo by car can be a longer endeavor. If you want to drive yourself or book a private car, our experts recommend choosing San Jose as a starting point. Better yet, you could much more easily book a quick domestic flight to the much closer city of Limon and then drive about 1 hour to Puerto Viejo. Either way, you have options! Don't hesitate to ask one of our experts which route would best suit your individual travel needs. 
What's the Weather Like?
The weather in Puerto Viejo de Talamanca consists of both wet and dry seasons, like the rest of Costa Rica. However, given the tropical climate, these seasons are not as distinct, and there is some amount of daily rainfall nearly year-round. Here's a general overview of the weather throughout the year: Dry Season (December-April) when temperatures are warm and pleasant, with daytime highs ranging from the mid-80s to low 90s Fahrenheit (around 29-34°C), and Green Season (May through November) when temperatures remain warm, with highs in the mid-80s Fahrenheit (around 29-31°C). As it is on the Caribbean side of Costa Rica, Puerto Viejo does also experiences a short Hurricane Season. 
What to Bring:
Remember that Puerto Viejo de Talamanca is a place where "pura vida" reigns, which translates to "pure life" and reflects the laid-back and joyful attitude of the locals. Embrace the opportunity to unwind, explore, and immerse yourself in the unique culture and natural beauty of this charming coastal town. Loose-fitting, moisture-wicking clothing is the name of the game here, similar to other Costa Rican destinations—it's a very casual atmosphere. If you want to see what our experts recommend for packing for any trip to Costa Rica, please check out our Expert Recommended Packing List.
Why Visit Puerto Viejo?
This Caribbean paradise offers a unique and captivating experience that makes it a worthwhile destination for a variety of travelers. In essence, Puerto Viejo offers an authentic blend of natural beauty, cultural richness, adventure, and relaxation. Whether you're seeking an active vacation, a cultural immersion, or simply a tranquil escape by the sea, Puerto Viejo has something to offer every type of traveler. 
Frequently Asked Questions:
Absolutely! Given the unique blend of ecotourism, rich culture, and beautiful climate, there are plenty of things to do and see for every sort of traveler.
It depends on the beach you're visiting— Playa Cocles is great for surfers and therefore not always ideal or safe for swimming, but Playa Chiquita offers a more serene beach experience.
Puerto Viejo can be translated into English as "Old Port" or "Old Harbor," a direct nod to its coastal location.
While Puerto Viejo may have a vibrant and lively nightlife, we think it is incorrect to label it as a "party town," as our experts recommend it as a great destination for families. There's so much more to do in Puerto Viejo than experience the nightlife, whether it be wildlife spotting hikes, snorkeling and diving tours, surfing lessons, or just relaxing on the beach.
Costa Rica as a whole is generally a safe country, but our experts recommend being proactive about potential petty crime anytime you are traveling in a place you're unfamiliar with: avoid leaving your things unattended no matter where you are, try to keep your group together, and be aware of your surroundings.