Located in Costa Rica's capital city of San Jose, Parque del Lago Boutique Hotel is a contemporary property just 10 minutes from downtown San Jose and 20 minutes from Juan Santamaria International Airport. Located near Parque del Lago is the Central Park of San Jose, or Parque Metropolitano La Sabana, a 72-acre urban forest. Within the park is a large lake, from which the hotel gets its name, Parque del Lago.
Amenities
Free internet is available from all rooms and public spaces of the hotel. Local and international calls are free of charge. Parque del Lago also provides complimentary parking for guests. From 6:00 am – 10:00 pm every day, the on-site ICONOS restaurant and coffee bar offers a variety of Costa Rican, Mediterranean, Mexican, and Asian international specialties. In the morning, enjoy a typical Costa Rican breakfast before departing for the day's activities.
Parque del Lago Rooms
There are 40 rooms covering 4 floors at Parque del Lago Boutique Hotel. The rooms are decorated in a contemporary style but are fit for comfort. All rooms include cable TV, air conditioning, bathroom amenities, complimentary coffee, hairdryer, safe, soundproof windows, and an iron and ironing board.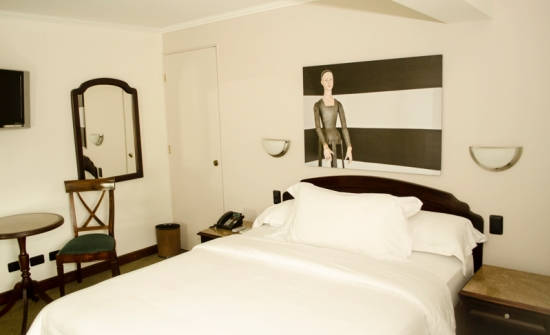 The 30 standard rooms have about 290 sq. ft. Standard rooms are available with a variety of bedding configurations including 1 king, 1 queen or 2 queen beds. There are also desks in the standard rooms.
There are 6 superior rooms with about 335 sq. ft. The superior rooms come with a queen bed. Some include a sofa bed and some include a kitchenette. A superior room can be connected to a superior room with a kitchenette to create a spacious mini apartment for groups of 5 or 6 people.
The 4 junior suites have about 400 sq. ft. The junior suites have an apartment feel and include a sofa bed, desk, and king-size bed. Some junior suites are also available with a kitchenette.