For a small country, Costa Rica has a lot going on. The 12 distinct climate zones offer many unique experiences. As you begin your vacation research, it's worth noting that some experiences capture the true essence of Costa Rica and shouldn't be missed. Not to worry. We have compiled a list of those experiences for you. Read on for our 10 Costa Rica Must-Do Bucket List Experiences. Fair warning: This list may necessitate multiple trips. But hey, is there really such thing as too many vacations?
Zipline through the Tree-Tops.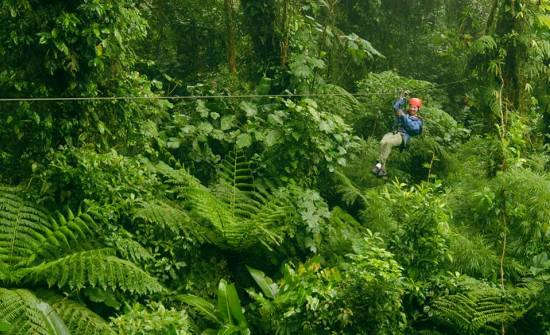 The zipline was invented in Costa Rica. It began in the 70's when scientists first developed the zipline to study the forest canopy. So it is only fitting that when you visit the birthplace of the zipline, you try it out yourself. It isn't for nothing that the 1967 and 1997 George of the Jungle films were such a big hit. The idea of soaring tree to tree through the rainforest canopy sends a child-like thrill through all of us. Not to mention those unbeatable bird's eye views and the abundant wildlife living in the canopy.
Related: 9 Best Costa Rica Zipline & Canopy Tours
Soak in Volcano-Fed Hot Springs.
Yes, there are hot springs around the world, but not like Costa Rica. Visit the hot springs at Arenal Volcano for ultimate relaxation, lush rainforest surroundings, and jaw-dropping volcano views.
Related: Best of Costa Rica Hot Springs
Decompress at All-Natural Spas.
Pair an afternoon in the hot springs with a relaxing pre-dinner massage and revel in tropical tranquility. Let's not forget Costa Rica is the land of all-natural, holistic wellness. If you can't pronounce the ingredients, they're not in your spa treatment. The cherry on top? Most treatments can be arranged outside, with nature's symphony serenading you into a euphoric bliss.
Related: Top 7 Costa Rica Spa Retreats
Discover Rainforest Wildlife.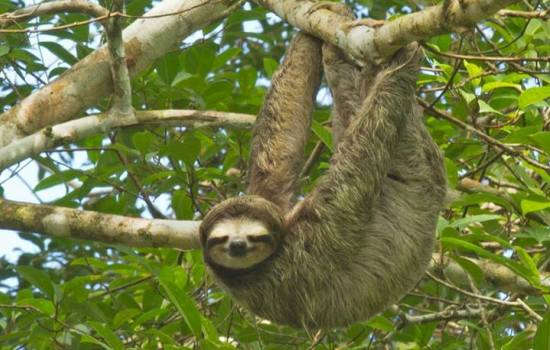 A trip to Costa Rica wouldn't be complete without a rainforest excursion. There are over 230 mammal species alone that call Costa Rica home. Discover this unique ecosystem of the rainforest and gain an appreciation for how nature, wildlife, and locals have learned to co-exist for so many years.
Related: Discover the Costa Rica Rainforest
Traverse Jungle Mangroves.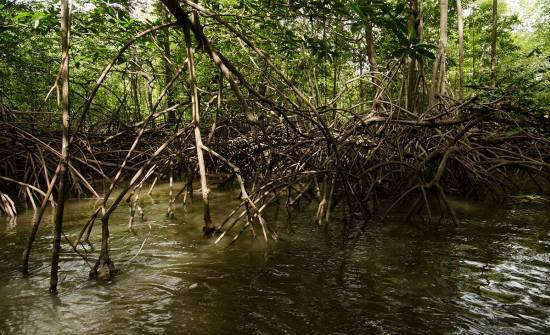 Tortuguero National Park is one of the most well-known destinations in Costa Rica for mangrove jungle canals. However, mangroves can be experienced well beyond this little corner of the country. The Osa Peninsula, Manuel Antonio, and Guanacaste also have mangrove excursions with plentiful opportunities for spotting wildlife. Book a tour with an experienced naturalist guide to increase your chances.
Related: Discover the Costa Rica Jungle
Raft Wild White Water Rapids.
An adventurous way to discover the lush landscape of Costa Rica is on a white-water rafting excursion. Many different whitewater rapid levels are available in Costa Rica for all levels of experience. For the best rapids and best views, we recommend the Pacuare River. For the adventurous traveler, raft into your jungle lodge at Tropical Rivers Lodge or Pacuare Lodge.
Related: 9 Best Costa Rica White Water Rafting Trips
Walk Through the Cloud Forest.
Misty and eerie, the cloud forests of Costa Rica are an unparalleled experience with a variety of flora and fauna found only in this unique tropical climate. Visit one of the most popular cloud forest destinations, Monteverde Cloud Forest. Or if you're on a time restraint, consider Bajos del Toro or the Los Angeles Cloud Forest Reserve, located closer to the San Jose international airport.
Related: Costa Rica Cloud Forest Vacation Guide
Visit Chocolate & Coffee Plantations.
The cloud forests of Costa Rica are where chocolate and coffee are commonly grown. Environmental factors and climate generally make the mountainous interior of Costa Rica an ideal environment for growth. Stay overnight at a coffee plantation, like Finca Rosa Blanca Inn, or at the new coffee-inspired boutique hotel, Chayote Lodge. Otherwise, book a day tour to discover how coffee and chocolate are made. Just be sure there's a taste test!
Related: Culinary & Cultural Vacations
Re-energize with Rainforest Yoga.
The Nicoya Peninsula is a popular yoga destination, but the wellness and yoga experience does not end there. The entire country is turning into an international wellness destination, attracting the best yoga instructors and wellness gurus to its inspiring all-natural rainforest setting. A morning yoga class is essential. 
Related: Costa Rica Yoga & Retreats
Learn to Surf.
If you haven't surfed before, Costa Rica is the place to start. Surfers from around the world visit Costa Rica to catch the year-round waves. Coastal hotels can arrange surf lessons for the novice or more experienced surfer. Not sure surfing is your style? Grab a paddleboard and try stand-up paddle boarding, the latest hit in Costa Rica water sports.
Related: Best Costa Rica Surf Spots & Lessons
Related Articles: