The growing emphasis on health and wellness in today's culture has created a demand for wellness escapes everywhere. The laid-back ambiance and exotic beauty of Costa Rica have made it a top contender among international wellness destinations. A generally happy people and emphasis on the simple, pure life make it easy to unwind, take the days slowly, and refill your cup. It doesn't hurt that Costa Rica is a tropical paradise either. The following Costa Rica wellness retreats are exactly what you need to reset and flourish.
Pranamar Villas and Yoga Retreat, Santa Teresa
Pranamar Villas and Yoga Retreat is an oceanfront 9-villa boutique hotel set on the pristine beaches of Santa Teresa in the heart of yoga country on the Nicoya Peninsula. With daily surf and yoga classes with views overlooking the ocean from a spectacular Yoga Shala, guests can slow down and reconnect with their surroundings. The spa at Pranamar has a variety of massage treatments and treatments focused on the release and relaxation of specific body areas or problems such as the traveler's well-being package or the yogi's path package.
Tabacon Grand Spa & Thermal Resort, Arenal Volcano
Located near Arenal Volcano, the highlight of Tabacon Grand Spa & Thermal Resort is its expansive hot springs naturally fed by the volcano. The hot springs are a true tropical paradise surrounded by lush tropical gardens. The Grand Spa has a multitude of memorable spa experiences that can be booked in outdoor bungalows surrounded by nature in complete privacy.
Rio Perdido Hotel & Thermal River, Guanacaste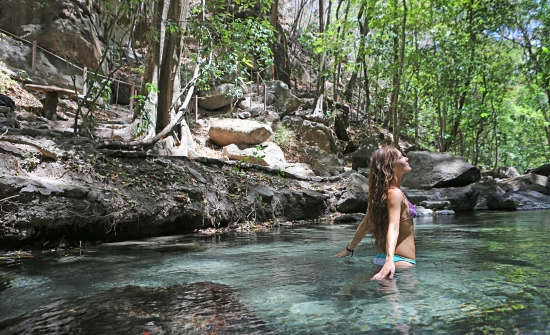 A nice off-the-beaten-path alternative to Tabacon Resort is Rio Perdido Hotel & Thermal River in Bagaces, Guanacaste. The hotel is only about 1 hour from Liberia International Airport but has far fewer visitors than Arenal Volcano. It is situated on a 600-acre nature reserve with Rio Perdido Thermal River at its focal point. The river is naturally heated by the Miravalles Volcano. The lively landscape has created dozens of natural pools at varying temperatures and rich with minerals from the soil in which guests can relax. Additionally, Rio Perdido Hotel offers massages and their signature volcanic mud body-painting. Upon reservation of the mud body-painting treatment, guests are given the mineral-rich mud which can be applied to your partner, yourself, or your friends at a special hot river pool designated for treatments. The mud should set for about 10 minutes before rinsing in the river.
Bodhi Tree Yoga Resort, Nosara
Bodhi Tree Yoga Resort is located in Nosara on the Nicoya Peninsula just a short walk or shuttle ride from Guiones Beach. This luxurious boutique resort has 26 Balinese-style rooms and gardens and all levels of surf and yoga classes. The Bodhi wellness experience includes a fresh juice bar, in-house surf school, daily yoga and pilates classes, a full-service spa, and a gym. Not to mention the wild and pristine Nicoya Peninsula beaches are perfect for rest and rejuvenation!
The Retreat, Central Valley
The Retreat is an 11-room boutique hotel and wellness center located in Costa Rica's Central Valley. This lush escape nestled in the mountains with views extending out to the Pacific Ocean emphasizes well-being. Hatha yoga classes are offered every morning and Restorative yoga classes are offered every afternoon. The Retreat also has a pool, Jacuzzi, steam room, fitness room, and several hikes available on the property such as the Municipal Forest Hike, Desmonte Mountain Hike, and Goldmine Waterfalls Hike. Their farm-to-table restaurant and wellness cooking classes held by celebrity chef Diana Stobo is another highlight of The Retreat experience. Guests can even book a wine pairing dinner with a trained wine sommelier. Salud!
Amatierra Retreat & Wellness Center, Central Valley
About a 50-minute drive from San Jose, Amatierra Retreat & Wellness Center is a retreat focusing on holistic health. The property offers hatha yoga in the morning from an open-air teakwood pavilion surrounded by rainforest. The resort also offers holistic spa treatments with a certified herbalist. In fact, some of the herbs used in your treatments may be growing right on the property. Energy balance, vibrational healing, and sound therapy can all be included in your therapy treatments.
Samasati Nature Retreat & Rainforest Sanctuary, Southern Caribbean
Located a bit off the beaten path on the Southern Caribbean Coast of Costa Rica, Samasti Nature Retreat & Rainforest Sanctuary is a laid-back lodge set within a rainforest sanctuary with views overlooking the Caribbean. Wellness and health are at the forefront of the Samasati experience. The property focuses on natural remedies at their spa with treatments such as the mocha body scrub, Ayurvedic Yoga massage, and deep-tissue massage. Relax and unwind in the outdoor Jacuzzi following your spa treatment.
Related Articles: