It was time for me to conquer the Nicoya Peninsula. I had visited the famous Costa Rica "must-see" spots – Arenal, Manuel Antonio, the cloud forest, the Osa Peninsula – some of them a few times. Now I was excited to roam off the beaten path into a world-famous Nicoya Peninsula blue zone.
Nourished in Nosara
My journey started in the air, where I went from San Jose's Central Valley to Nosara. It turned out to be one of the most gorgeous flights I've taken. Gliding across the Gulf of Nicoya was like an interactive 3D painting. The mountains were such a vibrant green that they didn't seem real against the electric blue waters below. A typically nervous flyer, I was swept away by the scenery of the rugged coast. I didn't want it to end.
Less than an hour later I was poolside at Harmony Hotel, a place about which I had heard wonderful things about but could never get a feel for in pictures. When I arrived I realized it was the wonderful kind of place which, at the mercy of a photo, doesn't seem extraordinary. It must be experienced first-hand.
Fresh Eats
It was time for lunch and I certainly ordered well. A perfectly-seared tuna steak was my introduction to Nicoya cuisine. The food at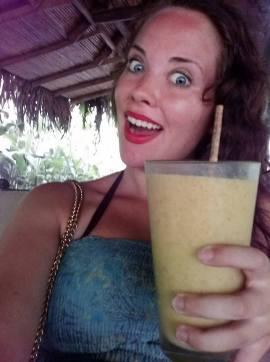 Harmony was perfectly indicative of the area: simple but creative dishes of the freshest seafood, nourishing greens and vegetables, and sweet tropical fruit. You can find these things in most of Costa Rica, but here the flavors were elevated to a whole new level of freshness. The hotel is a 2-minute walk from some of the country's best beaches – of course everything tasted fresh! I wouldn't be surprised if the chef caught the fish himself and walked it out of the water just an hour earlier. Harmony's juice bar is a fun retreat where the staff serves up nutrient-rich smoothies and juices made from carefully selected ingredients.
Happy Beaches
With a full stomach, I headed to Playa Guiones, one of the happiest beaches I've ever seen. There were couples in love, sun-kissed families with happy babies playing in the sand, dogs and their owners playing fetch, and no shortage of boards in the lineup. I could have spent the entire day people-watching, but I grabbed a boogie board and became part of the scenery instead. A low-flying Cessna dropped over the water to show off in front of all the beach goers, making even the most veteran surfers stop in their tracks and admire the brazen acrobatics. This place is fun.
Local Exploration
If that morning was all I saw of Harmony Hotel and Nosara I would still be in love. Luckily I got to explore the charming Playa Pelada, with its fishing boats bobbing gently after a day on the water. I enjoyed lunch at beachfront La Luna Restaurant and after, I walked the gravel roads to see what else I could learn. I found pilates and yoga classes, surf shops, backpacker hostels, and quaint houses. I refueled with guacamole at a local bar while watching a soccer match with a young fan.
Later I chatted with Harmony's bartender during an evening storm. He listed all of the celebrities who enjoyed the simplicity of this low-profile corner of the world. He'd met Susan Surandon and Tim Robbins, Diane Lane, the Red Hot Chili Peppers, seen impromptu Sublime concerts, and served drinks to screenwriter Shawn Christenson as he worked on the movie "Abduction." Then he said "Actually, Matt Damon is in Santa Teresa right now." Perfect. That's where I was headed next.
Revitalized in Santa Teresa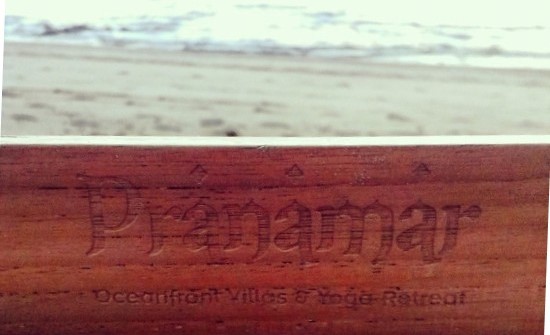 Another stunning flight linked me to Santa Teresa/Mal Pais on the southern edge of the Peninsula. Places like Mal Pais and Montezuma have become notorious as surfer-backpacker meccas.  I flew into Tambor, which felt like a dramatic entrance to Jurassic Park minus the John Williams score. After hugging the coast the plane descended quickly over the water and I wondered if we were even going to make it to land. Finally, right at the edge of the water, I saw the Tambor airstrip. We touched down. Whew.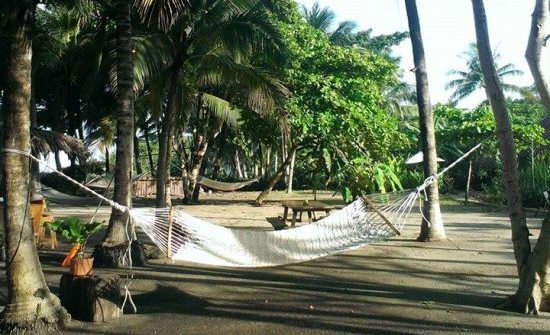 I headed for Pranamar Villas, a 45 minute drive from Tambor on unpaved roads. With many of the peninsula's roads still gravel, it is not uncommon to see more motorbikes and ATVs than cars. I needed some emergency items at the pharmacy and a local man was kind enough to squire me there on the back of his bike. I loved how casually everyone went about their daily tasks, and I appreciated their generosity.
Costa Rica Yoga Country
Despite all of the motor action, Pranamar Villas was appropriately serene. I was now in the thick of Costa Rica yoga country. Their selection of daily classes was more than enough to fit the needs of anyone interested in practicing. Between the villas and the beach was a whimsical playground of hammocks tied to random trees, just begging for someone to nap in them. I opted for one of the beach chairs closer to the water, where I watched the sun set while tired surfers trekked back home with their boards. I noticed the same laid-back, happy kind of people that I'd seen in Nosara. Maybe living in one of the world's 5 Blue Zones really does lead to longer, happier life.
Friendly Locals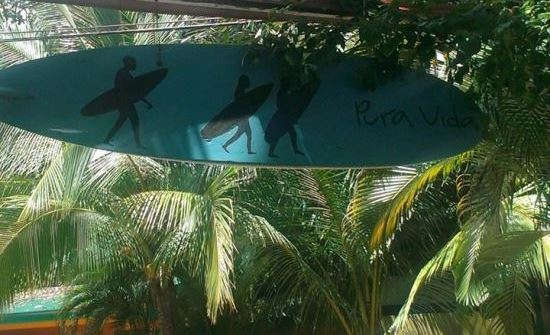 Santa Teresa has more than enough of what you need, including a pharmacy, ice cream shop, restaurants, and more. If you like meeting the locals, take a stroll through town and you'll have no problem striking up a conversation, even at 8 am. A man stood on the side of the road drinking hot coffee out of a juice pitcher, and I wasn't the least bit surprised when he reached out and invited me to join him. I was also not surprised by the old, long-haired surfers who told tales of dancing by the moon all night and riding waves all day.
Welcome Simplicity
Next I headed to Latitude 10, just down the road in Santa Teresa. This small hotel doesn't even have a sign – just a symbol. Here I was at another ocean-front hotel with fresh food and gorgeous rooms, and refreshing simplicity.
Now back to Matt Damon. Remember when a little bartender birdie told us Matt would be in Santa Teresa around this time? He was right. Confirmed by Tico sources on the scene. I wondered if a walk along the beach would put me in his general vicinity. Maybe we'd become friends and he'd invite me to family barbeques. Maybe he'd see my star power give me my big break. Maybe he'd ignore me and beg for his privacy. Beach-combing for celebrities; what have I become?
Tropical Tranquility
I walked up and down the long stretch of sand, stopping along the way for photos of tropical plants and angry rocks jutting out of the sea. The sun crossed the sky as I took my time skimming the coast before eventually stopping to rest. As my lucid body sank lower into the sand I felt the euphoria of total relaxation. I had no idea what time it was because I was too busy enjoying the beauty around me to care. At that moment, all that mattered was nothing. You got lucky, Matt Damon.
Why did I ever think I had to conquer the Nicoya Peninsula? It is rough and rugged but also very gentle and beautiful. Over three days I realized that there is nothing to conquer here, but everything to love.
Related Articles: