The Andaz Peninsula Papagayo Resort is an upscale oceanfront resort overlooking Culebra Bay on the Papagayo Peninsula, a region of Costa Rica known for its opulence. The Andaz Papagayo combines a modern and open design with local characteristics for a uniquely grounding experience.
The Andaz Resort concept by Hyatt is a perfect match for Costa Rica as it gives Costa Ricans the opportunity to showcase their genuinely friendly Tico hospitality and rich culture.
Andaz Amenities
With 153 deluxe rooms and suites, two secluded beaches, three restaurants, a family pool, and an adults pool, the Andaz Papagayo simply begs to be discovered. The resort also has a kids club and complimentary Wi-Fi throughout the resort. The Andaz is located next to the Papagayo Marina, is within close proximity to the 18-hole Papagayo championship golf course, and can easily access exciting surrounding destinations such as Rincon de la Vieja National Park.
Andaz Beaches
Andaz Peninsula Papagayo has two secluded beaches on the property. The Water Sports Beach is great for families with children. Guests can utilize complimentary stand-up paddleboards, kayaks, and snorkeling equipment provided by the resort or rent jet skis at an additional cost. If you have a free day and would like to explore the area, consider having the Andaz pack you a picnic and kayak over to the neighboring beach of Playa Nacascolo. The Relaxation Beach is exactly what its name suggests. Pack up your provided beach bag, complimentary sun hat, and flip-flops for an afternoon basking in the sun.
Onda Wellness Spa
The Onda Wellness Spa is one of the property's most praised features, with an endless list of natural treatments available to guests. Not only are the products all natural, they are inspired by local Costa Rican sensory experiences. The Gallo Pinto scrub uses a dried version of the classic Costa Rican rice and beans dish to exfoliate your skin. Mix and match local elements to create custom facials, body wraps, scrubs, massages, and more. We recommend taking your massage in one of the outdoor, open-air rooms for maximum relaxation amongst nature.
Andaz Rooms & Suites
The Andaz Resort has 153 rooms (21 of which are suites). Accommodation categories include Andaz Room, Relax Room, Bay View, and Suite. Of the 21 suites, four have private plunge pools. The presidential suite has its own full-size pool. All rooms and suites at Andaz Papagayo have spacious balconies, 24-hour room service, 40-inch or larger television, A/C, floor to ceiling windows, work desk, complimentary minibar, and walk-in shower. Cribs are available upon request. All rooms accommodate a maximum of 2 adults and 2 children with the exception of the Presidential Suite, which accommodates 6 guests.
Andaz Room
The Andaz Room features part bay and part forest view.  The 559 square foot room features one king or two twin beds, walk-in rain shower that open onto the balcony, and complimentary non-alcoholic mini bar.
Andaz Relax Room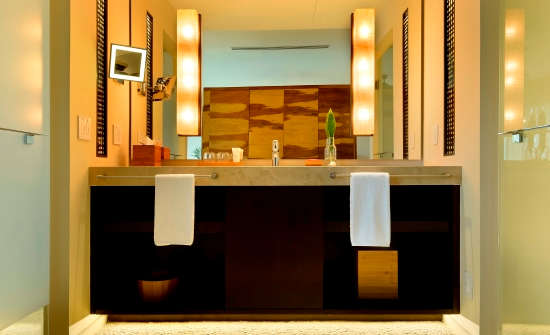 The Andaz Relax Room features a tropical forest view. Like the Andaz Room, it has 559 square feet with one king or two twin beds, a walk-in rain shower, and a complimentary non-alcoholic minibar.
Andaz Bay View Room
The Bay View Room has floor-to-ceiling windows overlooking Culebra Bay and the forest. It is 559 square feet with a king or two twin beds, an open air rain shower, spacious balcony, and complimentary non-alcoholic mini bar.
Andaz Suite
The Andaz Suite looks out onto Culebra Bay and the dry forest of the peninsula. The suite is 1173 square feet with 1 king bed, connecting living and dining room, balcony, spacious bathroom with soaking tub and separate rain shower, and complimentary non-alcoholic mini bar.
Related Andaz Articles:
Andaz Papagayo Resort Redefines Luxury
Meet Andaz Mixology Master Clark
Andaz Resort Inspires Trending Travel Bloggers