Costa Rica is a leader in Central America's tourism scene, particularly because of the incredible selection of unique hotel accommodations. Frankly, the word "hotel" doesn't even begin to cover it – Costa Rica is known as a can't miss destination for amazing rainforest eco-lodges, cliffside boutique resorts, and luxury retreats. Sure, you could stay at a standard large resort but those are few and far between in CR, which is so much more than beaches. The Experts have scouted the hottest new hotels in Costa Rica, open and ready for your arrival. Check out our list below. 
Nayara
 Tented Camp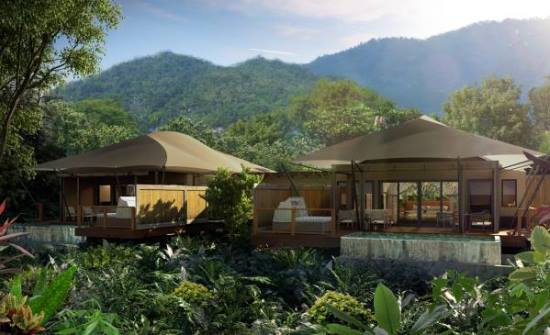 Arenal is the most popular destination in Costa Rica across the board. Families, couples, solo travelers, and everyone in between flocks to Arenal for zip-lining, hot springs, hanging bridges, waterfall rappeling and other Costa Rica adventure tours. The area attracts thousands of tourists per year but yourself from the hoards with the most unique new hotels in Costa Rica.  
Nayara Tented Camp is another brilliant extension of the Nayara luxury brand, already notorious in the Arenal hotel scene. Nayara Tented is the sister hotel Arenal Nayara Hotel & Gardens and Nayara Springs Luxury Hotel (Adults-Only) next door. Known for their inventive dining options and impeccable service, the Nayara properties have added eye–catching new safaris-style tents to their luxury hotel catalog. Raising the bar for refined luxury in the Central American hospitality industry, the glamorous but thoughtful eco-resort restore the wonder of the rainforest back to Arenal.  
Origins Luxury Lodge
Located off the beaten path in between Arenal and Papagayo, Origins Luxury Lodge is one of the most exclusive hospitality experiences in the country. The lodge is designed for high-end travelers looking to replicate the magic of a luxury African safari during their travels in Costa Rica, the less-trodden Upala region envelops guests in a unique eco-system where Costa Rica's most nature and wildlife congregate. A stay at Origins includes access to highly-trained naturalist guides, who lead the hotel's signature tours. Gourmet dining is a point of pride for Origins, where guests dine for the duration of their stay. With a limited number of lodges and villas available, the service is attentive and personalized.  
This is the only lodge of its kind in Costa Rica and the only thing around for miles. Origins is climbing as a top destination for world travelers looking to explore Costa Rica from stylish digs in a unique location. Your globetrotter friends certainly haven't been here. 
Kasiiya
Papagayo Luxury Wilderness Retreat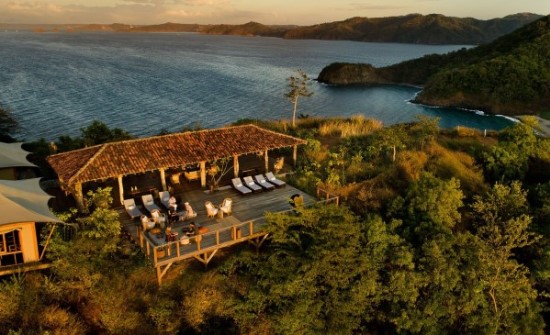 The newest face in the Papagayo luxury hotel landscape is Kasiiya Papagayo Retreat. Papagayo is known for its calm, swimmable waters and Kasiiya centers it's focus around it. The eco-resort reconceptualizes 'barefoot luxury' with carefully placed suites up and down the cliffside. Whether you stay high up on Kasiiya's hill or down near the placid waters of Papagayo bay in a Beachfront Suite, you'll be enjoying a preview of what's to come for Costa Rica luxury hotels. Guests spend their days here snorkeling, paddleboarding, and kayaking their way around the exclusive Papagayo waters. The hotel can even arrange a special beach activity day for those looking to upgrade their experience.
Beachfront hotels in Costa Rica are hard to come by, and with a new pool being built Kasiiya is on track to become the perfect place to escape in style and have it all.  
Rancho Pacifico
Hotel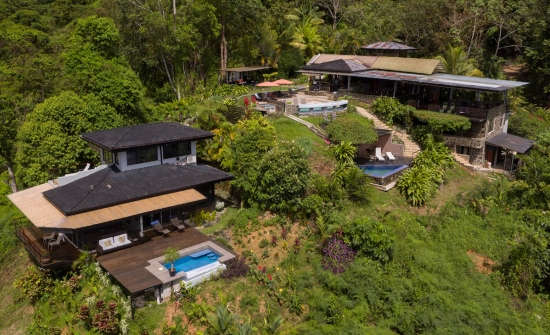 Rancho Pacifico is technically not a new Costa Rica hotel, but the property's jaw-dropping facelift – complete with a renovated pool and stunning one-bedroom villas – definitely deserves a look! Active couples who want to experience Costa Rica's best rainforest without compromising style should consider Rancho Pacifico's unique location: high up in the mountainside of Uvita on the South Pacific coast. Cocktails are enjoyed against a backdrop of amazing coastal views and mountains covered in the misty rainforest.
Check out the one-bedroom villa and fall in love with the private plunge pool and rainforest surroundings. Rainforest trails on-site, or travel to Corcovado National Park by boat for a day of wildlife spotting and hiking. More immediate to the Uvita area is the Marino Ballena National Park, home to the famous Whale's Tale formation. This scenic coastal rainforest environment can be explored by foot or kayak. Spend the day relaxing by the pool and you might have a hard time going home. 
The nearby South Pacific beaches are relatively unbothered by modern tourism, creating a refreshing alternative to Manuel Antonio. Spots like Playa Ventanas and Playa Uvita are gorgeous but a bit more primitive in terms of services. Don't expect a Tamarindo vibe here. 
Amor Arenal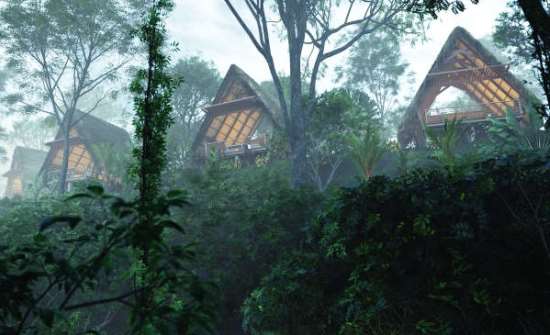 Rainforest charm is redefined at Amor Arenal, one of the newest boutique hotels in the Arenal region. Each of Amor's casitas overlook the surrounding rainforest, creating an extraordinary space to recharge after a day of adventure tours. Wellness minded travelers can head to the full-service spa, the rainforest yoga platform, or the outdoor meditation space that floats among the trees. The hotel also boasts two on-site nature trails, which can be explored by foot or even horseback. Choose between organic gourmet dining and local Costa Rica specialties at Amor's two restaurants, or just kick back with a cocktail at the thermal pool bar.
Hotel Three Sixty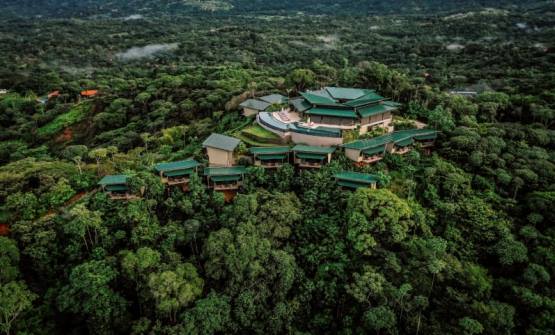 About 20 minutes south of Uvita is sleepy Ojochal, a rising destination along Costa Rica's South Pacific coast. A nearly vertical ascent by 4×4 vehicle will bring you to the Hotel Three Sixty, a high-end haven with one of the best views in Costa Rica. The hotel's common areas blend seamlessly with the restaurant and pool, allowing guests to roam freely with sprawling views from every vantage point. The pool just may be the best in the country thanks to its intimate coves and spaces, created to help guests enjoy the pool without feeling too crowded. And while you're hanging at the pool, you might spot toucans, Scarlett macaws, and even monkeys leaping from tree to tree. Word is spreading about Ojochal, especially for its reputation among foodies. Restaurants like Citrus have been popular in the area for years, but the inventive and ever-evolving menu at Hotel Three Sixty breathes new life into the scene. Try the seafood risotto with fresh Snapper and you'll see why Three Sixty is one of the hottest new hotels in Costa Rica. 
It seems that Costa Rica becomes more versatile with every passing year. Each new hotel is more creative and glamorous than the next, fortifying the country's place as a top vacation destination for travelers of every type. Be sure to head down and check out the hottest new hotels in Costa Rica before the rest of the world catches on!
Related Articles: