Corcovado National Park is one of the largest lowland tropical rainforests in Central America and the best place in Costa Rica for wildlife watching. The park is over 163 square miles, covering nearly half of the Osa Peninsula, yet remains one of the most remote regions of Costa Rica. Famously dubbed "the most biologically intense place on Earth" by National Geographic, Corcovado National Park is a treasure to researchers and nature lovers alike.
Why visit Corcovado?
There are many reasons, but perhaps one of the most notable is that the park is virtually untouched. The animals of Corcovado are not fed and rarely have human encounters. Therefore, we are able to observe wildlife in their natural healthy environments in which they were meant to thrive.
What animals are in Corcovado?
You won't need to travel far before finding animals in Corcovado National Park. Thanks to its large size, Corcovado National Park is home to big cats like the puma, ocelot, jaguarundi, margay, and the endangered jaguar. Most of the Wildcats are nocturnal and rarely seen during the daytime. Corcovado is the only place in Costa Rica where you can see all four species of Costa Rica's monkeys: the howler, white-faced capuchin, squirrel, and spider monkey. Other animals to look out for include two-toed and three-toed sloths, endangered Bird's Tapirs, toucans, scarlet macaws, peccaries (wild pigs), crocodiles, sea turtles, lizards, and anteaters.
When is the best time to visit?
The driest months for Corcovado National Park are December to April. The rainy season begins in May and goes through early December. September and October generally see the most rain. Some lodges on the Osa Peninsula temporarily close in October due to high rainfall. Throughout the course of a year, the park receives over 25 feet of rainfall on average. Talk to an Expert about where to go during your travel dates.
How do I get to Corcovado National Park?
Getting to Corcovado National Park is an adventure. You will first need to travel to your eco-lodge located near the small towns of Drake Bay or Puerto Jimenez. If traveling to Drake Bay from Manuel Antonio or the South Pacific Coast, private ground transportation can be arranged to Sierpe where a boat will bring you along jungle waterways to your eco-lodge in Drake Bay. It's also possible to reach Drake Bay by flight. However, the Drake Bay airstrip is temporarily closed so travelers can fly into the Palmar Sur domestic airport where they will take a short ground transfer to Sierpe and then travel down to their Drake Bay eco-lodge by boat. Many Drake Bay eco-lodges have a day tour to Corcovado National Park included in their standard packages. Alternatively, a 50-minute domestic flight will bring you to the town of Puerto Jimenez from San Jose. To reach Corcovado National Park from your eco-lodge, charter flight, boat, or four-by-four vehicles will likely be your modes of transportation to reach one of the park's ranger stations. Sound like a headache? Talk to a Costa Rica Expert and we can arrange this all for you. 
Corcovado Ranger Stations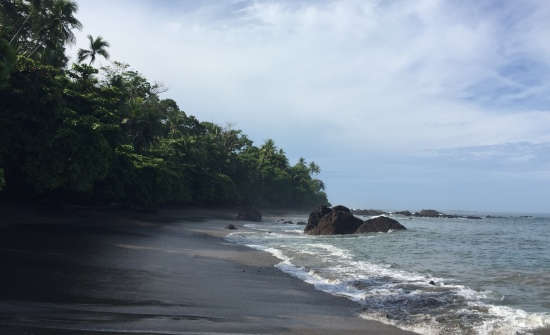 When visiting from Drake Bay, you will most likely enter Corcovado from San Pedrillo or Sirena Ranger Station, both of which are located on the northern coastline of the Osa Peninsula. Prepare yourself for a wet landing upon arrival at both stations. San Pedrillo Ranger Station is the most northern ranger station in the park and about 25-minutes away from the Drake Bay lodges by boat. Sirena Ranger Station is about one hour from Drake Bay by boat and one of the most biologically diverse locations in the park attracting scientists from around the world. The Sirena Ranger Station is also the headquarters and largest station in the park. Surrounded by secondary rainforest, many animals can be seen from the network of trails accessible from the Sirena Ranger Station. The facilities of the ranger stations are very basic. Sirena Ranger Station is the only ranger station that serves food from a restaurant. Please note that park service has greatly reduced the guest allowance into each park entrance and lodges cannot guarantee which ranger station you might be permitted to enter from.
What to Expect in the Park
There are no roads within the park. After the entrance points, park exploration is on foot. Humidity and heat can be intense. Corcovado National Park averages about 20 feet of rain each year. Dress accordingly! Hiking in the park can be especially muddy during the rainy season. Hiking along the beach can also be difficult when the tide is high.
Day Tours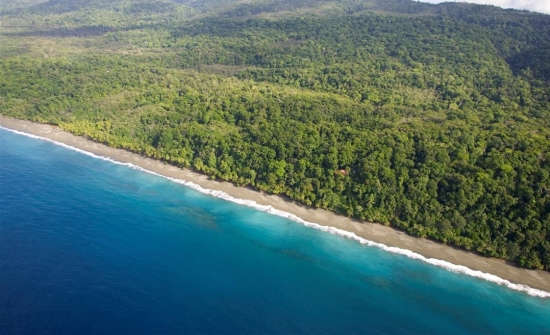 Every lodge in the Osa Peninsula area has its own selection of day tours. It's possible to explore Corcovado National Park by plane on a full day tour which includes a charter flight to Sirena Biological Station and lunch. You can also explore the park by land on a challenging full day hike which includes lunch. It's also possible to reach the park ranger station by boat before continuing on foot. As of 2014, a certified licensed guide is required to access Corcovado National Park.
Where to Stay
Our Experts recommend staying at one of the many eco-lodges outside Corcovado National Park near the town of Drake Bay or Puerto Jimenez. Many of the lodges on the Osa Peninsula are eco-boutique hotels. While all of them require a love of nature and a sense of adventure, a few lodges even cater to the luxurious eco-adventurer. Most of the lodges on the Osa Peninsula area are all-inclusive due to its remote setting. We highly recommend booking lodging to the Osa Peninsula in advance particularly during high season. Ask a Costa Rica Expert which lodge would be the best fit for your travel plans.
What to Bring:
Hiking Shoes, hiking sandals or water shoes, bathing suit, water bottle, hat, waterproof jacket, quick-drying pants and shirt, binoculars, camera, insect repellent, sunscreen, dry bag
*If you're entering the park through Siena Ranger Station, there is a wet landing from the boat. Be sure to wear waterproof shoes and bring a change of shoes appropriate for hiking along the trails, beach, and stream beds.
Don't miss Piedras Blancas National Park.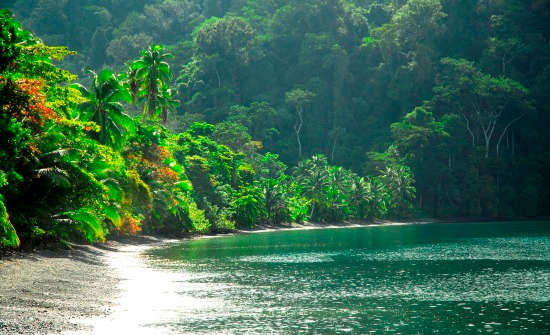 If Corcovado National Park had a sister, it would be Piedras Blancas National Park. Located on the other side of the Golfo Dulce, Piedras Blancas used to be a part of Corcovado. Unfortunately, the park went through some private landowners some of which contributed to the park's deforestation in the 90's. Today, we have two separate remote rainforest park experiences. If you are looking for a bit of vacation diversity, but want to keep your experience remote, wild, and rustic, hop over the Golfo Dulce and spend part of your vacation in Piedras Blancas National Park. A couple of eco-lodges back right up to Piedras Blancas with views of the Golfo Dulce and some of the most pristine rainforest beaches in the country. Ask an Expert which Piedras Blancas lodge would be best for you.
Don't miss Cano Island.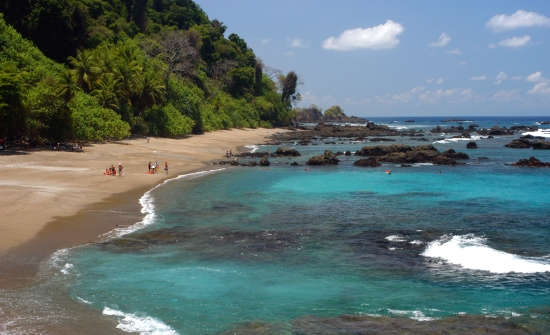 About 10 miles off the coast of the Osa Peninsula, Cano Island is another natural gem to consider while visiting the Osa Peninsula Area. The island is especially popular for snorkeling and diving as there are a number of underwater rock formations and clearer waters than along the mainland shoreline. There are as many as fifteen different coral species that can be found here and a number of threatened sea creatures. Sea turtles, manta rays, sharks, dolphins, whales and many colorful fish are some of the animals that can be found off the coast of Cano Island. Many of the eco-lodges in the area can arrange day excursions.
Related Articles: