Welcome to Ojochal, a beautiful village on the South Pacific Coast nestled between the ocean and the rainforest near Uvita and Dominical. Located on the Southern Pacific coast of the country in a region called Costa Ballena, this beach town offers an idyllic blend of lush rainforests, pristine beaches, and vibrant local culture. Whether you're seeking adventure, relaxation, or a taste of fine dining and Costa Rican hospitality, Ojochal has something for everybody. 
Things to Do in Ojochal
Marino Ballena National Park
Drive a little way to Uvita and find the wonders of the Marino Ballena National Park, home to the iconic Whale Tail sand formation and a variety of marine life. Enjoy snorkeling, scuba diving, or simply relax on any of the beaches within the park. 
Ventanas Sea Caves
Head on over to Ventanas Beach and check out the sea caves during low tide. These impressive caves offer a unique chance to see the power of the ocean firsthand. 
Take a Mangrove Boat Tour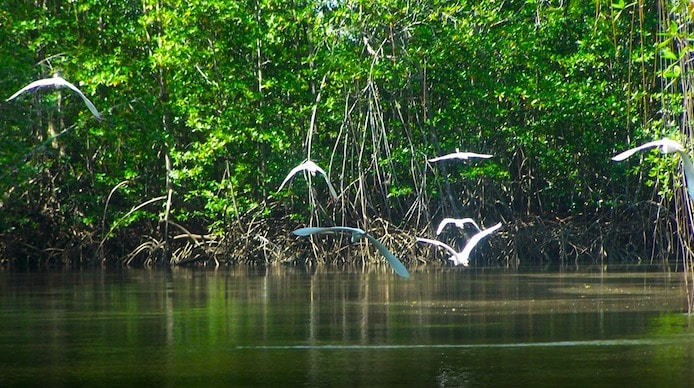 Embark on a guided boat tour through the lush mangroves of the Terraba-Sierpe Wetlands. Marvel at the rich biodiversity, spot exotic bird species and learn about the importance of mangrove ecosystems. 
Whale Watching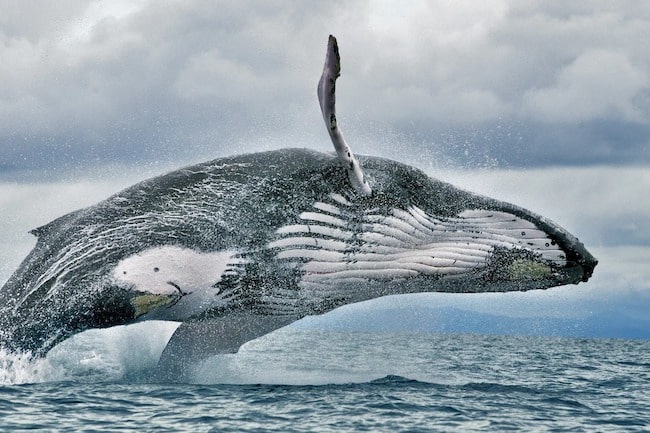 Ojochal is a great place for whale watching! From July to October and December to April, you can witness the awe-inspiring humpback whales as they migrate through the area. This area is unique in that it has two separate migration periods, so there are multiple chances a year to see these magnificent animals. 
Related Article: Costa Rica Whale Watching Guide: Where To Go When
Local Cuisine
Ojochal is renowned for its up-and-coming culinary scene. Explore the local restaurants and indulge in a gastronomic adventure, sampling both international and local cuisines. Don't miss the opportunity to try some seafood dishes, as well, caught fresh in the region. 
Hike in the Rainforest
Lace up your hiking boots and explore the lush rainforests surrounding Ojochal. Join a guided tour and learn about the diverse plant and animal species that call this ecosystem home—ask our experts about the hiking tours we recommend in the area! 
Nauyaca Waterfalls
Take a trip to the Nauyaca Waterfalls, located a little way outside Ojochal. Take a scenic hike through the jungle, and once you arrive at the falls, take a refreshing swim in the pools beneath the two tiers of cascades. This region has tons of gorgeous waterfalls, so you'll have plenty of choices—but the Nauyaca Waterfalls are renowned for their beauty and the opportunity to enjoy a refreshing swim. 
Surf Lessons
The South Pacific coast of Costa Rica is known for its excellent surfing conditions, and Ojochal is no exception. Sign up for a surf lesson and catch some waves along the stunning coastline. If you're an experienced surfer, head over to Dominical for some of the most consistent waves in the region. 
Beach Days
Ojochal is surrounded by lovely beaches where you can unwind and soak up the sun. Whether it's Playa Tortuga, Playa Ventanas, or Playa Piñuela, you can find a tranquil spot to relax and enjoy the sound of the waves. Be sure to stay and enjoy one of the South Pacific coast's incredible sunsets! 
How to Get to Ojochal
While you can technically drive to Ojochal from either of Costa Rica's main airports in Liberia and San Jose. If you plan on driving, we would recommend coming from San Jose as it is about 4 hours away (whereas Liberia is about 5 and a half hours away from Ojochal). You can get to Ojochal by car, or you could take a short domestic flight from Liberia or San Jose into Quepos, which is about an hour-long drive outside of Ojochal. If you are the brave sort who chooses a rental car to drive around Costa Rica, make sure you use a vehicle with four-wheel drive if you're going to Ojochal– the main roads through town are fine, but the smaller side roads can be steep going up into the hillside of the rainforest.  
What's the Weather Like in Ojochal?
Like much of Costa Rica, Ojochal experiences two main seasons of weather patterns- the green season (April-November) and the dry season (December-March). Though you will likely experience more rain in the green season, there is always a chance that it may rain on any given day since Ojochal is a tropical rainforest climate. You can expect average temperatures to range between 77-85 degrees Fahrenheit, with the lower end more likely in the green season while hotter temperatures are to be expected in the dry season.
Related Article: Costa Rica Rainy Season Guide: Why & When To Visit
What to Bring to Ojochal
Remember to pack light and pack smart, focusing on essentials that will keep you comfortable in the tropical climate. Lightweight, comfortable clothing is the name of the game anywhere in Costa Rica, and that remains the same along the South Pacific coast. Beachwear, rain gear, hiking shoes, sunscreen, bug spray, and moisture-wicking clothing are must-haves. If you want to see what our experts recommend for packing for any trip to Costa Rica, don't miss our Expert-approved packing list.
Why Visit Ojochal?
If you are looking for a laid-back and welcoming place to experience Costa Ballena, Ojochal may be the place for you. With access to both rainforests and beaches, a lively culinary scene, and an abundance of wildlife, it's a hidden gem that you shouldn't miss. Interested in visiting Ojochal? Reach out to one of our experts to plan your coastal vacation! 
Frequently Asked Questions
Ojochal is as safe as any other place in Costa Rica! We don't recommend leaving your belongings alone. You should always be aware of your surroundings and keep a close eye on your things wherever you travel.
The closest international airport is in San Jose, but the domestic Quepos airport is located only an hour's drive from Ojochal.
The population of Ojochal is about 4,000 people and consists of a varied blend of Costa Ricans and expats.
While there has been some reported evidence of ocelots, pumas, & panthers in the Costa Ballena region, those spottings are few and far between.