Treehouses are a whimsical connection to our younger, more curious selves. As children, many of us dreamed of having an escape of our own up in the treetops, high above homework and chores. A lucky few of us did. The gravity of life now keeps us grounded in our adult years, but a treehouse vacation is never too far out of reach. In Costa Rica, treehouse–style properties are boutique hotels built among the rainforest canopy, allowing travelers to recreate the excitement of a treetop adventure without compromising service, comfort, and style. The Experts have deemed these the best treehouse accommodations in Costa Rica.
Santa Juana Lodge & Nature Reserve, Santa Juana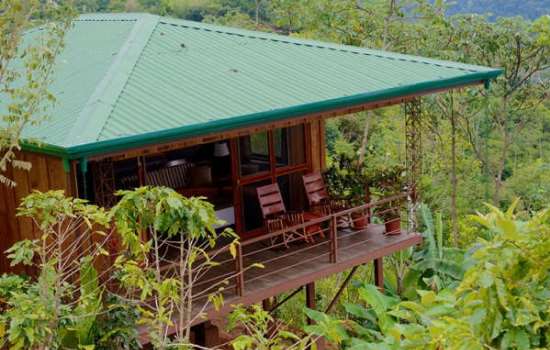 The stilted casitas at Santa Juana Lodge & Nature Reserve create a treetop atmosphere in a remote setting unlike any other in the area. The small village of Santa Juana is tucked into the southern mountains just 45 minutes inland from the Central Pacific coast, offering guests a rare glimpse into rural Costa Rican life. Don't be surprised if you spot toucans and other tropical birds from your casita, which offers panoramic mountain and rainforest views. On clear days you may even see the coast of Manuel Antonio off in the distance thanks to your treehouse-like position perched along mountain slopes. You can take your vacation from average to enriching with the lodge's signature Santa Juana Mountain tour to get a taste of the local flavor. You'll fish for tilapia, take a refreshing dip in a hidden waterfall, and participate in the Carbon Offset/Native Tree Reforestation Program by adopting your own tree.
Tulemar Resort, Manuel Antonio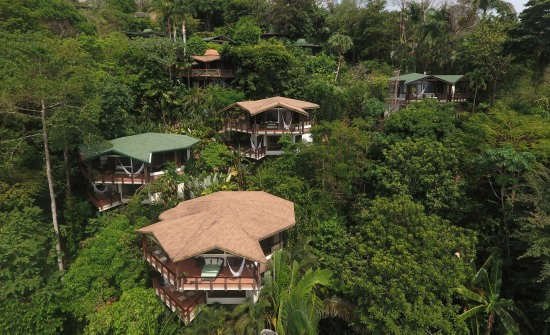 Tulemar Resort takes advantage of Manuel Antonio's dramatic Pacific coast and lush rainforest vegetation by offering rooms and villas with a unique treetop vantage point. The original Tulemar Bungalows were built among the rainforest canopy for a mix of jungle and ocean views, creating a treehouse-style effect. The recently constructed Premium Villas are octagonal luxury units with two or three bedrooms, perfect for a modern Swiss Family Robinson-style trip. Located on the Central Pacific coast, Tulemar Resort offers access to classic Costa Rica vacation activities like zip-lining, rafting, rainforest hikes, and more. It is also one of only two hotels in the Manuel Antonio area to offer direct beach access. Expert tip: Animal lovers should check out the on-site Sloth Institute for an up-close experience with the notoriously adorable critters.
Rancho Pacifico, Uvita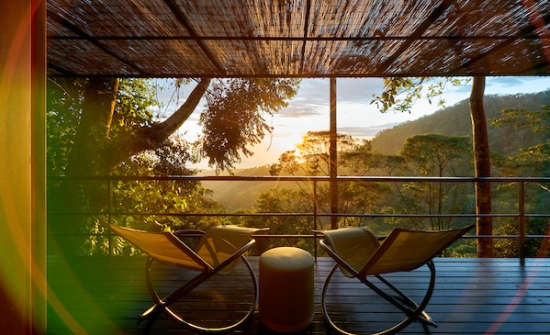 The South Pacific coast is one of Costa Rica's last unexplored frontiers, which is shocking considering its proximity to of some of the more famous destinations an hour away. The area is a grown-up alternative to family-friendly Manuel Antonio (to the north) and a great stop before the Osa Peninsula (to the south). Situated high up in the mountains, guests of Rancho Pacifico are treated to blissful seclusion and striking rainforest vistas. Hiking trails, yoga, rafting, horseback riding, beach excursions, and whale watching are all on the menu at this one-stop-shop of Costa Rica highlights. The eco-lux hideaway mixes a nuanced cocktail of top-notch service and laid-back charm – something not easily achieved by most upscale hotels.
Lapa Rios Ecolodge, Osa Peninsula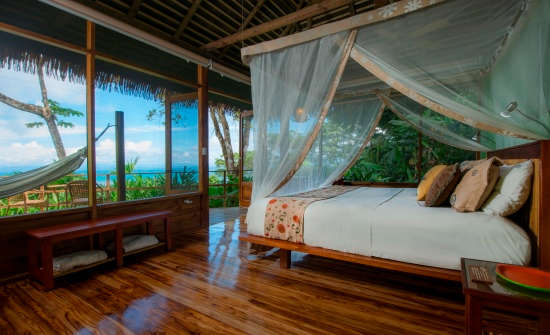 Delve deeper into the jungle at Lapa Rios Ecolodge on the wild Osa Peninsula for a luxury treehouse experience. All of the lodge's ocean view bungalows are enveloped by the surrounding rainforest. The expansive balconies and outdoor showers allow guests to spot wildlife right from their rooms. The treetop location brings toucans, scarlet macaws, monkeys, and other canopy creatures up close and personal for authentic jungle immersion. Even the lodge's main building and dining area feel like a treehouse, offering expansive views of the dense green trees below and rugged coast in the distance.
Treehouse Lodge, Punta Uva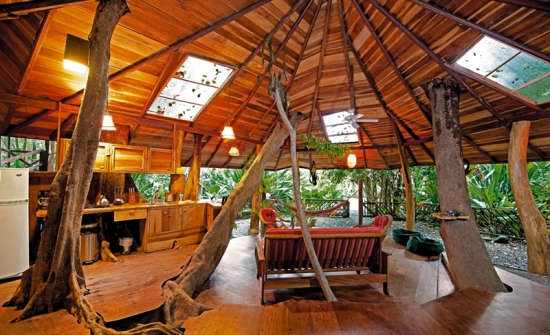 If you prefer your treehouses on the rustic side, head down to the less-trodden South Caribbean coast. Base yourself at the Treehouse Lodge in Punta Uva and you'll quickly adjust to the go-with-the-flow pace of this sleepy beach area. The property's signature Treehouse unit is the real deal, built on stilts of hand-carved wood. The other suites on the property, though not as high up in the trees, still offer a casual treehouse atmosphere thanks to the bamboo construction and surrounding rainforest vegetation. The building's funky design features add to its laid-back charm. With Puerto Viejo to the north and Manzanillo to the south, the Treehouse Lodge is flanked by picturesque beaches, animal-laden rainforest, and a true sense of 'Pura Vida' endemic to this breezy corner of Costa Rica.
Pacuare Lodge, Pacuare River
Pacuare Lodge is the epitome of upscale eco-adventure in Costa Rica. Get there by rafting deep into the heart of the rainforest on the famous Pacuare River, then settle into the exclusive Canopy Suite – a luxurious spin on the classic treehouse. With a private hanging bridge and plunge pool overlooking the surrounding rainforest, your mind will be blown by the dreamlike respite from the outside world. The rainforest is your playground at Pacuare Lodge, where you can zip-line through dense canopy and hike to nearby indigenous communities. Take a dip in the nearby waterfall in the morning and follow up with a riverside spa treatment for the ultimate blend of eco-luxury.
The best treehouse accommodations in Costa Rica don't skimp on quality. These treetop hotels and bungalows promise to go above and beyond the horizons of your wildest dreams.
Talk to a Costa Rica Expert about booking your Costa Rica treehouse adventure at (773) 935-1009 or browse our wildlife vacation packages for your next eco-escape!
Related Articles: