Situated in the Guanacaste region of Costa Rica, Palo Verde National Park is one of the most important wetland ecosystems in the country. The Rio Tempisque River is the park's lifeline as it seasonally swells, spilling out over the region to form marvelous wetlands among the dry tropical forest. The park makes up about 45,492 acres of the Arenal Tempisque Conservation Area and about 50% of the park is wetlands. With more than 15 different habitats within Palo Verde such as lagoons, grassland, mangroves, and forests – the wildlife viewing opportunities are endless!
Birding at Palo Verde National Park
Palo Verde National Park is a fantastic birding destination. The wetlands can get really packed with thousands of birds – a true spectacle of nature! The park supports over 50,000 waterfowl and forest bird species. To see the great diversity of species, visit in the dry season (December – May) when the migratory birds arrive from the north to escape cold weather. Visiting deep in the dry season (March-April) can be especially rewarding as all the birds concentrate around what water is left.
Over 60 species of bird species use Palo Verde as a migratory stop. Bird Island, or Isla de Pajaros, is a popular nesting ground for many species. Roseate Spoonbills, Great Egrets, Anhingas, Wood Storks, White Ibis, Black-bellied Whistling-duck, and the Blue-winged Teal are just some of the species that inhabit the park.
Related: Top Ten Birding Destinations in Costa Rica
Points of Interest:
Isla Pájaros
For those booking a guided boat tour, you'll have to check out Bird Island (Isla Pajaros), a nesting ground located on the Rio Tempisque only accessible by boat. The island is the nesting ground for Costa Rica's largest colony of Black-crowned Night Herons as well as Cattle Egrets, Wood Storks, Roseate Spoonbills, Green-backed Herons, Great Egrets, and Anhingas.
Laguna Palo Verde
Palo Verde Lake is an excellent birdwatching spot, particularly from September through March when northern jacanas, egrets, and herons flock to the lake to eat and nest. The lake has a 20-meter boardwalk where researchers and visitors gather to watch the spectacle.
Tempisque River and Bebedero River
Sections of the Tempisque River and Bebedero River naturally form the outer limits of the park. One of the most popular tours in the park is a boat ride down the Bebedero River to Palo Verde National Park – which is known for its populations of migratory birds!
Guided Tours of Palo Verde National Park:
The most popular way to experience Palo Verde National Park is on a boat tour lead by a professional naturalist guide. Your guide will know exactly where to take you and have an in-depth knowledge of the area's ecology as well as the ability to quickly identify by sight and sound the wildlife within the park. You will discover much more and gain a far deeper understanding of Palo Verde in less time with a guide! This is an excellent day trip for travelers staying in Tamarindo, Playa Conchal, or the Papagayo area.
Palo Verde National Park Boat Tour & Guaitil Pottery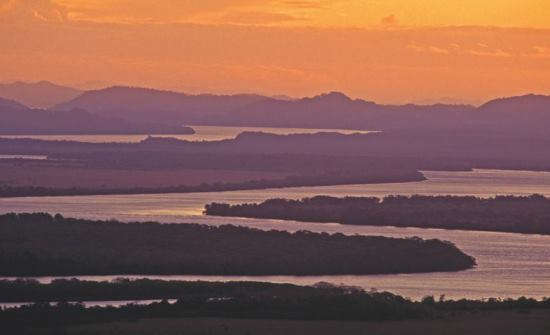 Discover Palo Verde National Park, one of Costa Rica's most important wetland ecosystems. Established in 1970, the park is a refuge for migratory birds and other wildlife. Discover the park with a professional guide by boat, looking for roseate spoonbills, crocodiles, monkeys, wood storks, white ibis, and more. Then, enjoy a delicious lunch before visiting the Guaitil artisan village where you'll observe artists at work and local handicrafts representing the Pre-Columbian heritage of Costa Rica.
Click here for more information on this tour.
Palo Verde Park Trails
While most visitors explore Palo Verde National Park by boat with a guide, there are also several hiking trails in the park. To see Palo Verde's lake, Tempisque River, and Gulf of Nicoya, take La Roca Trail (0.34-mile circuit trail).  The El Mapache Trail (0.44-mile trail) will bring you to three unique habitations, lowland deciduous forest, limestone forest, and the evergreen forest. El Guacayan or Cerros Calizos (0.91-mile trail) is for the adventurous with a steep climb up to the El Cactus or Guayacan overlooks to see the Tempisque flatlands and Lake Palo Verde. El Pizote (0.40-mile trail) will bring you to La Jacana Boardwalk, an 80-meter walkway extending out over Lake Palo Verde to prime birdwatching spots! La Cantera (0.87-mile trail) leads you through nature up to a beautiful lookout over the Tempisque River. La Venada (1.30-mile trail) skirts Palo Verde Lake.
If you decide to set out on the trails, we recommend consulting with a park ranger before setting out to get an idea of current trail conditions. Additionally, setting out early will ensure you see more birds and beat the heat!
Palo Verde National Park FAQs:
The park is open daily from 8 am - 5 pm.
Bring sunscreen, hat, bug spray, and a light jacket in the rainy season (May - mid-December).
Palo Verde National Park is located in the region of
Guanacaste
, an area known for its arid climate and dry tropical forests.
For more information about national parks in Costa Rica, explore our top picks here. Ready to plan an escape? Brown our vacation packages!
Related Articles: