Designated an official national park in 1990, Marino Ballena National Park covers 13,616 sea acres and 272 land acres – a truly diverse range of ecosystems! One of only two marine parks in Costa Rica, it is especially well-known for the whales that come annually to breach. Another interesting curiosity is the whale's tail shaped sand bar that forms at low tide from two connecting beaches jutting out into the open ocean. Ironic, don't you think? It is perhaps one of the most unique natural phenomenons in the country.
Things To Do Within Marino Ballena National Park
For visitors to Costa Ballena, which encompasses Uvita, Dominical, and Ojochal, Marino Ballena National Park is a must-see. Playa Uvita is the main beach within the park and the perfect spot for a laid-back beach day! Visitors can swim, do yoga, and stand up paddle boarding from shore. We also highly recommend an offshore snorkeling tour (see an overview below).
If you walk out to the tip of the whale's tail at low tide, there are many tide pools with all kinds of little fish and crabs – an incredible little ecosystem to explore! We recommend water shoes in the tide pools. Also, please pay the utmost attention while discovering the tidepools as the ocean waves can be unpredictable!
How To Get There
There are four main sectors of the park. Uvita is the most popular sector with a convenient parking lot directly in front of the ticket office, restaurants, and bathrooms. If you book a tour with one of our professional naturalist guides (see below), they will take care of the logistics!
Wildlife & Marine Life
On land, the beaches of Marino Ballena back up to lush dense rainforest inhabited by sloths, monkeys, scarlet macaws, toucans, tapirs, iguanas, and more.
By sea, the park protects the largest coral reef on the Pacific side of Central America, beaches, mangroves, and the breeding grounds of whales. The park is named for the Pacific humpback whales that return to the park annually to breed. The high season for whale watching is in the winter months (August to April), but it is said the best time within that time frame is from August to October. Other marine life found off the coast include brightly colored fish, dolphins, and sea turtles.
Related Article: Costa Rica Whale Watching Tour Guide: Where To Go When
Guided Tours of Marino Ballena National Park: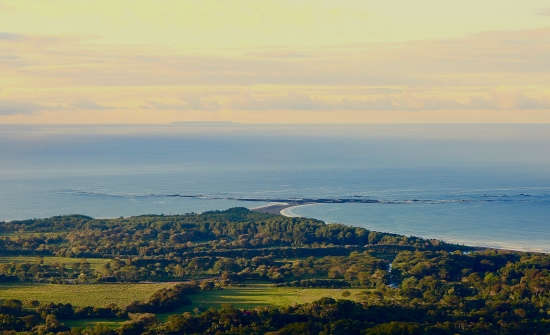 The best way to experience Marino Ballena National Park is on a guided tour led by a professional naturalist. A guide can point out the natural history of the region, make the most of your time, and bring you to all the best spots!
Book a Marino Ballena National Park Snorkeling Tour!
Snorkeling is one of the best ways to experience this marine park! Discover the underwater ecosystem of coral reefs and fish like the butterflyfish, parrotfish, and blue surgeonfish. This snorkeling tour will bring you to fantastic snorkeling spots like the reefs off Ballena Island, Punta Uvita, or the 'Whale's Tail,' and Tres Hermanas Islets. Your guide will search for and lead you to marine life for about an hour at each snorkeling destination, and then explain what you have seen in more detail upon returning to the boat. For more information and to start booking this excursion with our Costa Rica Experts, click here.
Marino Ballena National Park FAQs:
The entrance fee is $6 USD per adult visitors. Children under 11 years old are free.
Bring your swimsuit, flip-flops, hat, sunscreen, and a change of clothes. There are some rocky areas within the park so we also recommend bringing water shoes or sturdy sandals. There isn't much shade within the park – so be sure to bring plenty of sun protection and water!
Marino Ballena National Park is opened Tuesday - Sunday from 8 am to 5 pm (closed on Mondays).
The climate in the Southern Zone of Costa Rica is typically hot and humid but is seasonally dependent. Rain is to be expected in this dense rainforest region, particularly in the
rainy season (May – December)
. Temperatures average at around 90 degrees in the day, but 70 degrees at night.
For more information about national parks in Costa Rica, explore our top picks here. Ready to plan an escape? Brown our vacation packages!
Related Articles: