Monteverde or "Green Mountain" as it is directly translated is aptly named for its extensive reserve of lush, verdant cloud forests. National Geographic has described it as "the jewel in the crown of cloud forests." In 2007, Costa Ricans voted the Monteverde Cloud Forest Reserve one of the country's seven wonders. The little town of Monteverde outside the cloud forest is a tourist hotspot with a variety of restaurants and tours available and with cool, refreshing weather to boot. There are plenty of options for those who want to explore the mysteries of the cloud forests, from hiking to horseback riding, but the most popular way to discover this unique area is by trekking across walkways built in the forest canopy – or gliding along a zip-line! The walkways were originally constructed for scientists seeking to learn more and discover new creatures! Other activities include coffee plantations, insect museums, butterfly gardens, and wildlife preserves in the area.
Environmentally conscious Quakers began dairy farming and cheese production here in the 1950s and preserved a third of their land as a watershed. In 1972, with the help of international organizations, more land was purchased and the Monteverde Cloud Forest Reserve was officially sanctioned.
Hike in Monteverde Cloud Forest Reserve.
This green oasis is the pride and joy of ecotourism in Costa Rica. With cloud cover that hangs at the canopy, the cloud forest is fascinatingly different from the tropical rainforests that are spread across so much of Costa Rica. A day trip to Monteverde Cloud Forest is a chance to cool down and explore the unique beauty and diversity of the Cloud Forest. We highly recommend hiking the Monteverde Cloud Forest Reserve with a naturalist bilingual guide for the best experience. Arrange a tour early in the morning when the animals are just waking up and the forest is quiet and still.
Go Birding.
Costa Rica's cloud forests – where misty fog clings to the treetops – offer a refreshingly cool retreat from the warmer, tropical areas of the country. These high-elevation forests contain 420 different kinds of orchids, ferns, and a wide assortment of mosses. The slight changes in elevation have made these areas hotbeds of wildlife diversity. Birding is especially treasured here. Nature enthusiasts travel far to spot the rare Resplendent Quetzal bird hiding amidst the trees. The Quetzal can only be found in the cloud forests of Central America. Once regarded as a god by the Aztecs, the Quetzal is renowned for its stunning, colorful feathers and shy disposition. Travelers are considered very lucky to have even just one Quetzal sighting during their stay in Monteverde.
Explore the Cloud Forest at Night.
The cloud forest really comes alive at night! Night time tours of the cloud forest showcase a new perspective of this unique ecosystem. A naturalist guide will lead you through the forest pointing out a variety of wildlife like armadillos, tarantulas, and more. Listen closely to the sounds of the forest! You may hear the nocturnal Hoffman's Two-toed Sloth rustling in the trees. The other Costa Rican sloth species, the diurnal Three-toed Sloth, is not found in the cloud forest as their fur coats are not warm enough for them in the cool cloud forest environment.
Each of our 50+ itineraries can be customized to fit your unique vacation style.
or give us a call now at 773.935.1009
Discover Costa Rican coffee, chocolate, and sugar cane.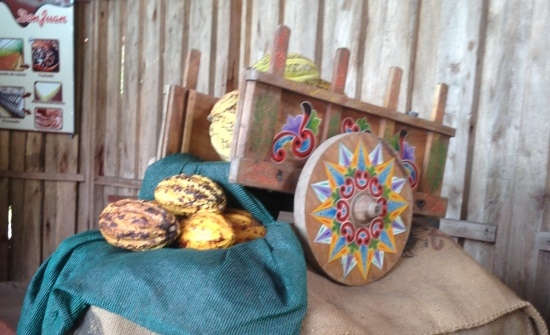 Explore how these three major crops have impacted Costa Rican culture. Monteverde is a fantastic destination to learn about coffee as it typically grows best at higher elevations. Visit a local coffee farm and discover how coffee is brought from seed to cup. Then, take a hands-on lesson in chocolate making. Begin with the cocoa bean, roast it, and grind it. Last, learn how to extract sugar cane juice into a delicious glass of juice the old-fashioned way. Tasting is encouraged throughout the tour!
Visit the neighboring Santa Elena Cloud Forest Reserve.
Santa Elena Cloud Forest Reserve is a neighbor to Monteverde Cloud Forest Reserve and can be less crowded during peak travel months. The 756-acre (310-hectare) reserve borders Monteverde Reserve and shares much of the same flora and fauna. Although, the Resplendent Quetzal bird is not found in Santa Elena as frequently, there are eight miles of hiking trails from which to explore the biodiversity of the region.
A Note on Monteverde Weather:
Only 1% of the world's forests can be defined as cloud forests, and Costa Rica holds more than its fair share! The weather in Monteverde can be cooler and sometimes soggier than most other areas in Costa Rica with an average rainfall pouring in at about 97 inches a year. The Monteverde Cloud Forest is wet year-round, though drier between December and April. The 65° high is perfect for adventures into the rainforest for birding and wildlife spotting!
 More Monteverde Attractions & Activities
Coffee Plantations
Lush, Tropical Vegetation
Monteverde Reserve Hike
Santa Elena Cloud Forest Reserve Hike
Coffee, Chocolate, & Sugarcane Tour
Butterfly Garden Tour
Hummingbird Garden Tour
Bird Watching Hike
Canopy Zip-Lining
Tree-top Walkways Tour
Horseback Riding
Monteverde Travel FAQ:
Nature, Birding, and Other Wildlife
Despite a recent surge in tourism, Monteverde remains at the top of the list of birders and nature lovers who come to Costa Rica each year. After all, it is one of the best places to spot the elusive Resplendent Quetzal, a mythical bird in Costa Rica and other Central American countries. Monteverde Reserve is one of the most popular places for a guided nature hike, with nearby Santa Elena Reserve nearly as frequented. Curicancha Reserve offers more to explore. Aside from birds, travelers can try to spot agoutis, coatimundis, and even the occasional sloth crawling around these high elevation cloud forest reserves. At night, the cloud forest comes alive with reptiles, owls, spiders, and other nocturnal wildlife on the Monteverde Reserve Night Hike.
Coffee and Chocolate
Thanks to the elevation, Monteverde is perfectly situated for growing world-class coffee. And, like many tropical countries, Costa Rica is also a great place to harvest cocoa and produce quality chocolate. See how it's done at Don Juan's place, where the agricultural traditions of coffee and chocolate production live strong today.
Monteverde Reserve, Santa Elena Reserve, Curicancha Reserve
Yes! Monteverde and the adjoining town of Santa Elena are quaint but offer a selection of local and international cuisine. Each hotel offers excellent restaurants; for something extra special, have a private lunch in the butterfly garden at Monteverde Lodge.

Morpho and Sabor Tico are local favorites, along with the famous local bakery. Pastries seem to be a big deal here, probably because they go great with Costa Rican coffee!
There is no airport in Monteverde. Everyone who heads to Monteverde does so by ground.

If you are coming from Arenal, you have the option of taking a ferry across Lake Arenal and then transferring 1.5 hours by ground to Monteverde.
The road in Monteverde is one of the most technical drives in the country with unpaved, windy pot-hole filled roads. Be prepared to drive slowly and take your time. If you are a confident driver and have experience driving internationally, Monteverde should be no problem. If you'd prefer to have a Costa Rican driver show you the way, we can arrange for a private transfer. The benefit of having a rental vehicle is having the freedom to explore at your leisure. That said, taxis are readily available in the area. Ask the hotel staff to arrange a taxi for you if you'd like to head to town for lunch or see more of the area.
Approximate driving times from Monteverde to popular Costa Rica destinations:
San Jose:  3 hours
Liberia: 3 hours
Papagayo: 2.5 - 3 hours
Bagaces/Upala: 2.5 hours
Tamarindo/Guanacaste Beaches: 3 hours
Nosara/Punta Islita: 4 hours
Arenal: 3 hours by ground OR 45 minute boat ride + 1.5 hour ground transfer
Jaco/Playa Herradura: 2.5 hours
Manuel Antonio: 3 hours
South Pacific (Uvita, Ojochal) - 4 hours
Central Highlands (San Ramon, Bajos del Toro, La Paz): 2.5-3.5 hours
Monteverde is a high-elevation mountain area, making for a moderate climate throughout the year. In areas near Monteverde's vegetation, you will notice the famous cloud forest atmosphere, misty and somewhat damp. Expert tip: Don't underestimate the power of the sun in Monteverde. While at times you may be under the protection of cloud forest vegetation, there are also times when you may be exposed to the sun (especially in the dry season mid-December – April). Bring sunscreen!
Daytime temps are typically 65F – 70F depending on cloud coverage. Nighttime can be chilly; temps often dip into the high 50s – lows 60s, so be sure to bring a light jacket or sweater.
A good pair of hiking shoes or sneakers, a sweater or light jacket, and a curiosity about nature.
Related Article: 6 Reasons to Add Monteverde To Your Bucket List