You have heard about Costa Rica's wildlife, lush rainforest, and the breathtaking beaches, all of which have made it famous. There is, however, another reason to add Costa Rica to your travel bucket list: coffee.
Besides winning prestigious awards in international competitions, Costa Rican coffee has grown to be much more than an economic boost to the local culture. This brief guide will show you where you can enjoy this tasty tradition on your next trip. Read on for some history, faqs, and locations dedicated to Costa Rican coffee culture.
Let's start with some historical facts about the golden grain! 
After Costa Rica declared its independence in 1821, the newly established government saw the big potential of coffee as means for economic and social development. The central authorities provided many financial incentives to coffee farmers and gradually became one of the main crops produced in the Central Valley, and often referred as "el grano de oro", in English the golden grain (Instituto del Café de Costa Rica).  
Why is Costa Rica's coffee so good?
Costa Rica offers a combination of ideal conditions to produce quality coffee beans: higher altitudes, fertile soils of volcanic origin combined with cool climates and steady rainfall, produces beans with fine flavors and aroma.   
What variety of coffee is produced in Costa Rica? 
For quality control, since 1989, 100% of the coffee produced in Costa Rica is arabica beans (Promotora del Comercio Exterior de Costa Rica).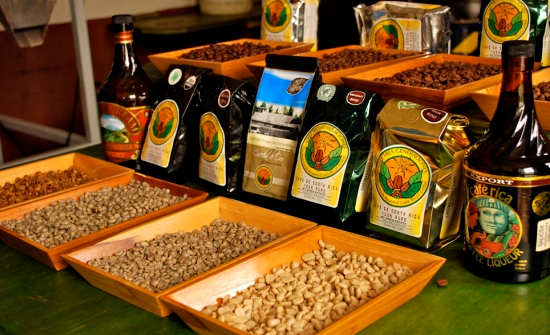 What does coffee mean to ticos?
Coffee has a strong connection with the Costa Rican hospitality and family traditions. These days, it is offered to guests as a welcome beverage, to socialize following your afternoon siesta, and accompanied by local pastries and corn cakes or empanadas.  – Yum cafecito time! 
Although coffee is produced throughout the country, it is much more predominant in the Central Highlands and Southern Mountain range. Our list focuses on the top coffee experiences in these regions.   
This coffee journey begins in the Central Highlands:
Hacienda Espíritu Santo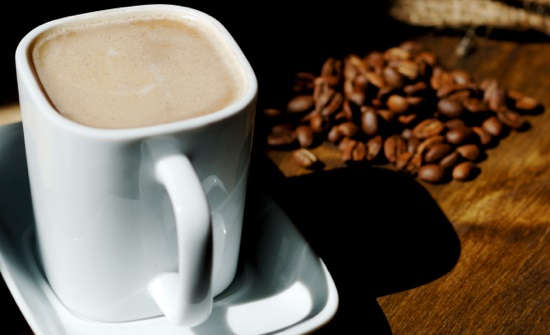 Located in the town of Naranjo, right outside of San Jose, this 600 plus acre coffee plantation offers an immersive, detailed tour of Hacienda Espíritu Santo facilities. The journey is divided into 7 stations, from the very first steps of maintaining the coffee crops to their showroom or casita where you will see the traditional Costa Rican way of brewing coffee – or café chorreado.  
Continue to learn the process of harvesting and roasting and all the work involved in the production of their beans. You will also take a look at the evolution of its production process, as well as the role of the national symbol, the oxcart, and how it was used as a mean of transporting coffee.
Finca Rosa Blanca Coffee Plantation Tour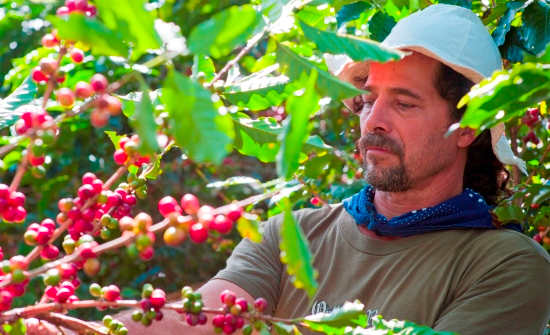 Finca Rosa Blanca is a boutique style property offering its guest the chance to discover their renowned coffee plantation. This is a fun activity, located in the greater Central Valley area and less than 1 hour from the international airport in San Jose. With views of the nearby volcanoes, the beautiful green surroundings make this a great easy-breezy way to enhance your authentic Costa Rica vacation.
Learn how organic coffee is grown, harvested, dried, and processed. During the harvest season – from October to January – you can even participate in the picking! If you want to take your love for coffee to the next level, this tour involves a demonstration of how experts test and rate gourmet coffee. Practice your skills at the coffee bar and make your favorite! After so much learning, relax and claim your spot in one of the spacious decks while you take in the fresh air of the central valley. Provecho! 
*This tour is exclusively for guests staying at Finca Rosa Blanca Inn.
Doka Estate
Located on the slopes of Póas Volcano, Doka Estate is one of the largest coffee and sugarcane plantations in Costa Rica. This family-owned business represents the agricultural heritage and country's history, here you will find the oldest wet mill in the country according to UNESCO. Enjoy a guided walk around the charming property and take your mental notes about all the process involved in making a quality cup of coffee.
Expert Recommendation: This is a great choice for those who choose the San Jose area has a hub between destinations. Use your free day and add this activity.   
*This tour is typically combined with a visit to La Paz Waterfall & Gardens, and a visit to the oxcart factories in Sarchí. Inquiry for more details. 
Hacienda Alsacia
Situated in the foothills of a volcano in Costa Rica, Hacienda Alsacia is Starbucks' first and only coffee farm. Despite its large corporate structure, Starbucks aims to make coffee growing more profitable for small-scale farms, learn more about the day-to-day struggles coffee farmers are facing, develop the next generation of disease-resistant high-quality coffee, and share resources and information with farmers worldwide. They are also hoping to lead the way in sustainable farming practices.
Take a tour of the farm, discover the process of brewing from bean to cup, taste fresh cafe, and explore the visitors center for souvenirs.
Let's move Northwest to the next tour on our checklist!
Don Juan Coffee Tour
Whether it is part of your morning routine or you simply love the taste, there are many reasons to get a good cup of coffee. But, when you wake up surrounded by one of the most famous cloud forests in the world, breathing in the crisp-clean air outside your eco-lodge, a craving for a warm cup of coffee is only natural. If you haven't guessed, we are talking about the Monteverde Cloud Forest. In addition the obligatory nature hikes, this mystifying destination offers much more to travelers in the form of local coffee culture.  
On your next visit to Monteverde, book a visit to Don Juan's Coffee Farm. This tour gives you a closer look of the production of Don Juan's coffee. After learning the drying and roasting process of the beans, explore other food staples of Costa Rica. Embark on a culinary journey. Discover the history of cocoa pods and make your own chocolate using traditional Costa Rican recipes. Yes, you will get to try your creations! This sweet experience continues to the "El Trapiche" (a mill made of wooden rollers), which is used as a tool to extract sugarcane juice and make tasty sweets and much more. This visit wouldn't be complete without the chance to buy an authentic cup of Costa Rican coffee at the souvenir shop. 
We'll turn around and head to the South Pacific region:
Santa María de Dota Coffee Plantation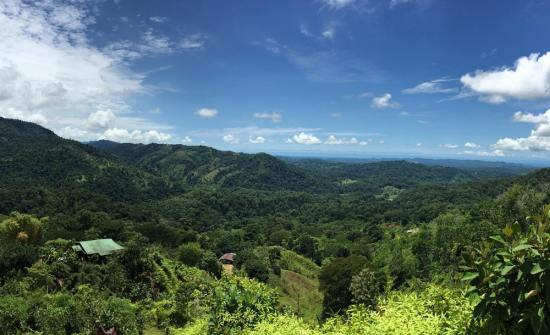 Santa Maria de Dota Coffee Plantation is a full day experience starting from the Santa Juana Lodge, in the South Pacific Coast. Board a 4×4 vehicle and awake your adventurous side! Travel up over the mountain ridge of Fila Chonta, in Tarrazú. Arrive at the coffee plantations of Los Santos region, considered to be the finest coffee in Costa Rica.  
Go behind-the-scenes and discover what it takes to make a world-renowned, gourmet coffee at Dota. Get to know the rural charms of Costa Rica as your guide takes you inside the local cooperative and explains its role in the community. After learning all the fun facts, take a break – a typical Costa Rican lunch will be waiting for you after the tour.  
*This tour is accessible for guests staying at Santa Juana Lodge. 
Café Cedral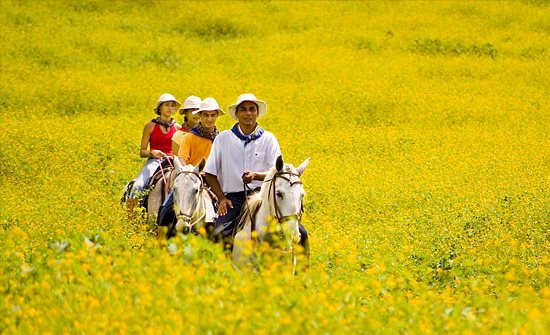 With this tour, you will visit another gem in the South Pacific region, Hacienda AltaGracia. This hotel combines high-end accommodations with authentic experiences and only 3 ½ hour drive from San Jose. It offers one of the best off-the-beaten-path, boutique-style accommodations and activities.  
Don't miss out, and immerse in the countryside cowboy culture of the Pérez Zeledón region. "Shop local" and add the Café Cedral Tour to your stay. This a great way to contribute to the economic growth of a small community. Run by several families of the area, the organized cooperative is located in the foothill of the Talamanca mountain range. 
The tour starts at the stables. Begin your horseback ride through unpaved roads, cross small creeks, and enjoy scenic-picture perfect views. Arrive at the town of Cedral and experience a great example of sustainable rural-tourism. Learn about their coffee plantation and quality beans. Grab your own delicious gift-worthy bag of coffee on your way out.
*This tour is exclusively for guests staying at  Hacienda Alta Gracia. You can choose to access Cedral by horse or car.
Related Articles: