Let's be honest. Luxury and culture are not typically synonymous. So when the Hyatt's new luxury resort concept, the Andaz, came to Costa Rica's Papagayo Peninsula and successfully coupled these two uncommonly coupled concepts, our Costa Rica Experts were all surprised. And intrigued. 
Before I elaborate, allow me to quickly define one of the most well known verbal expressions of Costa Rican culture: Pura Vida. This simple Costa Rican phrase is used to convey a multitude of positive sentiments: pure life, hello, enjoy, take it easy, and many more. In fact, Pura Vida is more than just an expression. It is a way of life. So how has the Andaz Costa Rica Resort taken this celebrated expression of culture and woven it into the guest experience?
Experiential Dining
The Andaz uses a variety of flavorful experiences to capture the spirit of Costa Rica. All three of the restaurants on property revolve around different important Costa Rican cultural experiences. Rio Bhongo is the open-air meeting place reminiscent of a farmer's market or paseo. Chao Pescao is a casual, neighborhood meeting place serving up small plates and specialty cocktails. The Ostra Restaurant takes on an elegant tone, with featured dishes from the sea. And if you'd like to delve a little deeper into Costa Rican cuisine, consider signing on for the ceviche cooking class (playfully depicted above) or the mixology lesson.
Related: Meet Andaz Mixologist Clark Jimenez
Live, Local Music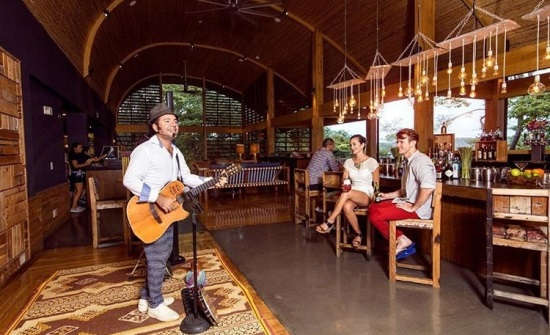 Nearly every Friday night, the Andaz Papagayo features live, local music at Chao Pescao bar and restaurant. Getting together with friends and family is a popular Costa Rican past time. And the laid back energy captured at Chao Pescao is classically Costa Rican — so much so that you will likely notice other Costa Ricans enjoying the live music scene as well.
Pura Vida Activities
The Andaz provides a weekly menu of activities available on the property, and the activities all celebrate Costa Rican culture. They offer Barista classes to showcase the country's rich coffee culture, and cooking classes for empanadas, ceviche, and cocktails. You can sign up for yoga, a popular wellness experience in Costa Rica. Other activities include Spanish lessons, an on-site Artisan Market, and area discovery tours.
Eco Friendly
Costa Ricans are exceptionally passionate about the environment. How can they not be? They are surrounded by exotic species and tropical forests in their own homes. And the Andaz incorporates this same passion into the resort experience. A free barriers design concept allows the resort to blend with the surrounding environment rather than overtake it. Smart rooms include features like light and air-conditioning sensors so guests don't accidentally leave for the day with the window open and A/C running. The resort also has 5 leaves, the top certification for sustainable tourism in Costa Rica.
Natural Elements & Architecture
The Andaz Papagayo, designed by architect Ronald Zurher, was inspired by the native flora and fauna of the Guanacaste region. For instance, the resort facilities resemble the shapes of shells or cocoons found in the environment. In the rooms, the Andaz pairs crisp, modern amenities with natural Costa Rican elements like drift wood and woven textiles.
Friendly People
Ultimately the key to an authentically Costa Rican experience is the people that make it. Costa Rica has been named one of the world's happiest countries. At the Andaz, it shows. The laid-back, friendly nature of Costa Ricans translates to a laid-back, friendly resort experience. Employees are encouraged to share their culture, and they passionately do so – creating an experience that is authentically Costa Rican.
Related Articles: