Costa Rica Canyoning Adventures
Canyoning is one of those lucky sports that focus more on the aesthetics of the view and the fun than pure difficulty. Occasionally called canyoneering in the United States, the controlled descent requires no previous experience to enjoy. From the top of a canyon cliff you'll get the best view for miles around before rappelling down the sheer rock face (or in a couple of occasions, waterfall rappelling!) for a closer look.
While the descent may look tricky, all of our canyoning Costa Rica tours are led by experienced, safety-conscious guides.  In between rappels, hike through the thick and untouched rainforest.  This is fun for the whole family – guides are in complete control, making it a safe adventure for even young travelers. Even if you're not a fan of heights, how often do you get the chance to waterfall rappel into a crystal-clear pool in the middle of an untouched rainforest?  This is commonly called one of the favorite Costa Rica activities for family adventure.
Waterfall Rappelling in Costa Rica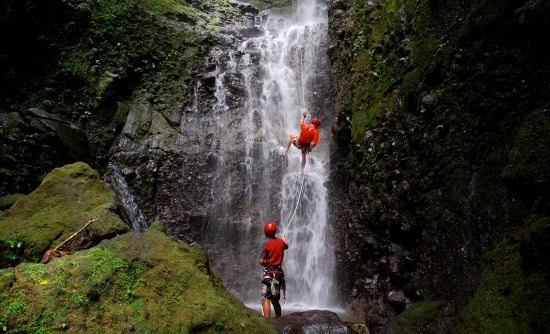 While canyoning might be popular the world over, waterfall rappelling is only possible in places like Costa Rica, where the rainforest waterfalls make stunning views and a way to truly get your heart pumping! Want to try something exciting? Want to see beautiful tropical waterfalls up close and hike in an isolated rainforest canyon near the Arenal Volcano? Try one of our waterfall rappelling or canyoning Costa Rica tours! On a sturdy platform looking down a massive tropical waterfall, one is attached to a system of ropes and pulleys, and they use the power of their legs to propel themselves off the surface of a waterfall as they plunge to the pool of water at the bottom for the thrill of a lifetime! There's only one negative side effect of this amazing adventure: you'll need extra clothes, because you will get wet!