The province of Guanacaste is situated on Costa Rica's northwest shoulder, bordered by Nicaragua in the north and the Nicoya Peninsula in the south. Growing in popularity, the region's "Gold Coast" boasts a variety of beautiful beaches and rich culture.
Guanacaste Costa Rica's dry, flat plains merge with tropical dry forests to create landscapes akin to the American "wild west" and African savannas. This region supports Costa Rica's beef and sugarcane production, and has several national parks and wildlife reserves.
Costa Rica's national tree, the Guanacaste, naturally thrives in the region's arid climate. Cowboys and campesinos of the cattle-country celebrate the Guanacaste for its abundant shade and the comfort it represents. The region of Guanacaste hasn't yet forgotten its roots as a ranching area – topes, or rodeos, can be found nearly every weekend night during the summer months (between February and April).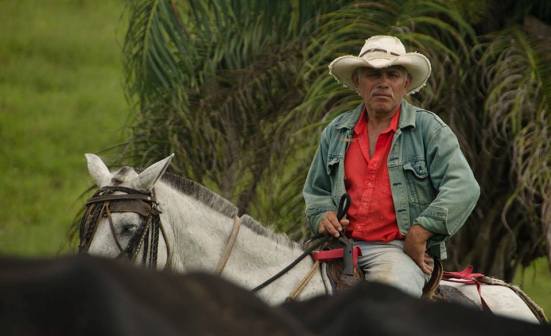 Liberia International Airport
The Daniel Oduber International Airport – one of two international airports in Costa Rica – is located in Guanacaste's capital city of Liberia. The region's best resorts and beaches are just an hour away by car.
Discover Top Guanacaste Beaches
Just west of Liberia lies the exclusive Peninsula Papagayo. This region features two of the most luxurious resorts in the country: the Andaz Papagayo and the Four Seasons. The 18-hold Arnold Palmer Signature Golf Course is also situated on the peninsula capturing breathtaking views of the Pacific.
Just south lie the grey-sands of Hermosa Beach which translates to "beautiful beach." The waters here are generally calm making it a great family vacation spot. The nearby brown sands of Matapalo Beach host the guests of the all-inclusive RIU Guanacaste and RIU Palace which has created a more private resort experience for its visitors
Within Guanacaste Costa Rica is the popular town of Tamarindo which offers impressive restaurants and a bustling nightlife. The beaches of Tamarindo are some of the most popular in Costa Rica. Playa Tamarindo is a popular surfing destination, spread out beside the fast-growing beach town that was once a quiet fishing community, while the neighboring white sands of Playa Langosta are quieter and better suited to swimming.
Further south are the unique Playa Flamingo and Playa Conchal. The pinkish white sand of Flamingo beach makes up a large section of Potrero Bay. All of the hotels on Playa Flamingo sit on a beautiful cliff overlooking the beach and ocean below. Playa Conchal, as the name suggests, was once composed primarily of crushed seashells, but have since been removed to be utilized in building and construction projects. Nearly all of Playa Conchal backs up to the Westin Playa Conchal Resort complex.
Further south, Playa Mansita hosts the guests of the JW Marriott Guanacaste. Additionally, JW vacationers enjoy the amenities of Hacienda Pinilla, an exclusive resort and residential community featuring golf, tennis, stables, a beach club, and various dining options.
Related Article: Best Beaches in Costa Rica
Things to Do in Guanacaste Costa Rica
Catamaran Cruise & Snorkeling
Heliconia Hanging Bridges and Rainforest Hike
Safari Float on the Corobici River
Tamarindo Mangrove & Estuary Kayaking Tour
Santa Rosa National Park Tour
Rincón de la Vieja National Park & Volcano Tour
Palo Verde National Park and Guaitil Pottery Tour
Canopy Zip Lining
Whitewater Rafting Level III- IV –Tenorio River
Horseback Riding
Liberia City & Shopping Tour
 Guanacaste Attractions
White Sand Beaches
Water Sports
Surfing
SCUBA Diving
Fishing
Golf
Turtle Nesting
Rio Celeste Waterfall in Tenorio Volcano National Park
Rincón de la Vieja National Park & Volcano
Guanacaste Travel Information
Climate: It is mostly dry year-round, but greenest June through November.
Temperature: 95°F avg. high
Bring: Beach-wear, sunscreen!