Sitting in the dry northwest corner of Costa Rica in the Guanacaste province, Rincon de la Vieja National Park has a wealth of natural wonders including Rincon de la Vieja Volcano, boiling mud pots, hot springs, and even waterfalls.
The 34,000 acres of Rincon de la Vieja National Park are characterized by dry forest with straw-colored rolling hills and sprouting shrubs of yellow and orange flowers. The park is home to some wildly unique creatures including 300 different species of birds, the white-nose coati, agouti, and the nine-banded armadillo.
The Legend of Rincon de la Vieja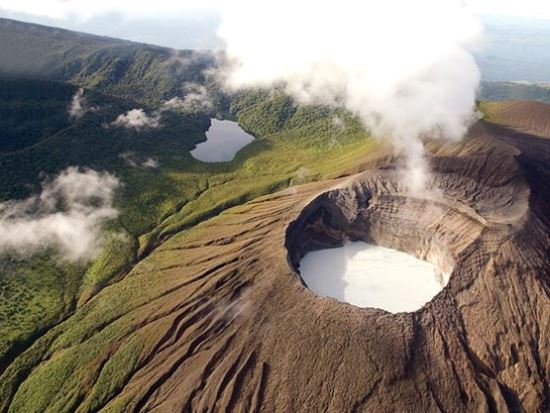 Rincon de la Vieja translates to "Corner of the Old Woman" in reference a local legend of a princess whose lover was thrown into the volcano when her father learned of their affair. According to legend, she went on living on the side of the volcano where she gave birth to a son, who she eventually threw into the volcano to be with his father. For the remainder of her life, the princess went on living near the crater where she acquired healing powers. From then on, her home earned the name "Rincon de la Vieja."
Two Ranger Stations
There are two ranger stations within the park: Santa Maria and Las Pailas. Las Pailas is the most popular as it is the most accessible and closest to Liberia international airport.
Best Hiking Trails in Rincon de la Vieja National Park
Rincon de la Vieja is a fantastic hiking destination and experiences some of the best year-round weather. If you are hoping to see waterfalls, you will have the most luck in the green season (May-December). There are several hiking trails within Rincon de la Vieja National Park. The following are three of the most popular trails within the park and all are accessible from the Las Pailas sector:
Las Pailas Circular Trail (Boiling Mud Pots Trail)
This 2-mile loop will bring you to a variety of viewpoints, past boiling mud pots, fumaroles, a volcancito (small volcano) and beautiful views of the volcano. At certain times of year (green season), you may even see a small seasonal waterfall. This is an easy trail that can be done within the hour.
Escondida Waterfall Trail
The Escondida Waterfall Trail and La Cangreja Waterfall Trail both start off on the same trail before splitting off into two. If you are looking for a longer hike, we suggest choosing between one of these. The Escondida Waterfall Trail is 5.3-miles (8.6 km) total in and out (a couple of hours in each direction).
La Cangreja Waterfall Trail
La Cangreja Waterfall, also known as blue lagoon, is 6.2-miles (10 km) total in and out (a couple of hours in each direction). This trail is steep in areas and involves crossing small creeks/rivers. Swimming is not permitted in the waterfall.
*The Rincon de la Vieja Crater Trail is currently closed.
Guided Hikes in Rincon de la Vieja:
We offer a couple different guided hiking options for travelers looking for an opportunity to hit the trails with a professional naturalist guide and for those who don't want to have to worry about logistics.
Rincón de la Vieja Waterfalls Guided Hike
Start your adventure with a scenic hike to Victoria Waterfall, which drops down dramatically 115 feet into the Rio Negro. Explore the unique vegetation of the surrounding canyon and swim in the crystal-clear waters at the base of the waterfall. As you hike through the forest, enjoy awesome views of the volcano. Armadillos, iguanas, coatis, monkeys, and more than 300 species of bird live within the park. Explore stunning waterfalls like Las Chorreras Waterfall and La Oropéndola Rio Negro Waterfall, which is born from a source of thermal water.
Includes transfers, entrance fees, guide, and lunch.
Rincón de la Vieja National Park Guided Hike
Hiking through Rincon de la Vieja National Park is an adventure for the whole family. The trails bring you close to residual volcanic activity such as boiling mud pools and fumaroles. You will have the opportunity to discover volcanic craters and see the sulfur springs and steam vents that are plentiful in the Las Pilas sector. Explore unique wildlife and exotic flora. After your hike, stop in Liberia City for lunch.
Includes transfers, entrance fees, guide, and lunch.
Rio Negro Hot Springs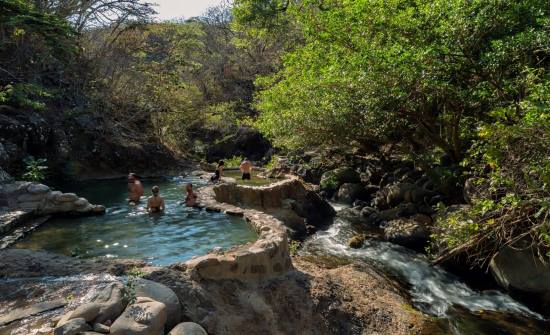 The hot springs within Rincon de la Vieja are naturally heated by the volcano. One of the most popular is the Rio Negro Hot Springs,  a series of 10 man-made volcanic heated springs accessible on either side by hanging bridges. Volcanic clay is also available for an all-natural body mask. Once your mud mask dries, rinse off in the cool river water, before relaxing back into warm hot springs.
At the hot spring entrance, there are bathrooms, lockers, and changing rooms. From there, you'll walk along a forested trail less than 1/4 mile to the hot springs.
Rincon de la Vieja FAQs:
Bring hiking shoes/tennis shoes with traction, sunblock, mosquito repellent, hat, comfortable clothes (that can get wet), and a change of clothes.
Las Palias sector: Tuesday – Sunday, 7 am – 3 pm (closed Monday)
Santa Maria sector: Daily, 8 am – 4 pm
15$/adult for foreigners
5$/child age 6-12
La Cangreja Waterfall– known as the blue lagoon
Escondida Waterfall
Chorreas Waterfall
Oropendola Waterfall –  located near the Palias park entrance
Victoria Waterfall
Las Pailas Trails:

Las Pailas Circular Trail (Boiling Mud Pots Trail) – 2-mile loop
La Cangreja Waterfall – known as blue lagoon, (trail splits off between La Cangreja and Escondia)
Escondia Waterfall Trail – most popular hike within the park
Rio Blanco Spring Trail
Rincon de la Vieja Crater Trail – closed; hiking to the crater of the volcano is no longer permitted.
Von Seebach Trail – closed

Santa Maria Trails:
Related Articles: