Poás Volcano is one of the most accessible volcanoes to visit from Costa Rica's capital city of San Jose and one of the most popular attractions in the Central Valley. It lies within the 16,000 acres that make up Poás Volcano National Park in the Alajuela province. The volcano is surrounded by dense cloud forest although much of the growth has been stunted by acid rain and volcanic gases.
Why visit Poas Volcano?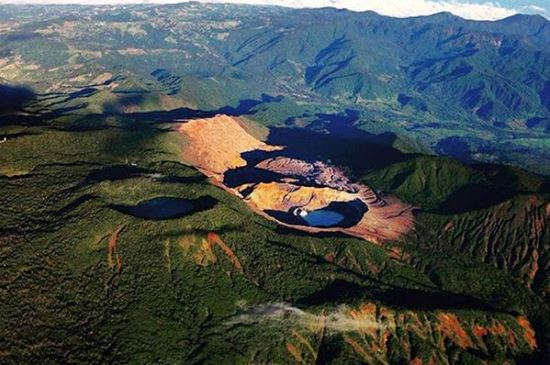 Aside from its proximity to downtown San Jose, Poas Volcano is 8,900 feet high, one of six active volcanoes in Costa Rica, and has the second largest crater in the world. In fact, Poas' last eruption was in April of 2017. The park was closed for 16 months before recently being reopened to the public.
Geothermal & Ecological Attractions
Poas Volcano is especially popular among visitors for its brilliant blue crater lake. With a pH of about zero, the lake is one of the most acidic in the world. This acidity is extremely toxic, but the result is its brilliant blue color. Additionally, geysers within the crater spit steam about 590 feet into the air, making it the largest geyser in the world. At 8,900 feet high, Poas Volcano is above the frost line making temperatures below freezing a possibility.
Is Poas Volcano National Park open?
Poas Volcano is active, but generally not disrupting tours. However, they are limiting visitors so it's best to get there early. Some closures still occur if the Rangers feel that activity in the park is too high.
Is Poas Volcano safe to visit?
Following the volcano's 2017 eruption and closure, the park has since reopened with new safety measures in place. The park now has gas sensors with live data to keep visitors safe from any toxic gases the volcanoes may be emitting as well as five safety shelters. Park access is now more organized and controlled with their online ticketing system. Additionally, groups visiting the volcano must remain under 50 people and are permitted access to the volcano's lookout point for up to 20 minutes.
When is the best time to visit?
The park is open daily from 8:00 am to 3:30 pm. One of the main factors of deciding when to visit Poas Volcano is cloud coverage due to converging winds from the Caribbean and Pacific slopes. Get to the park early for less cloud cover and fewer crowds. If you can, we recommend visiting during Dry Season, from mid-December – April, when there is typically less rain and cloud cover.
How do I get to Poas Volcano?
Poas Volcano's accessibility is one of the top reasons for its popularity if Costa Rica. It's easy to reach with just a 1 1/2 hour drive north of San Jose. A steep paved road with scenic views of the Central Valley and green pastures below allows visitors to drive right up to the top before hiking about a 1/2 mile to the crater.
Poas Volcano Day Tours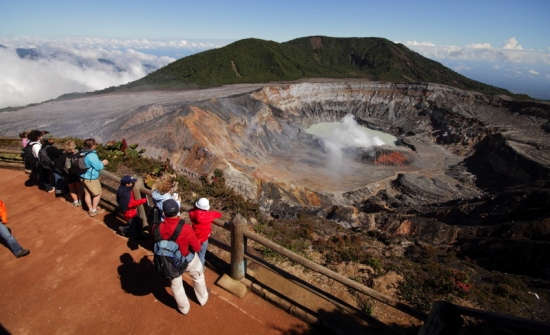 A guided tour of Poas Volcano with transportation is often combined with visits to Doka Coffee Plantation and La Paz Waterfall Gardens for a full day excursion with lunch included as well as all entrance fees. This is a nice tour of the Central Valley with all the logistics of travel pre-arranged and lead by a knowledgeable guide. These tours can be arranged privately as well. Talk to a Costa Rica Expert to coordinate the details based on your preferences.
Where to Stay
Poas Volcano is easily accessible from downtown San Jose as well as the surrounding Central Valley. Talk to a Costa Rica Expert for a personalized recommendation about what hotels will best suit your preferences and budget.
What to Bring:
While it's not a strenuous trek to Poas Volcano, you will want to wear comfortable clothes and walking shoes. We also recommend layers as it can be chilly with the high elevation and then become warm. During much of the day, Poas Volcano is shrouded in cloud cover so a water-resistant jacket is recommended. Don't forget to put on sunscreen! Even when it's overcast and cool, you'll get much more sun at the higher elevation. We also recommend sunglasses, bug repellent, and your camera.
Ready to discover Poas Volcano? Plan your trip with a Costa Rica Expert!
Related Articles: