The holidays in Costa Rica are a time for celebration, and Costa Rica's native Ticos and Ticas welcome any chance to celebrate. A large part of the population identifies with the Catholic Church, and so share most religious holidays, but many of their traditions and celebrations are unique to Costa Rica. Here is our month by month guide to top holiday celebrations, festivals, and cultural events you won't want to miss during your Costa Rica vacation.
January
New Year's Day
January 1 / Throughout Costa Rica
Like many countries around the world, New Year's is a cause for celebration in Costa Rica. Many people head to the coast to bring in the New Year on the beach, and most hotels host New Year's Eve events and activities. It is not uncommon to see street parties with music and dancing in local towns across the country. Check with your hotel concierge to see what's happening in your area. Just be sure to head outside when the clock strikes midnight. Many neighborhoods put on firework shows you won't want to miss!
Fiestas of Palmares
The first two weeks in January / Palmares
Lasting two weeks, the Fiestas of Palmares is the longest party of the year and the largest of the typical fiestas. Think of it as a Costa Rican Octoberfest. Enjoy a horseback riding parade (tope), traditional bullfights (no bloodshed), concerts, food booths, carnival rides, fireworks, and an unlimited supply of beer.
Fiestas of Santa Cruz
The middle of January / Santa Cruz, Guanacaste
The Fiesta of Santa Cruz is a religious celebration of folk dancing, marimba music, food, and fireworks to honor the patron saint Santo Cristo de Esquipulas (a famous Guatemalan statue). The festivities take place in the rural town of Santa Cruz around two main locations: the Plaza de los Mangos where bull riding takes place and the Parque Bernabela Ramos where cultural activities take place.
Fiesta of the Diablitos
The first weekend in February / Rey Curre Village (near San Isidro de El General)
Celebrated by the Boruca people of the region, the multi-day Fiesta of the Diablitos pays homage to ancestral spirits as it commemorates the tribe's victory over Spanish conquistadors. The village men dress up as diablitos in colorful hand-carved wooden masks and one person dresses as a bull which represents the Spanish conquistadors while depicting the struggle between the Borucas and the Spanish. While at times it seems that the conquistadors might win, the Boruca eventually prevail as they did historically. Throughout the festival, the Boruca drink chicha, a traditional fermented corn beverage. Fiesta de los Diablitos actually takes place in two indigenous communities: the village of Boruca (December 30 – January 2) and the village of  Rey Curre (the first weekend of February). It is open to the public, but visitors are charged a fee to take photos.
March
Día del Boyero (Oxcart Drivers' Day)
The second Sunday in March / Escazú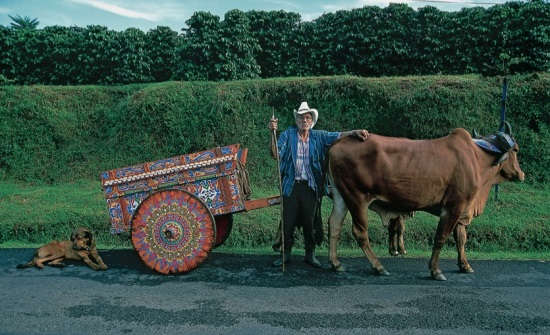 Oxcart drivers from all of Costa Rica convene to parade their colorfully painted oxcarts through this San Jose suburb where local priests bless the oxen.
National Orchid Show
End of February – mid-March/ San Jose
Over 300 orchid species are displayed each year by growers from around the world at this annual competition. Dates vary year-to-year.
April
Semana Santa (Holy Week)
The week leading up to Easter / Throughout Costa Rica
Holy Week is a Catholic celebration honoring the passing and resurrection of Jesus Christ. Colorful religious processions take place in towns and cities throughout Costa Rica. Easter Holy Week is also a popular time for family beach excursions.
Juan Santamaria Day
April 11 / Alajuela
Juan Santamaria was a poor drummer boy and celebrated national war hero from Alajuela who helped thwart a U.S. figure's march through Central America. Although Costa Rica abolished its military in 1948, Juan Santamaria's victory is still celebrated with concerts, parades, and dancing.
May
Workers or Labor Day (May Day)
May 1 / Throughout Costa Rica
Labor Day in Costa Rica is celebrated with parades, processions, fireworks, and a presidential speech. Many businesses and schools are closed.
July
Fiesta of the Virgin of the Sea
Saturday around July 16 / Puntarenas
A statue of the Virgin of Mt Carmel is paraded along the coastline in decorated fishing boats in honor of Puntarenas's patron saint. Dancing, fireworks, and sporting events accompany the flotilla. The celebration also takes place at Playas del Coco.
Guanacaste Day
July 25 / Liberia
Guanacaste Day commemorates the annexation of the Guanacaste province from Nicaragua in 1824. Bullfights, rodeos, horseback riding parades, folk dancing, and concerts are all on the agenda.
August
Virgin of Los Angeles Day
August 2 / Cartago
Virgin of Los Angeles Day marks the annual pilgrimage in honor of Costa Rica's patron saint in which people walk 15 miles (24 km) from San Jose to the Cartago Basilica.
San Ramon Day
August 30 / San Ramon
Over 30 statues of patron saints are brought from neighboring towns and paraded through the streets with dancing and music in honor of San Ramon's own patron saint.
September
Costa Rica's Independence Day
September 15 / Throughout Costa Rica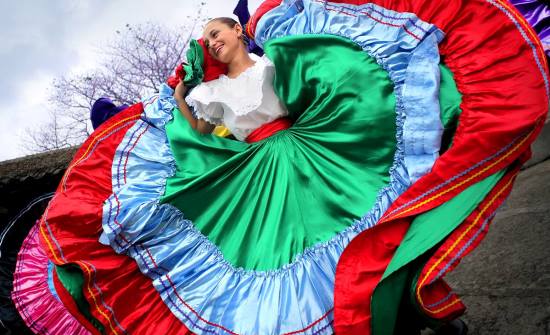 Celebrated as the day Costa Rica secured its autonomy from Spain in 1821, Independence Day is celebrated with marching band parades of children playing their instruments to the tune of the Costa Rican national anthem. Typical Costa Rican foods are normally sold by street vendors.
October
Carnival / Dia de la Raza
Week of October 12 / Limon, Caribbean Coast
This 12-day celebration of Costa Rican Afro-Caribbean Culture commemorates Christopher Columbus' arrival to the Caribbean coast in 1502. Colorful parades with street dancing, vibrant costumes, Caribbean food, and open-air concerts are all part of the celebration. Think the Carnival of Brazil minus a few thousand people with the unique laid-back vibe of the Costa Rican Caribbean. If you'd like to stay on the Caribbean Coast during Carnival, book your hotel early!
November
Dia de los Muertos (All Souls' Day)
November 2 / Throughout Costa Rica
While not as extravagant as the Mexican Dia de los Muertos, Costa Ricans honor their dead with visits to cemeteries, flowers, and prayers.
December
Festival de la Luz
Second Saturday in December / San Jose
Festival de la Luz, or the Festival of Lights, is held the evening of the second Saturday in December. The event marks the official start of the holiday season and is underscored with lively, festive music. A beautiful procession of white floats with glistening lights parades through the streets of San Jose, including the Paseo Colon and Avenida Segunda. Don't miss the brilliant fireworks show following the festival!
Las Posadas
December 15 / Throughout Costa Rica
Beginning December 15, carolers and children go house-to-house singing and re-enacting Joseph and Mary's search for shelter before the Christ child was born. Homes are visited until the carolers reach their final destination -typically a home or church – where the "innkeepers" finally let them in for a celebration.
Christmas Eve & Day
December 24 & 25 / Throughout Costa Rica
Christmas Eve and Christmas Day are a time for family in Costa Rica. On Christmas Eve, children leave their shoes out in hopes that the Christ child will fill them with candy and small gifts. Many Ticos attend a midnight mass on Christmas Eve called Misa de Gallo or the Mass of the Rooster. Following the mass is the Christmas meal. Sample the flavors of a Costa Rican Christmas with traditional holiday foods like tamales or Tres Leches cake.
El Tope Nacional de Caballos
December 26 / San Jose
Tope Nacional de Caballos is the national horse parade held each year on December 26th,   when Costa Ricans gather in the streets of San Jose to celebrate their strong agricultural heritage. Horsemen and cowboys from around the country come to parade their handsome horses and show off their riding skills. The famous, hand-painted oxcarts from Sarchi are also celebrated for their significance in Costa Rican agricultural history. El Tope begins around 1 pm in downtown San Jose on Paseo Colon.
Carnaval Nacional
December 27 / San Jose
On December 27th, the celebration in downtown San Jose continues with an exciting procession of floats, marching bands, clowns, and street dancers in colorful costumes.
Las Fiestas de Zapote
December 25-31 / Zapote (San Jose suburb)
Held in the San Jose suburb of Zapote, Las Fiestas de Zapote is a carnival held before the New Year complete with rides, bullfights, and snack stands. This fun festival rolls holiday cheer, carnival fun, and Latin culture all into one for a unique experience everyone should try. Zapote is one of the largest festivals with one of the biggest bullfights of the year.
Notes on National Holidays:
Many government buildings, banks, and local businesses are closed during the holidays. Over the most popular holidays, namely Christmas and Easter, many Costa Ricans travel – filling up hotels and accommodations. Be sure to plan early for peak travel seasons, especially over Christmas!
Related Articles: