About a 2-hour drive from Costa Rica's capital city of San Jose in the small cloud forest town of Bajos del Toro, the Bajos del Toro Waterfall Hike is a countrywide attraction for locals and worldwide visitors alike.
Bajos del Toro Waterfall Hiking Trail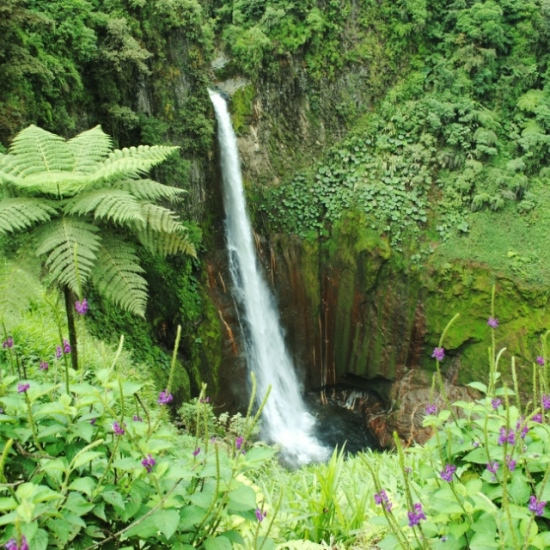 The Bajos del Toro area is great for hiking and has several waterfalls to discover. The most famous is Bajos del Toro Waterfall, also known as Catarata del Toro, translates to the waterfall of the bull. The trek to get to the waterfall brings you through lush cloud forests. You'll hear it before you'll see it: the rush of water plummeting down 400 feet into the extinct mossy volcano crater. A series of steep steps will bring you to the base of the waterfall
Guided Tour of Bajos del Toro Waterfall
Bajos del Toro, where the waterfall is located, is a small town without public transportation or taxis. It's possible to get to the waterfall with a rental car, but we highly recommend a professional naturalist guide. Guides have honed their skills for identifying unique cloud forest bird calls, spotting signs of wildlife, and are uniquely in touch with the area in ways a visitor could never be. Plus, you'll save yourself time and see more! Truly a win-win.
Del Toro Waterfall Hike with El Silencio Lodge: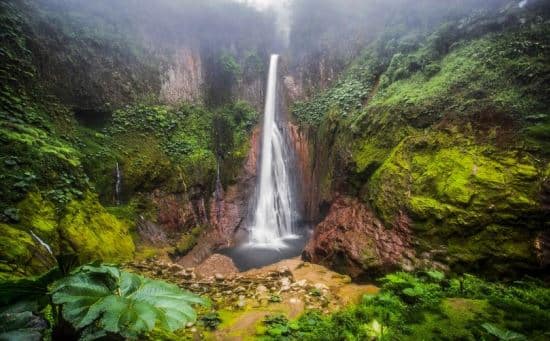 Enjoy a natural masterpiece. A staggering 400-foot drop opens upon a broad multi-colored canyon where shades of red clay blend with green moss and dense vegetation. A winding trail takes you to the very bottom to enjoy exciting close-ups of the roaring mist. This stunning miracle of nature is located only 15 minutes away from the hotel. *Please note that climbing up from the base of the waterfall takes approximately 400 steps.
Includes transfers, guide, and entrance fees.
Where to Stay: El Silencio Lodge & Spa
The cloud forests of Costa Rica are really a destination, and while you can certainly pop in for a day tour from San Jose or the Central Valley, you might consider a 1-3 night stay. If you're a hiker and lover of fine, sustainable dining, we highly recommend El Silencio Lodge, an intimate Relais and Chateaux property certain to be a highlight of your trip! Additionally, the Del Toro Waterfall is only 15 minutes away from the lodge.
Hiking, waterfall trails, birding, horseback riding, ziplining, wine tasting, mountain biking, fishing, and culinary experiences can be enjoyed right on the El Silencio Lodge property.
Other activities in the area include the Las Gemelas Waterfall Hike (ten minutes away), the culture of Bajos del Toro, an active coffee farm, a former cocoa bean plantation with hands-on chocolate-making experiences, and the colorful town of the traditional Sarchi oxcarts. Arenal Volcano and its hot springs and white water rafting on the Sarapiqui River are just two hours away by car.
Bajos del Toro Waterfall FAQs:
There is a $14 entrance fee per adult and a $7 entrance fee per child age 4-11. There are bathrooms and parking available.
Monday – Saturday (closed on Sundays); 7:00 am – 5:00 pm
The Bajos del Toro Waterfall trail is a 1.3-mile loop trail of moderate difficulty. Hikers will need to descend approximately 400 steps to reach the base of the waterfall.
Bring water, sunscreen, a hat, and closed-toed hiking shoes!
Bajos del Toro is located in the cloud forest, which means it typically sees more rain than other regions of Costa Rica. Don't let that keep you from missing out though! The misty, mossy forest is part of the appeal of the region. For less rain, visit in the dry season (December-May).
Related Articles: