The jungles, swamps, and mangroves of Costa Rica are awe-inspiring – no matter how many times you've seen them. Constant sunlight, abundant rains, and the high temperatures are a recipe for biological diversity. These complex biological ecosystems contain dense foliage, massive trees, and more than half of all the living things known to man. A trip down the mangrove canals will reveal a surprising number of wading birds (they can gather in flocks up to the thousands), curious iguanas and monkeys keeping watch from tree limbs, and the occasional tapir pushing through the undergrowth.
First, what exactly is a jungle?

A jungle may seem to be similar to a rainforest, but in actuality there's a distinct difference. If you're thinking of towering trees draped with vines, that would be a rainforest. The canopy of a rainforest blocks out light, resulting in fewer ground plants and thus rainforests are easier to travel through. A jungle, on the other hand, can exist on the fringes of a rainforest, but the thick undergrowth requires more light. Jungles will often be found where rainforest has been opened up through natural disturbances, like a fire, hurricane, or river. Mangroves thrive where tropical rivers meet the ocean saltwater, creating a submerged forest of roots and waterways.
Experience a Costa Rica Jungle Day Tour.
Despite the thick undergrowth of a jungle, hiking tours are a great way to get up close and personal with nature. Naturalist guides are strongly recommended in order to spot the illusive wildlife and learn about the complicated relationships between the flora and fauna of the Costa Rica jungle. A jungle kayak or cruising adventure is another way to discover the untouched beauty of Costa Rica. Without a motor, travelers might get to spot some of the more elusive tropical creatures.
Corcovado National Park Tour
Corcovado National Park is the largest lowland rainforest in Central America, and the most remote rainforest in Costa Rica. The park covers nearly half of the entire Osa Peninsula, and is home to exotic species such as scarlet macaws, all 4 Costa Rican monkey species, and the endangered jaguar. Nearly every jungle lodge in and around Drake Bay and Puerto Jimenez can book a guided day tour to Corcovado. Hike along the shoreline or right into the jungle to explore the most remote tropical forest in the country.
Tarcoles River Cruise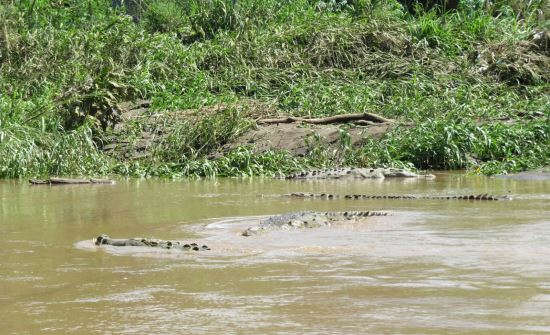 One of our most popular adventures brings you to the winding Tarcoles River, home to some of the largest populations of crocodiles in the world! Male crocodiles can weight up to a ton and reach 20 feet in length! While cruising along the Tarcoles River, you will see them swimming by or sunbathing on the river banks. Available as an en route tour from Arenal Volcano to Manuel Antonio, this tour is a great opportunity to get (not too) close to these immense creatures while continuing on your exploration of Costa Rica.
Damas Island Estuary Kayak or Boat Tour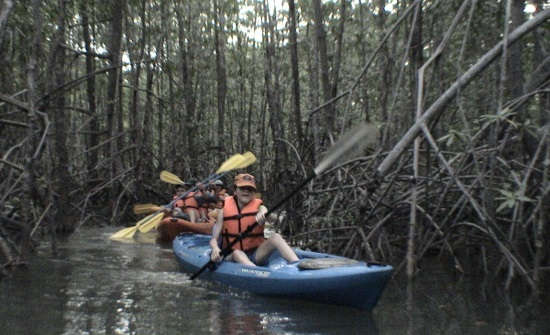 Damas Island Estuary is located outside Manuel Antonio National Park and the town of Quepos. From crocodiles and sloths to monkeys and iguanas, these mangrove waterways are teaming with wildlife! A professional naturalist guide will lead you through the estuary by boat or kayak. Tours are available during the day and in the evenings.
Tamarindo Estuary Kayaking Tour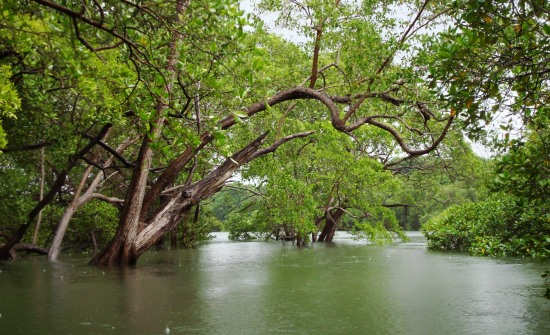 Between Playa Tamarindo and Playa Grande, the Playa Grande Estuary empties into the bay of Tamarindo. A professional naturalist will guide you through the unique estuary ecosystem, pointing out the highlights. An hour into your adventure, grab a snack on the riverbank.
Overnight in a Costa Rica Jungle Lodge.
One of the best ways to explore all of the beauty of Costa Rica is a few nights stay at one of the country's jungle lodges. Several of the eco-lodges in our collection are accessible only via boat or flight. While this may seem like an extra stress, it's actually an amazing opportunity to venture into the mangroves.
Osa Peninsula
Many jungle lodges are located on or near the remote Osa Peninsula – the southwestern most point of Costa Rica which also happens to contain one of the largest remaining tracks of tropical rainforest in Central America. This important region is home to literally hundreds of species, many endangered, and is the perfect place for explorations into untouched jungles and rainforest. The Diquis Delta near Drake Bay, the Sierpe River Mouth of the Sierpe-Terraba Mangrove Reserve, and the Gulfo Dulce are mangrove highlights of the region. Boat transportation  down estuary waterways to the lodges of Drake Bay on the Osa Peninsula introduce guests to the huge variety of ecosystems that can be found, and it's an extra chance for wildlife watching. Bird-lovers in particular should check out the Osa Peninsula. It's one of the most popular destinations in Costa Rica for bird-watching, and is one of the richest and most diverse tropical zones in the world.
Related: Osa Peninsula Jungle Lodges
Tortuguero National Park
Tortugero National Park is a jungle highlight. While primarily known for the sea turtles that come ashore to lay their eggs, Tortuguero's intricate maze of mangrove waterways creates a completely unique cacophony of jungle undergrowth! These maze-like waterways are the perfect paths for kayak and boat adventures.
Related: Tortuguero Jungle Lodges
Get your free consultation with one of our Experts, and let's craft the vacation of your dreams.
Schedule a Call

or give us a call now at 773.935.1009