La Mansion Inn is a small, romantic hideaway with magnificent views of the Pacific Ocean outside Manuel Antonio National Park. Enjoy the gourmet restaurant, infinity swimming pool with Jacuzzi amid the distinct European flavor and hospitality of this intimate hotel.
The defining feature of La Mansion Inn is undoubtedly the Sky Lounge, a rooftop patio with 360-degree views of the ocean and the jungle. Combine this with some of the finest foods and services in the area, it's a remarkable luxury experience.
La Mansion Bar & Dining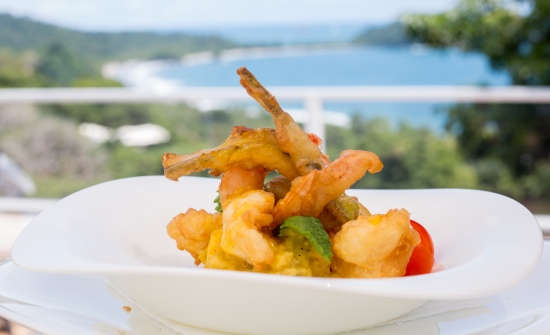 The Improv Restaurant at La Mansion is inspired by the bistros of the French Riviera. Enjoy light, deliciously flavorful food that'll get you energized for the rest of your day or night! For the best views, take a cocktail up to the rooftop Sky Lounge.
Through a miniature door, down a small winding staircase, you'll discover one of the most interesting bars in the Manuel Antonio area – the Bat Cave Bar! At the heart of the hotel, you'll find a cave carved from natural rock, featuring great drinks and a friendly atmosphere. Water runs down some of the walls, creating a unique music of tinkling water, and if you glance up, you'll probably spot a few of the permanent residents – live and fluttering bats!
La Mansion Rooms
The rooms and suites at La Mansion Inn are truly anything but standard. Whether visiting for business or pleasure, you'll be happy you chose La Mansion! All rooms are beautifully decorated and contain either king-size or queen-size beds, as well as containing air conditioning, cable television, private bathrooms, coffee and tea maker with complimentary coffee and tea, and an outside sitting area and deck. Every room has a sliding glass door which opens to magnificent views of the ocean and jungle.
Even the standard rooms contain an outside dining room, for those who wish to eat with the stunning views before them. Several of the rooms at La Mansion Inn are also handicap-accessible for any guests who require wheelchairs or have difficulty getting around.